Living through 2020 has meant facing reminders of death on a daily basis. As of mid-December, more than 1.6 million people had died of COVID-19 worldwide, including more than 300,000 Americans. The numbers are less dramatic in Vermont — 107 deaths as of December 22— but the impact has nonetheless been profound: That's more than 100 Vermont families, communities and circles of friends forever broken. Indeed, 2020 has been a year defined by loss and grief.
But, as author Jamie Anderson once put it, "Grief is just love with no place to go." In that sense, perhaps we can measure 2020 as much by an abundance of love as an abundance of sadness. And one outlet for all that idle love is our remembrances of those who are no longer with us.
Since 2014, at each year's end, Seven Days has published brief life stories of a handful of Vermonters who died in the preceding 12 months. There are no specific requirements for inclusion, and we've learned over and over again that there are far more tales than we could possibly tell.
In this issue, you'll find seven stories about Vermonters who died in 2020. Some you might have heard about, others not. Some were heroes and trailblazers. Others were quieter but crucial members of their communities or families. Some did the best they could in the face of daunting challenges. Every one of them left a mark on the lives of those around them; every one will be remembered.
— Dan Bolles
Mark Prent
December 23, 1947-September 2, 2020
Courtesy of Sue Prent
Mark Prent with a model for illustrating a children's book he cowrote with his wife, Sue
As an art student at Concordia University in Montréal, Mark Prent churned out photo-perfect drawings of aesthetically pleasing things. Then, his printmaking instructor sat him down one day and told him she would fail him if he kept producing work that imitated reality.
"That one sentence changed my whole life," Mark told the St. Albans Messenger in 2015.
About a decade after that epiphany, in 1974, he caused an uproar with an exhibition in Toronto. The offending piece, an installation titled "...And Is There Anything Else You'd Like, Madam?" consisted of an antique deli case filled with human body parts presented as foodstuffs: sliced breasts, smoked thighs, roasted feet, pickled penises. The Toronto police attempted to close down the show, charging the gallery owner with "knowingly, without lawful justification or excuse, publicly exhibiting a disgusting object," according to a 1978 profile of Mark in Maclean's, a Canadian weekly. The gallery owner refused to shut down the exhibition; a grand jury declined to hear the case.
For the rest of his life, Mark would make art that married beauty and obscenity. His work has been exhibited in galleries and museums all over the world, including New York City's Gagosian gallery, the Akademie der Künste in Berlin and the Musée d'art Contemporain in Montréal.
Pink House Studios, the molding and casting business Mark founded with his wife, Sue Real Prent, has counted Yoko Ono among its clients. Guillermo del Toro, director of Pan's Labyrinth and The Shape of Water, owns one of Mark's pieces — a sculpture of a nude woman in repose on a leather chaise, her back covered in carbuncles. Sue, who titled all of her husband's works, called the piece "The End Steals In."
Mark spent hours each day in his studio, a peachy-pink stone carriage house next to the peachy-pink Victorian he shared in St. Albans with Sue, his partner of 48 years, right up until his death on September 2, following an aortic aneurysm. He was 72.
Mark was born in Lodz, Poland, in 1947, to Carl and Maria (Markowski) Prent, both Holocaust survivors who had endured Russian labor camps. When Mark was an infant, the family immigrated to Montréal, where he spent his youth and early adulthood. According to Sue, her husband's parents rarely spoke about the war, and Mark resisted the theory, often promulgated by the press, that the dark preoccupations of his art came from his parents' experiences.
"Mark didn't like such a literal narrative, because he felt that it foreclosed any other possibilities," Sue explained.
Later in his life, she said, he acknowledged that his parents' past probably did resonate in his work, but he firmly believed that the ultimate source of his inspiration was, and should remain, a mystery. "It was just this impulse he had," Sue said. "All of his work originated with an image from his imagination, like a living dream."
Courtesy of Jesse Prent
Mark Prent with "Reptilarium"
Mark often used found objects in his work. His first forays into Vermont were the auction houses of Alburgh, which he and Sue frequented in search of macabre curiosities — cast-off prosthetic limbs, sinister-looking farm implements, antique medical devices. In 1983, priced out of studio rentals in Montréal, the couple moved to St. Albans. A few years later, their son, Jesse, was born. (The invention of eBay was a huge boon for Mark's career, said Sue, whose internet search history now teems with phrases such as "coffin trolley.")
"Nothing was safe with Mark," said James Lockhart, a longtime friend who worked for Pink House Studios for many years. In 1986, Lockhart was fresh out of art school, working at a bookstore in St. Albans and longing to meet other artists. One day, Mark came into the shop and introduced himself. He invited Lockhart to his house and showed him his work. "I'd been looking at van Gogh and Rodin all my life, and then I saw Mark Prent," said Lockhart. "I was like, 'Holy shit.' It was a sucker punch."
Lockhart started coming to the Prents' house almost every day. He worked on his own art alongside Mark; occasionally, he helped out with chores. Once, he was shoveling the Prents' walkway when Sue came running out of the studio. "Mark needs you! He needs you right now!" Lockhart remembers her shouting. "I thought something horrible had happened," he said. When Lockhart got inside, he found Mark lying naked on the floor. "Help!" Mark pleaded. "I need you to make me a body mold!"
"Mark saw humor in everything he made," Sue said. "He'd say, 'There are things in this world that are horrible and brutal, but my stuff isn't real.'"
Lockhart remembers a time when Mark was working on a grisly piece — a sausage grinder he'd bought at auction, with a taxidermy alligator head sticking out of it. "At some point, he just started laughing, and it was contagious," said Lockhart. "We were laughing, laughing, laughing, like a drug."
Mark's sense of morbid absurdity often made its way into his son's school projects. When Jesse was in sixth grade, his dad built him a scale model of a human torso, made of flesh-colored silicone, for a unit on the cardiovascular system. He inserted a replica of a heart in an open cavity in the chest. When Jesse presented the sculpture in class, wearing an apron smeared with red paint, he ripped the heart out. His teacher gave him an A.
"My dad was kind of an engineer," Jesse said. "Everything he made was extremely well-built."
Courtesy of Jesse Prent
"Ichthymorph Redux"
Mark was such a renowned mold-maker that, in the early '90s, the Royal Canadian Mounted Police commissioned him to show their forensic artist how to make a mold of a skull that was being used as evidence in a murder trial. When researchers salvaged a single bronze cherub from the wreckage of the Titanic, Mark was hired to cast a mold of it.
"He was an absolute perfectionist," Sue said. "Jesse and I came to think that there was nothing he couldn't make with his hands."
As uncompromising as he was in his work, Mark could be endlessly patient and generous with others. When Jesse was growing up, he and his father had a sacred bedtime ritual. First, Mark would tell him a story — the plot usually involved dinner vegetables that grew to horrific proportions and feasted on small children — and then he would take out an atlas, point to a region of the world, and ask Jesse to name all of its countries and capitals. Sometimes, Mark would substitute the geography quizzes for metric conversion exercises. "He wanted me to know where things were in the world, how to think in another system," Jesse said.
In 1987, Lockhart attended the opening of a retrospective of Mark's work at a gallery in Montréal. One of the pieces on display was characteristically grotesque — a series of heads suspended in clear liquid inside glass jars, bubbles rising from their nostrils and mouths, accompanied by a life-size cast of the artist dangling from a crucifix on the wall.
"Mark's chatting with this group of adults — you know, art people," Lockhart recalled, "and suddenly, this little kid comes up to him and tugs on his jacket and asks, 'What's this about?'" Lockhart watched as Mark left the grown-up conversation and walked with the kid through the exhibit. "Mark told him, 'It isn't about anything,'" Lockhart said. "As they're walking around, he asked the kid, 'Do you like it?' The kid said, 'Well, yeah.' And Mark went, 'Then you know what it's about.'"
— Chelsea Edgar
Shirley Ann Chevalier
February 27, 1942-September 22, 2020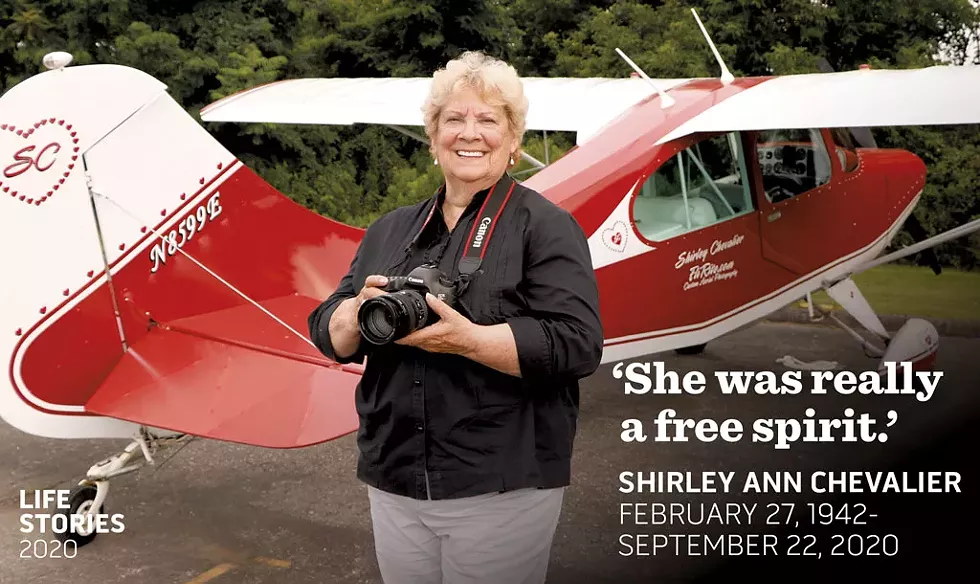 Courtesy of J.D. Goodman
Shirley Chevalier with her plane
Most people who knew Shirley Chevalier immediately associate her with "Champ," the 1959 single-engine Champion airplane she flew for decades out of Burlington International Airport as an aerial photographer. Shirley lovingly adorned the aircraft, like a Valentine, with red and white hearts. As she once described it, "If it's going to be a lady's airplane, it should look like a lady's airplane."
Close friends and family also remember Shirley's other thrill: riding her Honda Gold Wing motorcycle, on which she logged more than 100,000 miles exploring New England and the Adirondacks.
But long before Shirley took up motorcycles and overcame her legendary fear of flying, her daughters Tammi Heath and Shari Mullen remember her driving a much slower vehicle: a white Volkswagen bus. When they were little, Shirley would remove the seats, load the bus full of neighborhood kids and their Shetland pony, and go trick-or-treating or joyriding around Colchester.
"We went to a bank one time and they were giving out lollipops," Mullen recalled. "When we got to the window, [the pony] just whinnied. Mom said papers were flying all over the place."
"My mom gave the best parties ever!" Heath added.
It's fitting that Shirley once drove a '70s-era bus. Heath described their blended clan of five kids, who lived for years on Marble Island, as "the Partridge family." In all, Shirley married three times but ultimately answered to no one. As she put it in a 2017 Seven Days interview, "I've enjoyed 40 happy years of divorce."
"She was really a free spirit, and she was inspiring," Mullen added. "She didn't let anyone else rule her life."
Shirley was born Shirley Ann Guyette on February 27, 1942, in Berlin, Vt. She moved to Amsden, where for years her parents, Leroy and Josephine Guyette, ran a general store.
Shirley's first love was a horse named Babe, which she rode for pleasure and competition. A natural athlete, Shirley boasted that she could ride Babe while standing on its back at a gallop.
Shirley was introduced to aviation through a job at the Budget Rent-A-Car counter at Burlington International Airport in the 1970s.
"Oh, boy, do I like the airport!" she said in 2017. "I love the people, the atmosphere, just everything about it."
When a tour guide position opened in the airport manager's office, Shirley jumped at the opportunity. But because tours weren't an everyday affair and she needed something else to do, her boss handed her a box full of old photos to organize — basically "busy work," she recalled.
But Shirley, who also loved photography, embraced the job, eventually turning those old photographs into the first of three books she published, Burlington International Airport: A Pictorial History (1983). That project also introduced Shirley to Grace Pugh, Vermont's first-ever licensed female pilot. The two eventually became lifelong friends.
Outgoing, exuberant and always wearing a smile, Shirley soon became the face of the airport as its public relations manager, giving tours, greeting dignitaries and, naturally, taking pictures.
But her own aviation career was nearly grounded before it took off. In 1978, a male pilot offered to take Shirley on a "freight hop" to Portland, Maine.
"This guy was kind of sweet on me, so I said, 'Sure!' So off we go into the wild blue yonder," she recalled in 2017. But when the plane got to about 3,000 feet, the pilot, trying to impress her, switched off the engine.
"I have never been so frightened in my life. I completely fell apart inside," Shirley explained. "When we got back [to Burlington], I got out of that airplane, slammed that door and said, 'I will never get in one of those damn things as long as I live!'"
She did, of course. After Shirley's longtime neighbor, Bill Hazelett, cofounder of Hazelett Strip-Casting in Colchester, heard about her fear of flying, he offered to take her up. Eventually, Hazelett gave Shirley free flight lessons, first at the old airstrip on Colchester Point — now Airport Park — then later in his seaplane on Malletts Bay.
Shirley earned her pilot's license in 1983. A year later, she bought Champ for $7,000. A small wooden model of Champ can be found below Shirley's photo on BTV's second-floor concourse.
"That airplane became her identity," said Hobart "Hobie" Tomlinson, Shirley's longtime business partner and close personal friend. "With it, she found her purpose in life."
By October 2001, Champ was in rough shape and Tomlinson, a former airline pilot and Federal Aviation Administration examiner, was concerned about its flight-worthiness. So he offered to buy half the plane from Shirley so she'd have money to rebuild it.
Two and a half years later, the plane came back fully restored, just about the time that digital cameras were becoming popular. In 2004, Shirley launched her aerial photography business, FliRite Aviation, which combined her two natural gifts — flying and taking pictures.
"She had an eye for photos," Tomlinson said. "She could frame a picture in her mind."
That much is clear from Shirley's images, many of which still hang in the office she and Tomlinson shared for years alongside the airport tarmac. They include some of her favorite events to shoot: the cigarette boat races she regularly documented on Lake Champlain. She'd put the control stick between her knees, dip one wing and aim her camera out an open window.
"That's probably the most exciting thing," she explained in 2017. "Some of them are doing 100 miles per hour. I do 90, and it really ticks me off when a boat passes me!"
Shirley's flights weren't always smooth sailing. Jeff Houghton, maintenance manager at Vermont Flight Academy, remembers as a kid watching Shirley take off once — and seeing a wheel fall off her plane. Houghton's father, BTV's director of aviation at the time, radioed Shirley to immediately return to the airfield for an emergency landing.
Calling Shirley "a natural-born stick-and-rudder pilot," Houghton said he was amazed by how she landed that plane on one wheel without spinning out or flipping over.
"I've been around airplanes all my life," he said. "The scrape mark on that runway was perfectly straight. Any other pilot probably would have dumped it in the grass."
In November 2018, Shirley was diagnosed with stage IV lung cancer. She died on September 22, 2020, at the McClure Miller Respite House in Colchester. She was 78. Despite Shirley's illness, her daughters said, she remained upbeat until the very end.
"Even on her death bed," Mullen recalled, "she was saying, 'Life is good.'"
— Ken Picard
Ralph Preston
June 26, 1927-June 8, 2020
File: Eva Sollberger ©️ Seven Days
Ralph Preston
Ralph Preston loved creating and solving puzzles on scales grand and small. An engineer by training, he built his own house in Hinesburg and, to ward off intruders, fashioned an elaborate, almost booby-trapped front door that was nearly impossible to open. Equally fascinated with minute detail and precision, he was a master builder of ships in bottles that he made using tools he invented for the purpose.
"It was like his brain needed to constantly create and invent," said Kit O'Connor, one of Ralph's close friends. "Nothing was a problem that couldn't be figured out."
He was gracious with his knowledge, sharing it in talks for the public, giving away many models, and describing nuances of building ships in bottles on his website, still visible at natosongs.com/hit-the-bottle.
Ralph died of natural causes in June, just shy of his 93rd birthday. But his legacy runs deeper than the nuts and bolts of model shipbuilding or impenetrable doors, according to his friends. They tell stories of a loving, gregarious, worldly, humorous and strong man — who sometimes struggled with the emotional wounds of war and loss.
"He was a complicated man. But, boy, he was one of the most generous souls," said O'Connor.
Ralph was born in the Northeast Kingdom town of Lowell, where he lived with his parents, two sisters and grandfather.
"My father had a local repair shop, and the farmers depended on him to keep their tractors running," he said in "Ralph's Models in Bottles," a 2016 "Stuck in Vermont" video. "He would take apart a junk car to get a part, and when he was gone, I'd go out and take a few more pieces off," said Ralph with an impish grin. "And then my father would go out and say, 'Just a minute!' He was really quite tolerant of me," he added, chuckling.
He often proudly recounted that his family was the first in town to have electricity, supplied by the generator his father built. The Prestons were not wealthy, and family relationships were sometimes strained, said Rich Arentzen, another of Ralph's close friends. So Ralph read voraciously and, at age 8, began building models as an escape.
When work became scarce early in World War II, the family moved to Willimantic, Conn., where his father took a factory job. As the war intensified, Ralph decided he needed to contribute. So at age 16, he changed the date on his birth certificate, as did many teens at the time, and joined the Navy.
"He ended up in the South Pacific on a minesweeper," said Ralph's friend Greg Burbo. "His ticket took him through the islands recaptured by American Marines and soldiers. He made it to China and then on to occupied Japan after the war ended."
Ralph's war experiences later fueled his penchant for storytelling. "He was such an amazing storyteller — the cadence, the mythic quality" had you "on the edge of your seat," Arentzen recalled.
He and Burbo recounted a favorite they call "The Jeep Story." Ralph was driving a jeep loaded with satchel charges, a type of explosive, to a military base. He rounded a curve on the rutted, muddy road and saw a two-and-a-half-ton truck, with six sailors on board, speeding toward him and spanning most of the road. "He did the only sensible thing," said Burbo. "He drove down the hillside into the jungle." The sailors hauled Ralph and the jeep back onto the road and, despite some bruises, one missing satchel charge and a badly damaged vehicle, Ralph delivered his cargo to the base.
Arentzen recalled another harrowing story, this one about a plane crash. As Ralph and fellow soldiers were hiking on rough mountain terrain toward the wreckage to help, "One guy after another fell to the wayside, [but] Ralph managed to get up to the plane and rescue the man," said Arentzen. It took a long time to drag the wounded man down, but in the end Ralph became a bit of a hero. The man he saved was an admiral, and they kept in touch for years afterward.
In addition to uplifting stories, Ralph alluded to many atrocities, said O'Connor, including what he saw while liberating a Japanese prisoner-of-war camp. His friends were aware that he struggled with those memories throughout his life.
After the war, Ralph earned undergraduate and graduate degrees in aeronautical engineering and worked at Saint Michael's College, where he taught mathematics for more than 30 years. He took great joy in students who excelled, including a few who won Rhodes Scholarships, but he thrived on his three avocations: building models, befriending people and dancing.
Ralph built ships in bottles, airplanes in bottles, cars in bottles, and other models until his final days. He made about 100 in total, Arentzen estimated, many of which are in museums, and was world renowned for historical accuracy and precision. Among his most prized models are the Charles W. Morgan, the most valuable ship in a bottle ever sold, owned by the German Museum of Technology in Berlin; the USCGC Eagle, a Coast Guard training ship — he crossed the Atlantic on the real boat; and the Lunar Lander vehicle that he built for astronaut Michael Collins.
In an article on his website, Ralph offered three reasons he made ships in bottles: first, for "the aesthetic factor" of "putting a beautiful ship" in a hand-blown bottle of complementary shape and style. Second, for the joy of creating and solving puzzles, such that "the audience becomes a part of the game." And third: "In effect I am putting myself in the bottle. It is a different world in there. The model is, to a degree, protected from the 'slings and arrows of outrageous fortune,'" he said, quoting William Shakespeare's Hamlet.
Ralph's one regret, said his friends, was not having a family. He lost his first love to a car accident and his second to illness. But none of these experiences seemed to dampen his spirit. To the end, Ralph was outgoing, friendly, kind, generous and gentle, befriending people wherever he went and sharing his playful sense of humor. Though he kept in touch with his sisters and their families, who lived out of state, his chosen family of Vermont friends was central to his life and cared for him in his old age.
"So many people in Burlington knew who he was," his friend Kim Burbo recalled. "I'd run into somebody, and I'd be talking about my friend Ralph, and they're like, 'Oh, I know him. Doesn't he go dancing?'"
He certainly did. Ralph was a devoted swing and ballroom dancer into his late eighties.
"He had a couple of completely Ralph moves that were very swingy in that he swung us all over the place," recalled Cate Lamb. Her husband, Terry Bouricius, noted that Ralph was at every dance with a live big band through the 1980s. "He loved leading pretzels and buzz step spins with any partner who was willing," Bouricius wrote by email. "His joy during dancing was infectious."
Ralph was just as ubiquitous at his favorite haunts, including Muddy Waters and Sweetwaters in Burlington and the 99 Restaurant in Williston. He never drank alcohol or smoked, but he loved good food.
"Ralph was one of our regulars and was always kind and engaging with all the staff," recalled Lili Udell Fiore, a host at Sweetwaters in the late '80s and early '90s. He was "like a member of the Sweetwaters family, a genuinely great guy."
With Ralph's passing, "Burlington and Vermont lost a real Vermonter and a real humanitarian," said O'Connor. "He was just a man from a different time."
— Elizabeth M. Seyler
Stephen Rogers Albright
July 13, 1949-April 19, 2020
Courtesy of Tom Little
Stephen Albright at Burlington High School in 1971
Nobody played guitar like Stephen Albright. That was true musically: He was widely regarded as a groundbreaking player in Burlington in the early 1970s, according to friends and family. But his unique style was particularly evident in his strange stage manner.
"Especially when he was soloing, he'd do this kind of counterpoint between what he was playing on guitar and what his body would do," Stephen's friend and former bandmate Howard "Mitch" Mitchell said. He explained that Stephen would plant himself with one foot forward and one behind and, with his eyes closed and long hair trailing, rock back and forth "in a very slow motion that had absolutely nothing in common with the rhythm of the song."
"It was quite mesmerizing to watch him play," Mitchell continued. "And the people in the audience, especially the young women, fell head over heels for him."
Onstage and off, Stephen moved to his own rhythms throughout his life, for better and worse. He was a prodigiously talented guitarist, singer and songwriter. He was also an expert leather worker and enjoyed drawing and screen-printing, among other artistic pursuits.
"He loved working with his hands," said his sister Jody Albright. And he continued to do so, at least as much as the myriad mental and physical ailments that plagued his adult life would allow.
Stephen, 70, died on April 19 at Birchwood Terrace Rehab and Healthcare, one of 21 coronavirus victims at the Burlington nursing home in the early stages of the pandemic. While his death certificate lists COVID-19 as his cause of death, his brother Andy doesn't think that's quite accurate.
"Stephen died with COVID-19, not from it," he said, noting a long and largely mysterious litany of health problems that made his brother especially vulnerable to the virus. "This was not a healthy person," he said.
Stephen was born in Hagerstown, Md., to Roger and Jeanne Albright. Roger, a Methodist minister, moved the family to an old ski chalet in Mendon in the mid-1950s. Stephen grew up there and in Rutland before the family, including siblings Andy, David, Jody and Libby, moved again, this time to Burlington.
As a student at Burlington High School and later at the University of Vermont, Stephen developed a love for music, especially guitar. He was largely self-taught, which partly accounted for his unique style — a fingerpicked approach Mitchell likened to that of Dire Straits lead guitarist Mark Knopfler.
"He was a very melodic guitar player," Mitchell said.
Mitchell was the drummer for Sass, a Burlington band that had two incarnations in the early 1970s, one of which prominently featured Stephen. Like most local bar bands of the era, Sass traded in contemporary pop and rock covers by the likes of the Temptations and Yes. But Sass stood apart from other Queen City acts at the time by also playing original songs, which were penned and sung by Stephen.
"He was quite a unique songwriter," Mitchell said. "His songs were ethereal. They were about love, but it was a higher love, a spiritual love. So the meaning was sometimes hard to decipher, which was an attraction to his music."
But it was Stephen's guitar playing that truly distinguished him, according to Andy, who is also a musician. He suggested that his brother was, along with late local legend Kip Meaker, a trailblazer who raised the bar for blues and rock guitarists in Burlington.
"Kip and Stephen were the first to break out and play soulful guitar, experiment with different tones," Andy said.
"Kip was better known by a broader circle," Mitchell said. "But Stephen had a very dedicated circle of fans, musicians and nonmusicians included."
After Sass, Stephen went on to play in a number of other local bands, most notably the Lights and Fake Cities. Though short-lived, the latter group was a contemporary of early '80s Burlington stalwarts Pinhead and the Decentz and included Stephen's kid sister.
"It was thrilling to be a part of, for me," said Jody, who later turned to jazz vocals. "To be in a band with your big brother is kind of a dream come true."
Fake Cities would be Stephen's last group, as the mental and physical health issues that dominated his later life were beginning to emerge.
"So much of his life was a struggle," Jody said. "And it's very complicated as to whether physical problems caused the mental health problem or vice versa."
As his health declined, Stephen moved into a College Street apartment for the elderly and those living with disabilities, and he remained there for decades. He became a fixture on the Church Street Marketplace, spending most of his days downtown.
"All the shop owners knew him," Jody said. "He was a street person, in that sense. He wasn't homeless, but that was his crowd."
On Thanksgiving, Jody recalled, Stephen would go to Sweetwaters restaurant, which hosts an annual community dinner. "And he would bring back meals for everyone in his building who couldn't go," she said. "He was just really friendly and very, very sweet. And I think that's what saved him in terms of his mental health. He wasn't mean or ornery."
While Stephen wasn't a danger to anyone else, he could be to himself. On several occasions he tried to take his own life.
"He was in and out of the hospital so much," Jody said. She suspects he became addicted to painkillers, which exacerbated his mental health challenges.
"There was significant era where he was a walking crisis," Andy said.
Eventually, however, Stephen did experience some relief. He developed dementia in his later years and moved to Birchwood when he was no longer able to care for himself. When he got there, Jody said, "Something really changed."
Stephen flourished at Birchwood, said Andy, who spoke with his brother daily by phone. It was surprising, given his previous, borderline calamitous stints at other facilities over the years. He became "the life of the party," according to Jody, and attended every social function and church service Birchwood offered.
"He developed a neat social life," Andy added.
Both he and Jody suggested that weaning Stephen off the pharmaceutical drugs in his system played a key role in his revival at Birchwood.
"He was finally kind of at peace and happy," Jody said.
On March 30, Birchwood became the second eldercare facility in Vermont to record a positive COVID-19 case. Sixty-one residents and 30 employees would end up infected over the next six weeks, including Stephen.
Initially, he didn't show any symptoms, according to Jody. But when they finally emerged, he declined rapidly.
On April 18, a Birchwood staffer recognized that Stephen had only hours to live and organized a pair of Zoom calls with Jody, Andy and their brother David to say goodbye.
"He didn't seem to know he was dying," Jody said, "which was great in lots of ways."
She noted that, throughout his life, Stephen had a tendency toward vanity. He loved clothes and wearing jewelry and makeup and styling his hair. But when he got to Birchwood, she said, "He just abandoned all that."
So it was a bit of a surprise when the family logged on to the first Zoom call to find Stephen wearing sunglasses on his forehead. And no one, Jody said with a chuckle, was quite sure where they had come from.
"It was like a last gasp of looking cool," she said.
— Dan Bolles
Nellie M. Noble
September 25, 1958-June 10, 2020
Calvin D. Noble
May 5, 1953-October 10, 2020
Courtesy
Nellie and Calvin Noble
She was 15 and he was 20 when they met. Calvin Noble's father was repairing the roof of the fall festival "cook shack" in Granby. Nellie Mitchem's father came from two towns over to help and brought her along. It was love at first sight. Soon Calvin was tooling Nellie around in his pickup truck, she cuddling beside him on the wide bench seat.
Their meeting foreshadowed the couple's more than 40 years together. They would spend their lives devoted to each other and to the well-being of their 20-miles-from-anywhere Northeast Kingdom community and its handful of residents. They rarely would be separated, even in death: Calvin died in October, just four months after Nellie.
They married in 1976, two weeks after her 18th birthday, and moved into the ranch house they had been building behind his parents' home.
Calvin had grown up in Granby, the youngest of six children. His mother's ancestors had arrived there in 1815, and he was related to what seemed like half the town by blood or marriage. Electricity did not reach the small town northeast of St. Johnsbury until he was 10; his mother cooked on a woodstove, and the family read by the light of kerosene lamps. Calvin and his siblings and cousins fished for trout in Schoolhouse Brook and ranged through the vast woods. At 14 or 15, he killed his first deer with a single shot. "I believe he was playing a little hooky from school," his brother John recalled.
Calvin loved that outdoor life, loved having his family nearby and never wanted to leave Granby. Soon Nellie agreed.
She was shy at first, in this new town, but she was a young woman with energy, a charitable heart and a talent for organization. As their two children, Jessica and Justin, approached school age, she volunteered to help audit the town books, dipping a first toe in the waters of town government.
In 1988, she was elected town clerk, a post she would hold for 32 years and manage so masterfully that the town leaders felt adrift when she died. "The selectboard kinda fell asleep during her time because Nellie kept track and told us what we needed to do," board chair Bob Peters said. "The smartest thing Calvin ever did was bring Nellie to town. That was one of his greatest achievements."
Town clerking was just the start. Nellie also acted as town treasurer and delinquent tax collector. She served terms on the planning commission and the zoning board and helped run the Granby Central School PTO before the one-room schoolhouse closed in 2006. Starting in 1992, she worked in the blacksmith-shop-turned-post-office, which she eventually ran. (When she died, the post office closed for good.)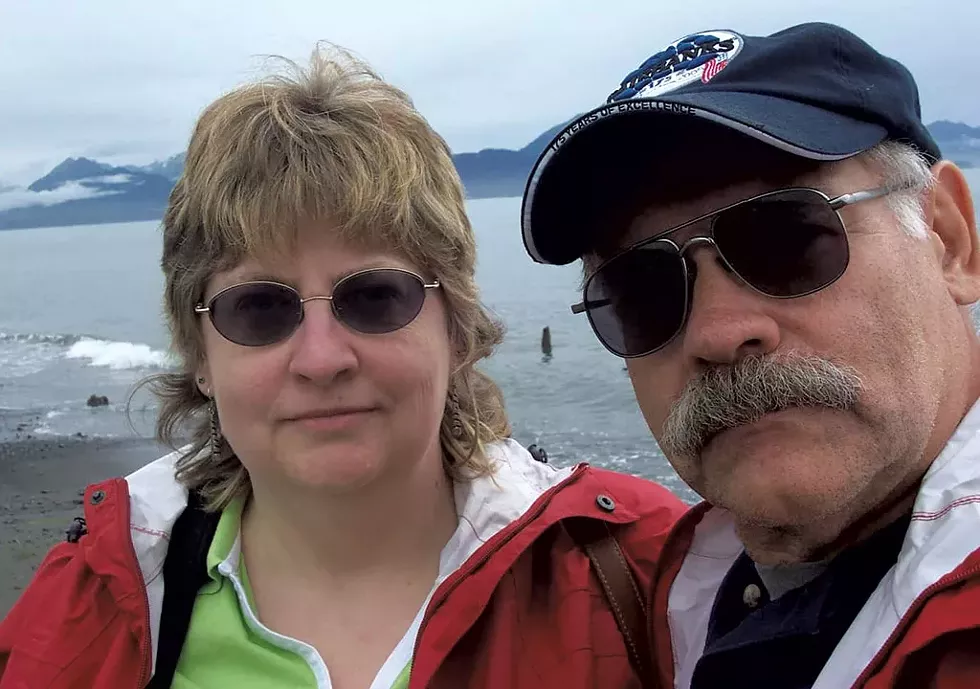 Courtesy
Nellie and Calvin Noble
"If something needed to be done in town, she would be the one to get it going" is how her friend Betty Brown put it. Nellie was instrumental in the local campaign to conserve remote Cow Mountain Pond from development. She ran the annual hunters' supper. She made sure services were held a few times a year in the Granby-Victory Congregational Church. She created the community calendar (featuring residents' birthdays) and organized the Christmas "memory tree" outside the church to remember Granby-ites who had died.
If anyone could ever be said to have their finger on the pulse of a community, it was Nellie. "Any day, she could tell you what color clothes everybody was wearing and where they were," Peters said.
But what really made Nellie the heart of Granby — 2020 population: 60-plus; miles of paved road: zero — was her own big heart and desire to help.
When she wasn't managing the town's road repair accounts or sorting mail, she was crocheting afghans for cancer patients at Northeastern Vermont Regional Hospital in St. Johnsbury or knitting hats for newborns and mittens for the disadvantaged. Over the years, she organized "sunshine baskets" of staples and treats for the homebound and drove two elderly residents to Lancaster, N.H., to do their shopping. When Sonia Peters was pregnant and fairly new to town, Nellie organized a baby shower attended by most of the town's women.
Her daughter, Jessica Hook, summed it up: "At the heart of it, she loved people, and all these projects allowed her to feel like she was part of something bigger."
While Nellie worked for the town, Calvin commuted to Fairbanks Scales in St. Johnsbury, where he was a machinist and supervisor. Most autumns he shot his deer, some years adding a moose or a bear to the freezer.
On one of those hunts in 2008, Calvin was shot and nearly killed by a hunter who mistook him for a bear. The bullet pierced his abdomen and lodged in his hip. He lost his left leg and his bladder and underwent many operations and years of dialysis before a kidney transplant.
His extended family and the town rallied around him to help pay the transplant bills and buy Calvin an off-road utility vehicle to get around. Over time, he took up woodworking, restored a 50-year-old Case tractor, built himself a little metal ladder to mount it and won trophies in tractor-pulling contests. Together, he and Nellie organized a local historic preservation group to save the old one-room school as a future museum.
"It was his personal fortitude" that kept Calvin going, his friend Peters said. "He was more than remarkable."
In 2019, Calvin was diagnosed with kidney cancer. Not long after, Nellie was found to have cancer of the bile duct. She died in June this year, leaving Calvin alone in their home — though perhaps not so alone.
"I was there one day with him, and I could not believe the line of cars that kept coming by, people wanting to see him," Jessica recalled. But her father could not recover from Nellie's loss. He died on October 10, one day after their 44th wedding anniversary.
"My father had a lot of health issues, but a broken heart was the top of the list," his daughter said.
A stone memorial bench planned to commemorate Nellie in the churchyard now will honor her husband, as well. "Together, Calvin and Nellie worked endlessly to keep Granby at its very best," the inscription will read. "Residents will always and forever be grateful and in their debt."
— Candace Page
Victoria Antao Lory
June 6, 1947-May 5, 2020
Courtesy
Victoria Antao Lory
Victoria Antao Lory was born in Nairobi, Kenya, on June 6, 1947, the third of five children of Jose Floriano Antao and Luiza Maria Antao. Her father and mother immigrated to Nairobi from Goa, India, after the birth of their firstborn.
Like her parents before her, Victoria would decide to leave her home country and travel to a new one: She moved to New York City as a young adult and eventually settled in Vermont, where she lived until her death on May 5, 2020, at age 72.
The daughter of a chef and a homemaker who had an interest in herbalism, Victoria worked for Catholic Relief Services in Nairobi after her graduation from high school. When the nonprofit organization sought staff to help establish its New York City office, Victoria signed on.
She was 21. She spoke four languages: French, English, Swahili and Konkani. And off she went by herself to the United States. Catholic Relief Services arranged for Victoria to live in an apartment building in midtown Manhattan that housed women from all over the world. Her office was on a high floor of the Empire State Building, where she was dazzled by the view. She saw snow for the first time.
As part of her administrative work for Catholic Relief Services, Victoria corresponded with an international aid worker, Jim Lory, who was working on hunger-relief projects in the Philippines. When Jim sought funding from the organization, it was Victoria who read his grant requests — and always came up with the money.
"She knew how to operate in that system, and they trusted her, and she got a lot of money for me to build these multipurpose [nutrition] centers," said Jim, 79, now of Barre.
On a visit back to the United States, he met Victoria in New York.
Courtesy
Victoria Antao Lory at the Empire State Building
"We met, and we locked on," he said. "We hit it off immediately. And every time I had a problem and whatever I asked for, she got it for me."
The two were married in St. Patrick's Cathedral in Manhattan in the spring of 1973. By then, Victoria had left Catholic Relief Services for an administrative assistant position at the Ford Foundation. With her marriage to Jim, she gave up that job to travel and live overseas, joining him in his humanitarian aid work. They lived and worked in Bangladesh, Sri Lanka, Liberia and India for some half dozen years.
"If you can imagine working at the Ford Foundation, and then being with me in Bangladesh," Jim said, "that is the ultimate sacrifice."
Their first daughter, Sandra, was born in India in 1978. When she was 2, the family moved back to the United States, where they settled on a 20-acre homestead in East Hardwick.
"How brave she was," Sandra said of her mother's move to the Northeast Kingdom. Sandra now lives with her husband on a farm in Orange and, like her grandmother, is an herbalist.
A self-sufficient and independent woman, Victoria made a life in the country, where she appreciated the beauty of Vermont. She learned to drive, she gardened, and she forged new friendships. Her former neighbor in East Hardwick, 90-year-old Joe Mucha, now of Westfield, Mass., called Victoria a "gem."
Outside her home, Victoria built a career in state government, working as an administrative secretary for the Vermont Fish & Wildlife Department; the Vermont Department of Forests, Parks and Recreation; and the now-defunct Vermont Environmental Board.
At the Environmental Board, Victoria befriended coworker Martha Porter, with whom she took walks on their 15-minute breaks. Later, they traveled together, exchanged flowers from each other's gardens, talked and laughed about raising kids, and enjoyed suppers together.
"It would be just us two, us girls," Porter, 70, said. "I didn't care for kale until she made it for me. I never ate mangoes before she introduced me to them."
Yet Vermont was a challenging place for a woman of color to live, Victoria's daughters said. On occasion, Victoria considered moving back to a city, but she chose to stay.
"She was probably the darkest-skinned person in a 30-mile radius for some period of time," Sandra said. "In East Hardwick, in the early '80s, racism [was] alive and well." Vermont was 98.5 percent white in 1980, according to the U.S. Census.
The Lorys' second daughter, Yvonne, was born in St. Johnsbury in 1982. She recalled a time her mother drove her to prekindergarten in Waterbury and was pulled over by a police officer for going through a yellow light.
"It was hard to see that," Yvonne said. "Because I knew she didn't do anything wrong."
When the girls were 10 and 6, the family moved from East Hardwick to Montpelier. Two years later, Jim and Victoria divorced.
"She struggled as a single mom to make ends meet," said Yvonne, 38, an advancement and communications manager at Capstone Community Action in Barre. "I don't know how she did it, but she did. She overcame a lot of obstacles to create stable housing for us. She invested in us as a family."
Victoria planted a flower garden at her Montpelier condominium. She sewed clothes for her kids and costumes for their school plays. She made sure Sandra had the art supplies she needed for her projects. She loved to cook with garlic and ginger. She took her daughters on trips to New York City to visit relatives, see Broadway shows and walk in Central Park.
Faith was important to Victoria, who attended services at St. Augustine Catholic Church in Montpelier.
In the last years of her life, as Victoria experienced the cognitive decline brought on by Alzheimer's disease, her daughters cared for her. They made sure she had the fruits she had loved since childhood, including mangoes.
"I always tell people: With Alzheimer's, you actually lose [a loved one] twice," Yvonne said. "You miss the person you could rely on. And then you learn to love the person who relies on you."
Even in illness, her daughters said, Victoria remained true to her core being: friendly, trusting and loving.
"Being a woman of color, living in Vermont, raising two biracial children — it's pretty amazing what she was able to do," Yvonne said. "And how she was able to leave her legacy in our lives."
On November 7, the day news sources declared Joe Biden and Kamala Harris the winners of the U.S. presidential election, Sandra and Yvonne opened a bottle of Champagne. They drank a glass in honor of their mother. They toasted what the election of Harris, a biracial woman of Indian descent, would have meant to Victoria.
"She would've been over the moon if she were with us," Yvonne said.
— Sally Pollak
Eddie Toney
January 21, 1921-September 19, 2020
Courtesy
Eddie Toney
Eddie Toney's first job was at a shoe factory in Littleton, N.H., just over the border from his hometown of St. Johnsbury. It was well into the Great Depression, and Eddie had quit school after eighth grade to help his family; he'd never much enjoyed classroom learning anyway.
The teenager made $8.75 weekly, until one week when his pay envelope contained just 42 cents. As Eddie told the story, he returned it to his boss, saying, "You can use it more than me" — and was summarily fired.
Other than a stint in the army during World War II, Eddie, who died in September of natural causes just four months shy of his 100th birthday, never worked for anyone else again.
His son, Paul Toney Sr., recounted that his father always told him, "You're better off working for yourself than you are working for somebody else, because if you run out of money on Tuesday, you're not going to get any more 'til Friday. But if you're working for yourself and you run out of money today, you can make some more tomorrow."
Eddie came home after the war and launched Tri-Corner Market in St. Johnsbury. He specialized in selling fresh fruits and vegetables, which he drove to pick up in Albany, N.Y., at least twice a week. In the early 1950s, the family believes, his store was the first in Vermont to offer soft-serve, but his legacy is rooted in another sweet treat for which he'd become known throughout the region: his doughnuts.
Eddie knew nothing about doughnuts or baking, but, his son said, "He told my mother he was going to be gone for a few days, and he went down into Massachusetts." He drove around until he found a small doughnut bakery, and he explained to them his goal. "They said, 'You come in here first thing in the morning; we'll teach you how to make doughnuts.'"
The entrepreneur started making the breakfast treats in 1956 and built the business into Eddie's Bakery, which he later sold to his son, Paul Sr., and his son's wife, Gloria. Today, Eddie's grandson, Paul Toney Jr., owns the Waterford bakery with his wife, Heidi. It produces 18,000 doughnuts, crullers and doughnut holes weekly, plus other baked goods. The company ships nationwide, though most sales are to stores in Vermont and New Hampshire.
As with many new businesses, the bakery's first few years were tough.
"He'd work all night making doughnuts, then he and my mother would bag them up and label them," Paul Sr. recalled. Eddie would hit the road delivering from Newport to Stowe, Barre to White River Junction.
Christmas 1957 was a low point before things turned around, according to Paul Sr.
"I remember Dad and Mom going through the cushions in the sofa and the chairs in the living room, trying to find loose change," he said.
Creating a solid family enterprise was a source of immense pride for Eddie. He was a first-generation American whose father, Joseph Toney, immigrated to the U.S. from Lebanon, illiterate in his own language and without a word of English. Eddie especially loved telling everyone how accomplished a doughnut maker his grandson, Paul Jr., had become.
But for Eddie, the doughnuts were secondary to his true passion: people.
"My father made friends easily. He could talk with anybody," Paul Sr. said. "He loved everybody. He'd stand and talk with anybody about anything."
Eddie made friends wherever he went. While stationed at Fort Riley in Kansas during the war, he became friendly with the boxer Joe Lewis, who was there for basic training. Eddie also liked to recount how actress Gene Tierney would frequently visit her first lieutenant husband, fashion designer Oleg Cassini. "She'd holler across the road to him, 'Hi, Eddie!'" Paul Sr. said.
Longtime bakery customer Jim Rust, co-owner of Pettyco Junction Country Store in St. Johnsbury, said Eddie never lacked for something to share. "We'd talk about world things, political things, about how difficult his childhood was," Rust said. "He'd always have a story."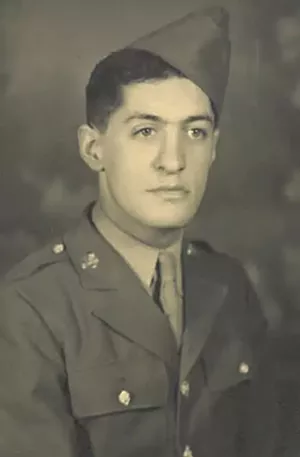 Courtesy
Eddie Toney during World War II
One particularly vivid tale dated back to the historic 1927 flood when a very young Eddie and his dad were stuck on one side of the Concord Avenue Bridge, across the swollen, raging river from the family home. A policeman was blocking the bridge, preventing anyone from crossing. When he stepped away, "Eddie said he remembered his dad looking down at him for a moment," Rust recalled. "He picked him up, threw him over his shoulder and just started running over the bridge. As soon as they got over the bridge, the bridge went."
Rust last saw Eddie a couple of months before he died, when he came to Pettyco to put gas in his car. "I even remember he was at pump No. 2," the storeowner said. "He was still driving, still living in his house."
Even in his later years, Eddie remained fiercely independent, mowing his own lawn and tending his beloved flowers and vegetables. The last time he went to Newport to renew his license, Paul Sr. recalled, "The guy said, 'You're still driving?' and he said, 'Why the hell wouldn't I be?'"
Eddie loved children, big band music and Reader's Digest. He was a jokester. His good friend Elda Pessini remembers going with him to eat at nice restaurants. "He would say to the waitress, all serious, 'I'll have two hot dogs,'" Pessini recounted. "He kept a straight face, and I would start laughing."
Through his 99th year, Eddie continued to ride shotgun on twice-weekly delivery routes with his son — until the pandemic put a stop to that in March. By then, his booming voice and warm hugs had become legendary at the Hanover Coop Food stores.
"He had more friends at those four stores than some people have in their entirety," Paul Sr. said
When Mark Romano, receiving manager at the co-op's Lebanon store, first met the father-son pair, he thought the elder Toney was just along for the ride. But it soon became clear, he said, "Eddie was the ringmaster."
They'd always shake hands, and Eddie would bellow, "Mark, how the hell are you?" Romano recalled, noting that Eddie truly wanted to know the real answer to the question. Eddie had seen his own troubles: His mother died when he was away in the army; his wife died in 1994.
Romano appreciated the fact that Eddie favored deeper discussions over small talk, he said: "I always felt myself smiling when he walked in."
As the pandemic wore on, months of isolation and social distancing stifled a man who fed off the energy of his exchanges with others.
"Eddie was so bored. It was really depressing," Paul Jr. lamented. "He would come to the bakery and stand at the screen door, wearing a mask, and holler to bring him some doughnuts." Later they'd learn that he had taken the doughnuts to the local bank to share.
Some days, Paul Jr. said, Eddie would drive to the supermarket and sit in his car just watching people go in and out of the store.
"He loved to go places," Paul Sr. said. "He just liked to go anywhere, but he really loved to go to Maine."
Paul Jr. recalled a couple summers ago when his grandfather was agitating for a family trip to that coastal state.
"He loved steak, and he loved lobster," Paul Jr. said with a laugh. "He said, 'Let's just go to Maine and have a lobster.' He kept bugging us. Finally, we made it happen, and we get all the way there — and he has a steak."
— Melissa Pasanen