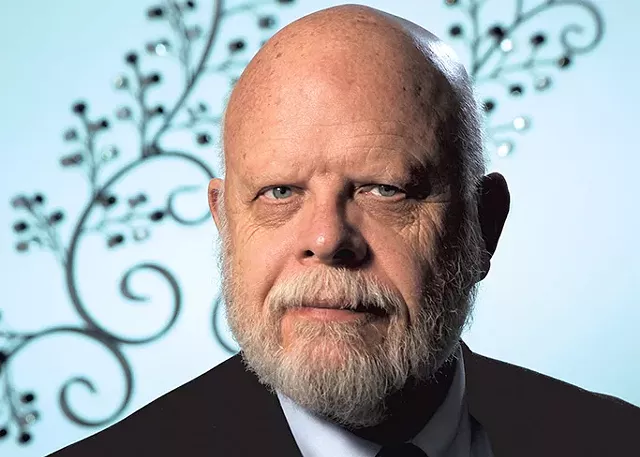 Matthew Thorsen
Ed Cashman
Erica Heilman of Rumble Strip created a podcast episode that accompanies this story. Hear clips from her interview with Ed Cashman throughout the article, and listen to the full episode below or at the Rumble Strip website.
Students nursed energy drinks and to-go cups of coffee on a Thursday morning at Champlain College, while their professor, retired judge Ed Cashman, paced the floor and peppered them with questions.
To acquaint them with basic legal concepts, Cashman had made his criminal procedure class watch the 1943 western, The Ox-Bow Incident. The Henry Fonda flick centers on a lynch mob that rushes to judgment and hangs three innocent people.
To protect against impassioned overreactions, Cashman explained, society has created a complex legal system to mete out justice. Police watch the people, he explained. Prosecutors watch the police. Judges watch the prosecutors. Appeals courts keep an eye on the judges. Defense attorneys challenge all of them.
"You see how layered this is?" asked Cashman, 73. "What we are doing is diffusing this tremendous power."
Justice is a very intimate virtue, and it only occurs on a face-to-face basis.
Ed Cashman, to Rumble Strip
Cashman knows well the perils of a lynch mob. Eleven years ago in Chittenden County Superior Court, he gave a child molester a two-month minimum jail sentence because it was the only way the perpetrator could qualify for treatment and lifetime supervision. A local reporter picked up the story.
"There was outrage Wednesday when a Vermont judge handed out a 60-day jail sentence to a man who raped a little girl many, many times over a four-year span starting when she was 7. The judge said he no longer believes in punishment and is more concerned about rehabilitation," Brian Joyce reported, according to the WCAX-TV website.
Joyce's story caught the eye of Fox News pundit Bill O'Reilly. Every night for a month, the right-wing scold hammered Cashman, who is a Republican, and anyone in Vermont who supported him. He threatened to lead a boycott of the state.
"You may be looking at the worst judge in the USA," O'Reilly told his viewers one night in 2006.
Back in Vermont, the Caledonian Record accused Cashman of creating "a predator's sanctuary." The Burlington Free Press called for his resignation, as did then-governor Jim Douglas.
"When a grown man rapes a small child, justice is only served when the criminal is behind bars — for a long time — paying for his inexcusable crime," Douglas said.
There were just two problems with the coverage and criticism, which did push the Vermont judge to step down. Cashman never said that he "no longer believes in punishment," as Joyce reported, but rather, "And I keep telling prosecutors, and they won't hear me, that punishment is not enough." According to Cashman and other legal experts, the 60-day minimum sentence, which seemed shockingly light, was a responsible option at the time.
You could argue that Cashman was an early victim of a particularly virulent strain of media coverage — untethered from fact or nuance, inflaming instead of educating the masses — that paved the way for more recent attacks on the judiciary in President Donald Trump's America.
"In those days it would have been called grossly irresponsible reporting; today it's called fake news, and whatever category you put it in, judge Cashman's reputation was damaged, and a cable news network slandered the reputation of the state of Vermont," said Essex County State's Attorney Vince Illuzzi, a former Republican state senator. "It bought into the narrative of Vermont as a socialist experiment ... Kooks live in Vermont, and Cashman was evidence of that."
More than a decade later, Cashman is semiretired. In a holdover from his days as a busy attorney, he keeps a detailed calendar on his iPhone that lists deadlines to pay bills, his class schedule at Champlain, times to attend Catholic mass, which he does most days — even reminders to take out the trash. He reads histories and watches old movies and keeps track of his three grown children, who are scattered across the country. His wife spends winters in North Carolina to be closer to their children. When she returns, he dotes on her two Yorkshire terriers.
Cashman's older brothers both died at 74, and he'll reach the same age in a few months. The family history weighs on him, but to stay healthy, the bald, broad-shouldered Cashman swims laps at a gym in Essex.
Similarly, Cashman knows he can't alter his legal footprint — the child-molester case dominates his Wikipedia entry — but in retirement he's using his expertise to do good. Since leaving the bench, Cashman has continued his volunteer work at the nonprofit Burlington Dismas House, which helps recently released inmates adjust to life after jail.
And then there's the Champlain gig. Much of his classroom time, he said, circles back to one simple lesson: Criminal law is never as simple as outsiders would like.
"Did we decide what 'justice' was?" Cashman asked the students toward the end of the class.
No one answered. Cashman suddenly turned to a male student and put him on the spot, law school-style.
"I have no idea," the student said.
"That's the right answer!" Cashman said. "If you say, 'I don't know,' you have achieved the first step in competency."
The Man From 'Mob Country'
Courtesy Of Ed Cashman
Ed Cashman with his wife's Yorkies
Vermont's most controversial judge grew up in Elizabeth, N.J. — "mob country," as he fondly remembers it — the son of an accountant and a housewife. He was a competitive swimmer in high school and dreamed of becoming a prosecutor, as a couple of family friends were.
At Boston College, he joined the Reserve Officers' Training Corps, and a day without earplugs at the rifle range permanently damaged his hearing. But he still found time to indulge in the wild social scenes that dominated 1960s campus life.
"I wasn't malicious, but I was good at wasting time, and there wasn't a beer I didn't like," Cashman said.
That began to change in his junior year, when he met his future wife, Gail Sylvester, the daughter of former Vermont Supreme Court justice Harold Sylvester. The undergrads were both cast in the musical Guys and Dolls: She was Adelaide, the female lead, and he played a minor part as a thug. In their relationship, she gave him the focus he needed.
"My sins have been of omission rather than commission," Cashman explained. "My wife gave me a purpose, a sense of mission to energize the underlying feelings I had all along."
They moved together to Washington, D.C., where Cashman obtained his law degree from American University. By the time he graduated, the couple had two sons under the age of 3, and Gail wanted to move back to Vermont.
Cashman had a different idea. Before his legal career had even started, he joined the Army and was shipped out to Vietnam in 1970. Cashman said he felt "a sense of duty."
"There are certain things you do as a citizen, and one was to serve in the military," said Cashman. "Did I give it a lot of thought? I should have given it more. But I was comfortable with that decision."
His 12-month absence put a strain on the young family. And it was a tough time to be in the military. By then, more than 30,000 American troops had died in the conflict, and then-president Richard Nixon was selling "Vietnamization" to a war-weary USA.
Cashman was part of that PR effort. He was assigned to a media relations unit tasked with briefing and accompanying reporters, including journalism legends Mike Wallace and Morley Safer, as they toured Vietnam and neighboring Cambodia. His first lesson in media relations: Reported information can be misleading, and the truth is less clear than readers understand.
"We were responsible for releasing public information, but we didn't know anything, and the commanders wouldn't let us know anything," Cashman said. "We used to think of ourselves as ad men for cancer."
When Cashman rejoined his family in Vermont, in 1971, he started scaling the legal ladder in hopes of eventually becoming a prosecutor. He worked as an attorney for the defunct Social Welfare Department and the Environmental Conservation Agency, and served as a county clerk in Chittenden Superior Court and a member of the Public Service Board. He won election as the Grand Isle County state's attorney in 1978. Four years later, Republican governor Richard Snelling appointed Cashman to the bench in district court, now superior court, which hears criminal cases.
On the bench, his reputation was mixed. Some called him "maximum Cash," he said, for his penchant for handing out sentences with high maximums. Others thought he doled out overly generous minimum sentences as a way of giving defendants a second chance.
Who has more impact on the health of the society, and on the individuals in a society, than a judge? Of course you're a social worker.
Ed Cashman, to Rumble Strip
Off the bench, Cashman was known as a great storyteller, a quality he cherishes in others. No wonder he and Marilyn Skoglund, now a Supreme Court associate justice, hit it off. She sought Cashman's advice when she was first appointed to serve on the lower court bench.
For one thing, Cashman told her to never bother holding people in contempt of court for violating courtroom decorum. It just leads to more hearings and unnecessary drama, he said. To illustrate his forbearance, Cashman told her a story, she recalled, of sentencing a man to prison. As he was escorted out of court by a bailiff, the defendant turned to Cashman, who by then was losing his hair and occasionally struggled with his weight, and yelled: "You fat, bald faggot!"
"Well, you got two out of three right," Cashman told him, according to Skoglund.
"He's such a funny man, and he's so confident," Skoglund said. "Some judges think they have to prove something and can't stand it when somebody talks back to them or doesn't show the proper respect. I've never seen him flustered on the bench."
But perhaps no judge in Vermont history has been more challenged to keep his cool.
Who's Guilty?
Judges in Vermont are rotated to different courthouses every year or so, to ensure that hostilities don't develop with local attorneys and that there's equal justice across the state.
The practice complicates the family lives of judges, who tend not to bring their spouses and children with them to each new post. In fact, many elect to stay over during the week if their commute is more than an hour long — a practice Cashman calls "monks on tour." Cashman drove home to Essex Junction every night, he said, to make up for the time he was in Vietnam, even when he was stationed two hours away in Newport. He eventually served in nearly every court in the state.
Your job is to make sure the system is applying the rules fairly and is attempting to respect the dignity of every person that comes in there.
Ed Cashman, to Rumble Strip
By 2005, he was relieved to be assigned to the criminal court in Chittenden County, which gave him a 15-minute commute. He was working at Vermont's highest profile state court when police arrested a 34-year-old Williston man, Mark Hulett, for sexually abusing a young girl over a four-year span.
It was an alarming charge but, as far as sex crimes go, a relatively typical case: a young victim, a defendant with a troubled past and poverty all around.
The State of Vermont vs. Hulett might have been settled in obscurity; the defendant was ready to plead guilty. But during a status conference in the winter of 2005, it became clear that attorneys were having a hard time agreeing on a reasonable sentence.
Then-deputy Chittenden County state's attorney Nicole Andreson wanted Hulett to spend several years in prison, at a minimum, but defense attorney Mark Kaplan was pushing for a much lighter sentence that Cashman appeared inclined to support.
Why?
The Department of Corrections evaluates all accused sex criminals, and Hulett was considered at low risk to reoffend. At the time, such convicts were not eligible to go through the sex offender treatment program while in custody — Hulett would only be able to receive counseling on the outside.
Cashman believed the best way to enhance public security was to get Hulett treatment as soon as possible. The judge also wanted Hulett to be supervised for the rest of his life.
So he imposed a 60-day to 10-year sentence. He also issued a second sentence, of three years to life, that was suspended: It would only be imposed if Hulett violated conditions of his release or committed a new crime.
The low minimum, Cashman figured, provided the fastest way to ensure treatment, and it was the carrot needed to entice Hulett to enter a plea agreement with the lifetime supervision on the other end of the sentence. If Hulett failed to get the treatment, blew off any restrictions imposed by probation officers or committed any new offenses, he could be sent to prison for life.
Cashman and Kaplan said the sentence was relatively common for low-risk sex offenders at the time.
"He thought he was making the right call," said fellow judge Brian Grearson. "I remember him saying to me, 'We make thousands of decisions in a day. This is a decision I made, and I didn't think this one would be any different.'"
Sitting in the courtroom gallery, WCAX's Joyce overheard the attorneys talking about a possible sentence for Hulett. The veteran courts reporter was there for a different case, but, "I said, 'Well, boy, this sounds pretty intriguing,'" the former WCAX reporter recalled in a recent interview. "While you're waiting for story A, story B happens right in front of your face. Happens all the time. That's what you do as a reporter: You keep your ears open."
Joyce knew that sex offenders were a hot topic in the Statehouse. The legislature had been debating sex offender treatment programs, and lawmakers had considered a civil commitment law that would have allowed the DOC to keep sex offenders in prison beyond their maximum sentences if there were enough concern that they might reoffend.
Joyce reported a quick story about Hulett and the disagreement about his possible sentence. Other local media outlets got interested, too, and when it came time for Hulett's sentencing hearing in January — in which Cashman signed off on a 60-day to 10-year sentence — the courtroom gallery was packed with reporters.
It wasn't long before Fox News personnel showed up on the front lawn of Cashman's home. He confronted them in his pajamas.
"Police called me at 7 a.m. They said, 'We're getting reports from neighbors that someone is parked outside your house, and they've been there for several hours,'" Cashman said. "I went out there, and, son of a gun, they had a camera. They came running out and started bombarding me with questions."
I got death threats, I got mail, I got phone calls. And then, of course, the most difficult part is judges cannot respond. You have to remain silent.
Ed Cashman, to Rumble Strip
Soon afterward came the death threats and hate mail. Vermont State Police temporarily assigned troopers to guard Cashman and recommended that he buy a gun, which he declined to do.
Defense attorney Kaplan tried to help Cashman, who, as a judge, was not allowed to argue on his own behalf. "I went on Bill O'Reilly. I quickly figured out that was a big mistake," he said in a recent interview. "They could have cared less about the merits of the case. They wanted me on to yell and scream at me. I thought I could go on and enlighten them. What we saw, from my perspective, was the beginning of the way the press is now, the Fox Newses of the world. It was the beginning of people listening to what these guys were saying and thinking that was the truth."
Two Months to Life
Within weeks of the media circus, the Department of Corrections hastily revised its policy to allow low-risk offenders to receive treatment in prison. Cashman chucked the initial sentence and instead gave Hulett three to 10 years. The perpetrator ended up serving five years because he could not find approved housing when he became eligible for release. Now he lives in Ferrisburgh and has not reoffended, according to public records.
In a brief phone interview, Hulett said that Cashman didn't deserve the criticism he faced.
"It was unfair. He was just doing what he believed in," Hulett said. "He did what he was supposed to do. He did his job."
Hulett said he has found steady work and stayed out of trouble since his release from prison. But he did not wish to revisit the case or talk about his life in detail.
"People are going to think what they want anyway," Hulett said. "It doesn't matter."
In a sense, Cashman got the life sentence. Former chief administrative judge Amy Davenport told Cashman that she was getting pressured to pull him from criminal court and reassign him to the less controversial civil court. Senate Judiciary Committee chair Dick Sears (D-Bennington) made clear to Cashman that his confirmation hearing, scheduled for 2007, would be rocky.
The ordeal had drained Cashman and his family. His daughter, an attorney living in Washington, D.C., spotted him on TV one night. Cashman's wife, Gail, declined to speak to Seven Days.
In a letter to Vermont Supreme Court Justice Paul Reiber in September 2006, Cashman announced he would not seek a new six-year term. Cashman insists he had considered retiring long before the Hulett controversy. His resignation letter stubbornly made no reference to the Hulett case, which Cashman has taken to calling the proudest moment of his career.
"If that hadn't happened, I would have rode into the sunset as some middling judge who made little, if any, impression," Cashman said. "And I thought I made a substantial contribution to the idea of judicial independence and being able to stand up to unreasonable emotion and demand for a Dirty Harry answer to criminal problems. As a trial judge, you can't just sit there and become a vehicle for people's anger."
Eleven years later, Cashman remembers almost every detail of the case. He keeps a binder of encouraging letters, emails and positive news coverage of the controversy, which he shared, unprompted, with Seven Days. After he stepped down, Cashman received a standing ovation at the annual banquet of the Vermont Bar Association, and the Vermont Press Association gave him its First Amendment Award.
I realize that maintaining this decision will probably cost me my job, but I'm willing to do that simply because I believe it's more important to look beyond the punishment-only approach.
Ed Cashman, to Rumble Strip
But he also appears to have moved beyond the defining moment: On the fourth Friday of every month, he cooks a meal at the Burlington Dismas House, which provides dorm-style housing and social services for inmates who have recently been released from prison but don't have anywhere else to go. Winooski, Rutland and Hartford offer similar accommodations.
James King has lived in the Burlington house since he was released from prison on assault convictions in November 2015. He and Cashman talk about politics and history during the former judge's monthly visits.
"He shakes your hand, and he has genuine concern," said King, 45. "It's not ... to let him look himself in the mirror and say, 'I did a good thing for society.'"
King was never in Cashman's courtroom, but he says one of his most memorable nights at Dismas was when a former resident, whom Cashman had sentenced, sat down with the judge over dinner.
"He said that Cashman gave him a chance where nobody else would have," King said. "He said, 'I was at the point where I was out of control and everybody in the community hated me ... and I got in a lot of trouble with a lot of charges.'"
Then Cashman explained how he structured the man's sentence so he could redeem himself, King recalled.
"Cashman said, 'If I felt there was any chance for a human being to change, I'd give them a high maximum and low minimum sentence to give them a way out to change their life,'" said King.
Extra Credit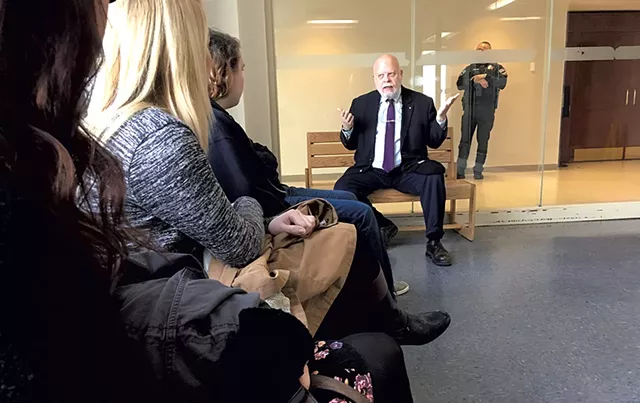 Mark Davis
Ed Cashman talking with students in the Costello Courthouse
Cashman has volunteered at Dismas for more than 30 years — 19 of them when he was still on the bench. He went through a quiche phase and a lasagna phase. Now, he often brings pizza, a rare treat for a strapped nonprofit and its often-unemployed residents. He also served on the board for years.
"You put them in jail, you got a responsibility to them — I should be there when they get out," he reasoned.
But Dismas officials sense a more profound connection.
"He's a man who thinks deeply about life and the big questions, and I think that he probably doesn't want to be just the person, the judge who makes this decision on someone," Burlington Dismas House director Kim Parsons said. Rather, she suggested, the retired judge prefers to think, There's more to people like that.
Cashman has found similar fulfillment in teaching. A few years back, he taught three courses at Champlain College, nearly a full course load, and also classes at Johnson State College. He has scaled back to one class this semester at Champlain College.
He invited his students to come on a tour of Costello Courthouse on a recent Wednesday at 9 a.m. Five took him up on the offer to see the action for themselves and to pick up a little extra credit — though they didn't appear to be the type who would need it.
They looked like grandchildren indulging their doting grandfather as Cashman showed off his old stomping grounds. He took them to the clerk's office, where he pulled the file from a minor, ongoing case and explained the paperwork.
He dragged them into judge's chambers, where an old friend, Judge Michael Kupersmith, gave them an audience before heading out to hear a few cases. The docket was packed with drunk-driving cases, Kupersmith told them. It wasn't the most engaging stuff for a bunch of college kids who would probably rather be in bed at that hour.
But something Kupersmith said triggered a memory in Cashman, who, ever eager for a good yarn, started telling his students about a colorful former public defender in Vermont who, in his spare time, was a minister and amateur singer. The students perked up.
"He used to sit in the courtroom and knit!" Cashman said, laughing. "One time he sang an aria as an opening statement! Beautiful voice."
After the students left his chambers and headed into the courtroom, Kupersmith told a reporter that Cashman's ordeal in 2006 prompted him to issue longer, more thorough statements during his sentencing hearings, to inoculate himself from public outrage.
There isn't any us and them. There isn't any good guys, bad guys. There's just us. And if we don't help each other, we're not going to make it. To rely solely on punishment is shortsighted. You have to do more.
Ed Cashman, to Rumble Strip
"I write out a statement and put it in the record so at least people will be aware," Kupersmith said. "I started taking greater care in doing that. Part of the job is living with contradiction and inconsistency. That's a danger. The best you can do is to try to explain yourself."
After watching Kupersmith dispatch a couple of misdemeanor cases and listening to Cashman recap what they had witnessed, students began shuffling back to campus. Outside the courthouse, they talked about their teacher.
Cashman looks intimidating, like an offensive lineman, but they quickly learned that he's a bit of a softie: He's got a reputation on campus as a teacher who will reliably dish out an A or B without forcing students to put in too many library hours.
"He's my favorite teacher," said senior Jessica Theodoratos, who hopes to attend law school and become a prosecutor. "He's easy, but you learn more than in other classes. He gets you to talk about things. He got me here in court on a morning when I don't have to be here."
Listen to Erica Heilman's interview with former judge Ed Cashman below. Find this episode and more of Erica's work at Rumble Strip, or wherever you usually listen to podcasts.