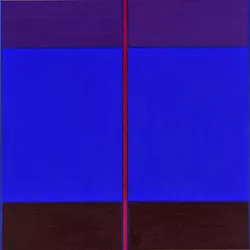 "2009 #20" by Paul Gruhler
With the contemporary art world wallowing in ironic narratives, graffiti, angst and "new media," Paul Gruhler's coolly nonobjective paintings may seem anachronistic. Gruhler is an unreconstructed modernist, practicing hard-edged geometric abstraction in the tradition of Barnett Newman, Josef Albers and other greats of the 1950s and '60s. His current solo exhibition, at the Governor's Office Gallery in Montpelier, is a challenging show featuring nine acrylic-on-linen abstractions and several works on paper. The exhibit is best approached without a preconceived notion of minimalism.
People often discount minimalism. A viewer may ask: How serious — or how difficult — is it, really? But one can hardly sustain such a reaction when standing in front of the actual paintings. Gruhler's works are alive with subtleties that are largely invisible in reproduced images. His colors are closely calibrated, and he juxtaposes textures with equal precision. His use of line becomes a narrative in itself.
Barnett Newman referred to his lines as "zips," and the same moniker would work for Gruhler's sharp lines. The fast movement of a solo line bisecting a sheet of saturated color imparts tension as well as structure. A good example of this power appears in Gruhler's 40-by-40-inch "2009 #20." A central vertical red strip layered over a blue line is the focus. The vertical red element bisects a blue rectangle surrounded by deep purples. Like one of Newman's "zips," the red line seems hot and ferocious in contrast to the surrounding cooler hues.
Texture also plays an important visual role in "2009 #20." A slight border of raw linen around the edges of the picture plane outlines the entire composition. Linen is a sort of greige color, an earthy counterpoint to Gruhler's intense acrylics. In other pieces, lines with a glossy sheen contrast with matte masses of color.
"2010 #19" is another 40-inches-square piece, but this one is divided into quadrants. A range of purples — from a shade darker than lilac to a hue close to alizarin crimson — define the four quarters of the painting. Demarcating the quadrants, deep blue lines seem to shimmer in relation to the purples. Optical mixing is common in Gruhler's pieces, including "2010 #19," as the blue, surrounded by purple, begins to shift into gray.
This phenomenon was first explored in painting by pointillist Georges Seurat, and it was taken to extremes by Bridget Riley and other "op" artists. When closely keyed colors resonate to fool the eye into seeing tonal variations of the hue, color takes on a life of its own. Pure formalism, stripped down to color and line, can be as dramatic as any figurative subject in the hands of someone who comprehends the essential elements of painting.
"2010 #14" is a somber work on paper. A monochromatic aggregation of purple rectangles has an almost black horizontal line running through its center. It's a quiet piece, without any warm color to set off the cools. "2010 #17" is a smaller, 15-by-15-inch canvas that is also built around a horizontal line. Excessive stasis is avoided by Gruhler's use of varied tonalities of crimson in the painting's corners. Bands of dark blue border the center horizontal line.
Gruhler was born and raised in New York City, and in his artist statement cites the Sung and later Chinese dynasties as influences. Certainly the balance and grace of Asian art are evident in Gruhler's paintings. Still, considering that he learned his craft during the most heroic days of the New York School, it's no wonder he remains such a classic modernist.