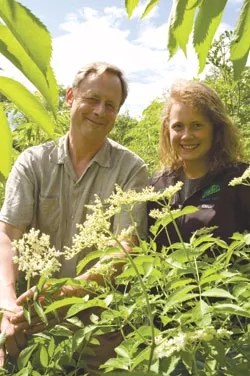 Matthew Thorsen
Todd and Charlotte Hardie
Last Friday, an envelope arrived at Caledonia Spirits. The enclosed piece of paper was a long-awaited federal distiller's license — all that Dana Matthews and Todd Hardie needed to start their new booze business.
For years, Hardie's other venture, Honey Gardens winery in Ferrisburgh, has been making mead. Its honey wine was originally crafted at Shelburne's Bostwick Farm under the watchful eye of mead master Jake Feldman. Last year, Matthews, who'd been making wine at home for 20 years, took over Feldman's role. When the Shelburne barn Matthews and Hardie were renting became unavailable, they looked to the Northeast Kingdom for a larger space.
Matthews says that the community of food producers in Hardwick welcomed them with open arms. "Everyone just bent over backward to make this happen," she adds. The small factory shares lakefront property with a log yard, the cedar aroma of which Matthews believes is good for the "terroir" of her wines. She expects Honey Gardens' tried-and-true meads — including a blueberry variety — to be ready soon. A long-awaited elderberry version should be available by Christmas.
The bigger news, however, may be the distillery — one of just five in the state. Matthews was legally barred from even attempting a mash until Caledonia Spirits' license arrived. Since then, she has begun work on a "neutral grain spirit," which will serve as a base for gin and an herbal liqueur. She and Hardie are playing with a Vermont take on Chartreuse — a French, monk-made concoction boasting 130 ingredients — using locally grown herbs and spices. One traditional inclusion that won't be on the list: anise, which both partners dislike.
Matthews would like to make Caledonia Spirits available to the Vermont public by the end of the year. "We're hoping that we'll be blessed and come up with a great recipe soon," she says. "I think we have a couple of home runs in development."