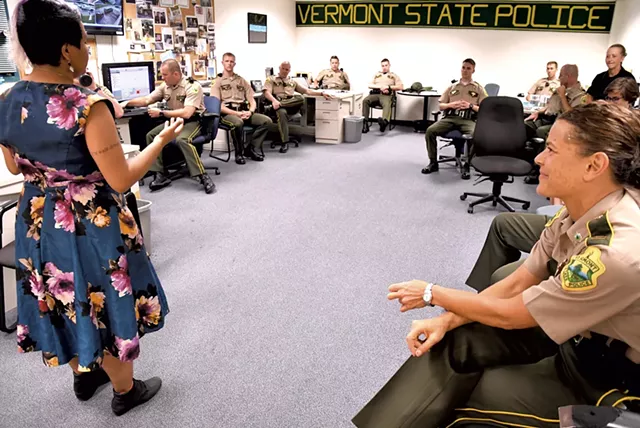 Lee Krohn
Catarina Campbell speaking to the troopers
In between shifts Monday afternoon, 13 Vermont State Police troopers, outfitted in beige and green, tentatively discussed their preferred pronouns.
"Bob," said Sgt. Bob Lucas. "Uh, 'he.'"
"I'm Steve. I go by 'he,'" said Trooper Steve DiGregorio, a youthful officer.
"My name is Andy," said Cpl. Andy Leise, the only one who seemed at ease during the exercise. "I like to be referred to as 'he.'"
Spoiler alert: All 13 were "cis" — identifying with the gender assigned to them at birth.
The officers sat in mismatched swivel chairs in the windowless office of a converted warehouse that serves as the Williston Barracks. Decorations in the room were sparse. A sign on the door in childish scrawl said "Blue Lives Matter, #VermontStatePolice."
The officers were taking a break from addressing domestic disputes and car crashes to participate in the Vermont State Police's first-ever transgender training, at the behest of their station commander, Lt. Garry Scott.
The freckled and friendly 17-year veteran of the force contacted the Pride Center of Vermont last June after a gunman killed 49 people at a gay nightclub in Orlando, Fla. Scott described the mass shooting as an "aha moment" that inspired him to bolster ties between his officers and the local LGBTQ community. He and Catarina Campbell — director of the Pride Center's SafeSpace program, which assists victims of violence and abuse — hatched the idea of transgender trainings.
(Scott couldn't remember how LGBTQ issues were addressed during his training, but, he said, "I probably snickered through most of it.")
Campbell, a Middlebury College grad and self-described "brown queer person," began the hourlong training by mentioning to the troopers that, "I almost wore gold combat boots today."
The officers seemed unsure of what to say.
Sans gold boots, Campbell still stood out in the room dominated by identically dressed white men with crew cuts. She had a pierced septum and an asymmetrical haircut: black and buzzed on one side, wavy purple and silver on the other. She wore a flowered dress and a black leather jacket.
Ebullient and eager to talk about feelings — "I am deeply appreciative of and grateful for this time with you," she told the troopers — Campbell would, eventually, get the taciturn crowd to open up.
After introductions, Campbell (preferred pronouns: she/her or they/them) read aloud several stats: 2017 is on pace to be the deadliest year ever for LGBTQ people, according to the New York City Anti-Violence Project, and 66 percent of LGBTQ people who have interacted with law enforcement reported that officers were "indifferent or hostile."
"That's what we're here together to change," Campbell said.
Lucas politely interjected. "We hate being lumped into those categories ... We resent those stats. We understand that they're real, but we resent it because we don't feel that way," he said. "I guess it was just a little bit disheartening to know that there's people out there feeling that way about us just because, obviously, we're wearing these uniforms."
A lanky officer sitting in the back corner chimed in with a question. "I haven't, in my two years here, encountered a situation where I had to investigate a hate-crime-related incident," he said. "And I was just curious, since you're working, I guess, more closely with the community, if you have stories of people coming to you saying, 'I was too afraid to make a report.'"
"That has happened," Campbell told him, and more than once.
The phone rang, and an officer left to attend to a two-car crash in Jericho. His colleagues continued grappling with gender-identity issues.
Traffic-stop data has consistently shown that troopers are more likely to pull over and cite people of color. As a result, the Vermont State Police have been working to root out racial bias within the ranks. Officers are required to record the race of whomever they pull over, but not their sexual orientation or gender identity. That's understandable, but it leaves the police and public without any way of quantifying law enforcement's potential bias toward LGBTQ people.
Even without data, one can safely assume that there's room for improvement in what's long been a hyper-masculine profession — particularly in light of the paucity of "out" officers. Capt. Ingrid Jonas, director of fair and impartial policing and community affairs for the Vermont State Police, said she isn't aware of any transgender officers or openly gay male officers among the 305-person force. Jonas participated in the training Monday.
Campbell showed the predominantly male group a video of a cop pulling over a transgender woman whose driver's license identified her as male. Rather than question the discrepancy, the officer casually asks whether she prefers to be called "sir" or "ma'am."
Even better, Campbell suggested, would have been to simply ask her how she wanted to be addressed — in case she identified as neither a sir nor a ma'am.
"I found myself in that situation not too long ago," DiGregorio volunteered later in the training. "My reaction was just to avoid the whole sir/ma'am, he/she thing."
Campbell nodded encouragingly.
At the end of the hour, she asked everyone to share a reflection about the training.
Scott went first: "I'm embarrassed by behavior I've exhibited in the past, language that I've used and knowing I probably upset people along the way ... I see it as an opportunity where I can move forward and hopefully fix some things."
When it was his turn, DiGregorio was ready: "Don't be afraid to ask what somebody prefers."