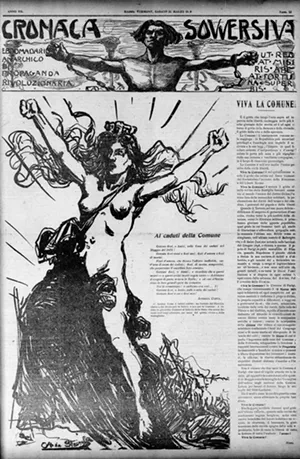 Courtesy Of Vermont Digital Newspaper Project
Cronaca Sovversiva, March 20, 1909
Something odd took place one February day in 1886 in what would come to be called the Northeast Kingdom. The St. Johnsbury Caledonian, the newspaper in the area's biggest town, announced the following on its February 18 cover page, under the headline "A Queer Lot of Witnesses":
That was a queer lot of witnesses that testified, either directly or indirectly, at the Ward trial last week. Clautier's horse "Baby," [sic] came first and following after came a sleigh, two pieces of beet, two partly burned candles, an old tin lard pail, a No. 9 overshoe, a pine stick, a fragment of an old newspaper, a bit of The Caledonian, a man's tracks in the snow, sleigh tracks on a cross road and nobody knows what may yet be brought in by either side.
It seems a curious happenstance, this parade of horse-drawn detritus. Who was Clautier? What was at stake in this Ward trial, the name of which is dropped so casually? And what's this about beet pieces?
Thanks to an initiative called the Vermont Digital Newspaper Project, any historically minded citizen can now dig into this and other happenings in the state's rich (and sometimes weird) history. The project has so far digitized some 260,000 pages of Vermont newspapers, all of which are now easily searchable and browsable online. A few clicks, and the everyday details of the past unfold at high resolution on one's monitor.
Funded in part by the National Endowment for the Humanities and the Library of Congress, the VDNP is part of a larger, national effort to provide access to the periodicals that give firsthand accounts of the country's history. The project — which has a staff of eight in its main offices at the University of Vermont — also receives support from the Vermont Historical Society, the Vermont Department of Libraries and Middlebury's Ilsley Public Library.
Since 2005, the National Digital Newspaper Program has digitized millions of pages from 37 states, with more added daily. Issues from 59 state newspapers make up Vermont's contribution to this valuable database, which is housed on the servers of the Library of Congress.
Scanning through old newspapers may not be everyone's idea of light holiday reading. But even a quick foray into the archive yields historical gold for any curious Vermonter — and especially for scholars, genealogists and teachers. UVM researchers and librarians have created tutorials and educational aids for these and other likely users of the files.
Jeffrey D. Marshall, the UVM library's director of research collections and director of the VDNP, notes that the database offers much of interest for even the casual reader. "If you're interested in a particular historical era or year, just browsing through the papers can be very entertaining," he says.
According to restrictions imposed by current copyright law, VDNP may digitize only those periodicals published between 1836 and 1922. But even that relatively short time span opens myriad windows onto Vermont history. Karyn Norwood, digital support specialist for VDNP, says that "anyone with any sort of interest" will find something worthwhile. A person interested in cooking, for instance, can plumb the files for historical recipes.
To convert the pages into searchable, digital form, archivists start not with the old, brittle newspapers but with the reels of microfilm on which they were archived in the predigital era. The microfilm negatives are sent to a third-party vendor, which returns to UVM a duplicate negative (eventually archived at the LoC) as well as a positive copy. The negatives then go to a vendor in Utah, where every page is digitized into files of four different formats.
Back at UVM's Bailey Howe Library, archivists like Norwood and librarian Erenst Anip do the hard work of processing and uploading the digital files. They also use optical character-recognition software to turn what are essentially digital photos into keyword-searchable documents. That software is "far from perfect," Marshall says, but it's a tremendous boon to both archivists and researchers.
The project's advisory committee, an 11-person panel of librarians, journalists and archivists, uses NEH guidelines to decide which newspapers are priorities for digitization. Obvious choices include major papers in larger cities — e.g., the Burlington Free Press and the Rutland Herald — but of equal historical value are the lesser-known gems. Norwood is particularly keen on Cronaca Sovversiva, an Italian-language anarchist paper published in Barre by Luigi Galleani, to whom she refers as a "really notable 20th-century anarchist leader." Not only is the paper's content unusual, Norwood says, but its artwork is especially accomplished.
Marshall and Norwood meet with Seven Days in the small office previously occupied by former project director Birdie MacLennan, who died in March. Marshall and Norwood describe her as the driving force in establishing Vermont's branch of the National Digital Newspaper Program, including writing its initial grants.
The project recently received its third and final two-year, $325,000 NEH grant; by late summer 2016, all grant-supported VDNP efforts will draw to a close. While there are still plenty more newspapers to digitize, Marshall says that, by the time the money runs out, the project will have "pretty well covered the major titles." He acknowledges that VDNP does not have the resources to digitize every small-town paper, but he hopes to continue with the archiving project even after federal funding stops coming in.
Norwood stresses the value of learning local perspectives on historical issues. "Having not just the syndicated stuff but local and statewide news gives you that peek into the past," she says. "For local communities, these newspapers are a phenomenal resource."
After all, someone has to figure out what was up with those St. Johnsbury beets.
INFO
The original print version of this article was headlined "For Future Reference: Librarians Are Digitizing Vermont's Past"