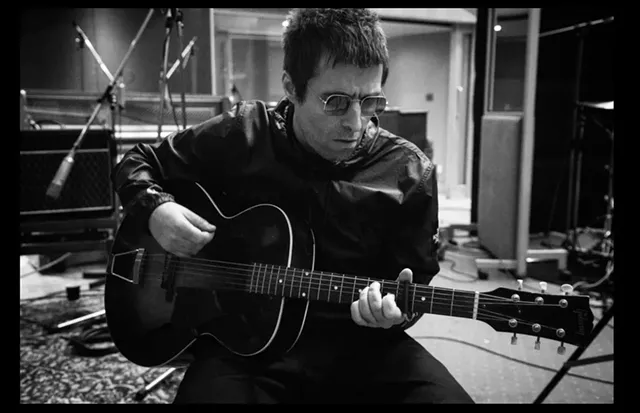 MASTERPLAN Lightening and Fitzgerald document the Oasis frontman's reinvention as a solo rock and roll star.
In the beginning, Cain and Abel went for each other's throats. Later, Romulus and Remus. Much later, Phil and Don Everly. You see where I'm going with this. Liam and Noel Gallagher are the founders of the English rock band Oasis and the reigning heavyweight champions of sibling rivalry.
Even in the '90s, the group was as famous for its fraternal friction as for its chart-topping music. Given the brothers' degree of drug-fueled acrimony, it's amazing Oasis lasted until 2009 before imploding. One August night, moments before a Paris show, the two went at each other one final time, and Noel zoomed away in his Lamborghini. As we learn in this eye-opening film, the Gallagher brothers haven't spoken since.
Liam Gallagher: As It Was (now available for purchase on various streaming services) is about what did happen next. Directed by Charlie Lightening and Gavin Fitzgerald, it's a documentary geared to an incredibly specific demographic. If you don't love Oasis, wish the Gallaghers would bury the hatchet, suspect deep down it's Noel who's been the bigger tool and therefore root for Liam's second coming, the movie's likely to leave you mystified. If you do, you're all but certain to find yourself satisfied and then some.
Unlike 2016's Oasis: Supersonic, this isn't a picture purporting to tell both sides of the story. It's a record of the depths to which Liam, 47, spiraled following the disintegration of the group — Britain's biggest since the Beatles — and his long, slow slog back to the spotlight. If you're acquainted with the brash, defiant, hedonistic figure the singer cut in his twenties, you're in for a surprise.
The picture literally begins with the end of Oasis, as the shocked Paris crowd is told the show won't go on. From there, the movie does succinct dives into projects Liam threw himself into without skipping a beat. His new band, Beady Eye, failed to pick up where Oasis left off, despite being the same band minus Noel. Who did write most of the group's hits.
Then there was Pretty Green, the flower-power fashion line Liam started in 2009. There were tabloid troubles — very public divorces, custody battles, substance-abuse battles, seemingly endless court battles. What there wasn't any longer was money to pay for it all. One interview subject tells of a desperate moment when Liam reached out to his brother. A brief reunion tour would've gotten him back on his feet. He's still waiting for Noel to return that call.
Not that the rocker has simply been waiting around. Debbie Gwyther, his girlfriend and manager, convinced Liam he had what it took to find fame and fortune again. He got busy and did just that, thanks to the phenomenal success of two solo albums since 2017. Liam has also reaped the riches of fatherhood; his kids are grown, and he clearly relishes being with them. The dude still enjoys a Guinness but jogs more and smokes less. He's writing his best songs ever. Occasionally, he even comes across as humble.
There's nothing revolutionary about the film's approach. It's a regulation mix of talking heads — Oasis guitarist Bonehead and Liam's older brother Paul among them — and archival footage, with a sprinkling of Liam's recent music. (Noel made things difficult by refusing to license Oasis tunes.) What elevates the material is its insightful, uplifting portrait of the artist as a new man. The movie was 10 years in the making. Ditto Liam Gallagher 2.0.