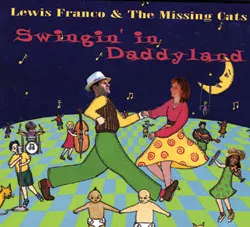 (Mom & Pop Music, CD)
I don't like children's music. It's funny, because, for the most part, I like kids. And believe it or not, I like music. So what is it about the meeting of the two that rubs me the wrong way? Is it the inane lyrics? The obnoxiously catchy, singsong melodies? The idea that sleazy record execs are corrupting generations of youth by force-suckling them at the altar of consumerism, masquerading as giant, fuzzy purple dinosaurs? Yes. Yes. And abso-freakin'-lutely. It's enough to make one to pray for sterility.
But don't tie those tubes just yet; there's hope on the horizon.
Central Vermont songwriter Lewis Franco is one hep daddy-o. With his latest offering, Swingin' in Daddyland, the guitarist delivers a rock-solid swing record likely to enthrall the kiddies over and over again. But perhaps more importantly, it won't drive their parents nuts upon repeat listens.
To call this album "children's music" is perhaps not quite fair.
Family-oriented, the target audience is certainly kids. But unlike any number of kinder-music artists — Raffi being perhaps the worst culprit — Franco doesn't assume your kids are dumb. He charmingly addresses myriad topics from the obvious (love, family, etc.) to less traditional themes such as the actual responsibility required to properly raise children, and the inevitable frustrations that arise in doing so.
Speaking to the latter issue, "Have You Looked" is likely the finest track here, and serves as an apt summation of the album's overall feel and blue-eyed soul. A back-and-forth between Franco and his 10-year-old daughter Louisa — who displays remarkable tone and control for such a tender age — the song centers around children's tendencies to "misplace" items that were never really lost at all. "Daddy, have you seen my necklace?" inquires Louisa, innocently. "Have you looked in the vicinity of your neck?" replies Daddy.
By the song's finish, Daddy is clearly exasperated. Louisa's solution to finding his "lost" patience? Looking in the vicinity of his heart.
Franco is a masterful songwriter and handles potentially cornball material with grace and affection. It doesn't hurt that his band, The Missing Cats, serve up some seriously hot swing throughout, lending an innocently playful quality to the recording. Given the local all-star cast — Gabe Jarrett, Robinson Morse and Will Patton, to name but a few — that should surprise no one.
Swingin' in Daddyland is a delightful alternative to the flood of intellectually and emotionally vacant releases vying for your kid's entertainment dollar — and their parents' sanity.