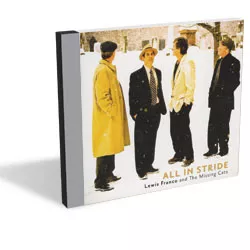 (Self-released, CD)
When last we left central-Vermont-based hepcat Lewis Franco, the songwriter and bandleader was thrilling the Baby Bjorn set with a charming little children's record, Swingin' in Daddyland. Nearly four years later, he's back with a new effort, All in Stride. The album is a breezy exposition of mellow acoustic swing and often-cheeky hothouse jazz. While aimed toward more mature ears, it should still appeal to fans of all ages — especially if they were lucky enough to be weaned on records such as Daddyland.
"Slapstick Comedy" opens the record and reintroduces Franco as both a gifted guitarist and delightfully likeable songwriter. His easy vocal delivery makes it seem as though he has an eternal Cheshire grin as he coos a playful melody around Dono Schabner's slinky guitar line.
To repeat, this ain't no children's album. "Desperate Buyers" would be one song parents may wish to keep clear of impressionable ears. A clever, if somewhat depressing, allegory centered on the seedy allure of prostitutes — yes, really — it's probably best saved for after you've had "the talk" with junior. Well after. Still, it's a finely conceived and executed tune that scores major bonus points for degree of thematic difficulty.
Franco's backing band, the Missing Cats, are as compelling as ever, which is to be expected given their collective pedigree. In addition to Schabner, Franco enlists the talents of gypsy-jazz guru Will Patton, who shines on mandolin and resonator tenor guitar throughout, in addition to adding pitch-perfect backing vocals. Justin Rose is typically solid holding down the low-end on upright bass. And "guest cat" Colin McCaffrey — who, not surprisingly, engineered the record — has some nice moments on backing vocals, as well as some superb string work on "Brother, Can You Spare a Dime?" and "Robinson Cemetery."
The latter tune is one of several examples highlighting Franco's subtle songwriting gifts. While Daddyland was notable for his ability to make children's music palatable for adult ears — which is no mean feat — here he reveals previously unseen nuance. Franco wrote all but three of the album's 13 tracks and displays impressive versatility throughout. From tender melancholy on "Robinson Cemetery" to playful teasing on "Nickel and Dimin' Me to Death" and heartfelt longing on album closer "Stay With Me," Franco proves he has depth to match his significant chops.
Lewis Franco and the Missing Cats celebrate the release of All in Stride this Saturday with a show at the Montpelier Unitarian Church.