Jordan Barry ©️ Seven Days
Cinnamon roll, fruit tart, Anjou pear melt and turkey BLT from Leunig's Le Marché Café
Is there anything more dazzling than a pastry case full of fruit-topped tarts, chocolate-coated cakes and multicolored macarons?
While many forego such sweets in the name of New Year's resolutions, the Seven Days food team continues its January tradition of celebrating them. We welcomed 2021 with a story on doughnuts and 2022 with one on croissants and kouign amanns. This year, we're dedicating a whole month's worth of stories to bakeries.
To kick things off, I headed to Shelburne's newest French café and bakery: Leunig's Le Marché Café. Opened in December in the former Harrington's of Vermont space at 5597 Shelburne Road, Le Marché has already brought a bit of je ne sais quoi to town — along with favorites from Burlington's Leunig's Bistro & Café and Petit Bijou kiosk.
Jordan Barry ©️ Seven Days
The pastry case
Leunig's chef-owner, Donnell Collins, lives in Shelburne and designed the café and bakery to be the kind of place she and her family wanted in town: somewhere they could go for a takeout sandwich or a box of pastries. Since opening, Collins has been surprised by the number of people who want to sit and have lunch.
"I don't know what I was thinking at first," Collins said with a laugh.
The tables were full when I went in around lunchtime on a weekday, with customers enjoying salade Niçoise and jambon-beurre sandwiches beautifully prepared by chef Amy Langford and her team. Langford has worked with Collins at Leunig's for more than 20 years, Collins said, and the pair dreamed up the Shelburne space together.
"The Petit Bijou kiosk was really the inspiration," Collins said. But the Church Street kiosk is tiny, and the Leunig's kitchen — where the pastries have been produced until now — is too busy. At 3,000 square feet, Le Marché has plenty of room and will soon take over most of the baking for Petit Bijou. It will also serve popular street food snacks and fresh sandwiches, soups and salads from the kiosk menu.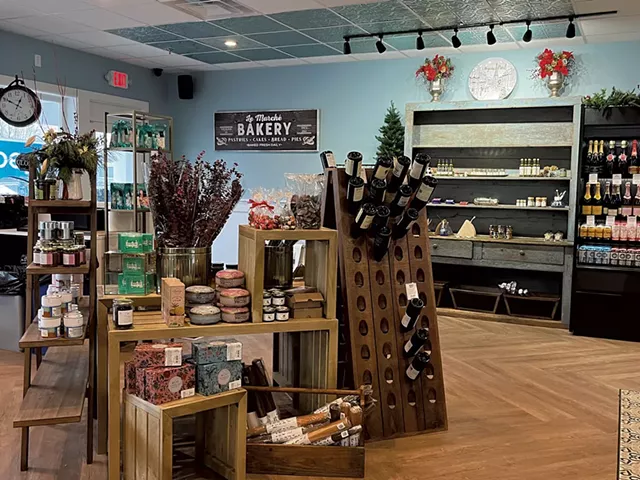 Jordan Barry ©️ Seven Days
Market goods
Front-of-house manager Conrad Osborne took my order for a turkey BLT ($14) and an Anjou pear melt ($12) — made with local chèvre, caramelized onions, baby arugula and chai-infused honey from Ariel's Honey Infusions on wheat bread. As I waited for my takeout order, the pastry case caught my eye; I added a delicate fruit tart ($6.50) and a bulging cinnamon roll ($4).
Pastry chef Rachel Cemprola started her pastry career 11 years ago at South Burlington's Klinger's Bread. She then baked in Colorado, Florida, Texas and Saratoga Springs, N.Y., before "coming full circle" and returning to Vermont when her husband got a job at Beta Technologies, she said.
"Leunig's has a great reputation, so I threw my résumé into the ring," Cemprola said. "Donnell has really allowed me to take the reins."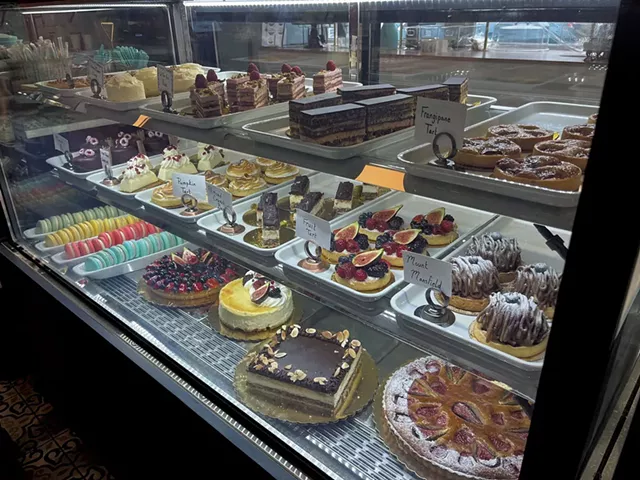 Jordan Barry ©️ Seven Days
The pastry case
Collins shared with Cemprola inspiration from her trips to France but has otherwise given the pastry chef and her team freedom to develop their own extensive lineup of croissants, kouign amanns, scones, focaccia, almond crunch bars, tarts and gâteaux.
Cemprola's pastry program honors the Champlain Valley, she explained, using local ingredients to "emulate the scents, flavors and colors of Vermont's seasons." Many of Le Marché's creations are based on local mountains, including the maple-inflected Mt. Mansfield Tart — a take on the traditional Mont Blanc tart, named for the highest mountain on the French-Italian border. So far, the most popular is the chocolaty Mt. Philo Cake, Cemprola said.
"Mount Philo is right down the road from us, and anyone who's done that hike knows it's pretty much steps all the way to the top," Cemprola said. The meringue topping on the cake mimics those wood and stone stairs.
Next time, I'll buy treats for a Mount Philo picnic.