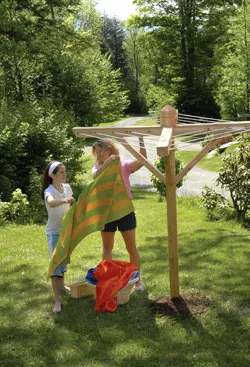 Michelle Baker and helper with a "Garden Party" clothesline
After years of being stigmatized, the humble clothesline is enjoying a prolonged moment in the sun, and Michelle and Joel Baker are basking in the glow.
The Bakers are the owners of Vermont Clothesline Company, a mom-and-pop operation that manufactures easy-to-assemble clothesline kits from their garage workshop in Waterbury Center. The couple didn't set out to ride the "green" wave or hop on the "right- to-dry" bandwagon. They just wanted a better clothesline.
In 2007, Michelle Baker decided to ditch her Frigidaire dryer in favor of line drying. She searched hardware stores but couldn't find a clothesline she liked. "All I found were these ugly, metal, Chinese-made poles," Michelle says. "I thought, If I put that in my yard, it's going to rust or blow away."
So Michelle asked her husband, a carpenter, to make her one and install it in the yard. Friends took notice and asked where she got it. And, almost by accident, a business was born.
Today, Vermont Clothesline Company makes simple clothesline kits and ships them all over the country. The rough-hewn posts are made of Eastern white cedar from Goodridge Lumber in Albany, Vt. The rope comes from Erin Rope Corporation in Blue Island, Ill. And the hardware is all American made.
The company makes three varieties that sell for $95 to $169, plus shipping, on their website. Recently, VCC filled its biggest order to date, supplying 60 clotheslines to an elderly-housing development in Waynesboro, Pa. — a purchase funded through federal stimulus dollars.
That small but steady growth comes as the clothesline — in recent decades a symbol of poverty and even drudgery — is resurging. The right-to-dry movement is gaining momentum in part because of the efforts of groups such as Project Laundry List, which lobbies states to enact laws that prevent homeowners associations from prohibiting clotheslines for aesthetic or other reasons. Vermont became one of a handful of states with a right-to-dry law last year.
The national media has splashed the issue on front pages and in evening newscasts. Last week, Comedy Central's "The Colbert Report" aired a farcical exposé on line drying called "The Enemy Within," about a woman in Oregon targeted by her neighbors for — gasp! — hanging her undies outside.
A serious documentary due out in October, Drying for Freedom, explores the national controversy surrounding laundry-line bans — one that apparently fueled an argument between neighbors in Mississippi that ended in a homicide.
VCC has had a run of good press, too — none of it solicited. The Christian Science Monitor, American Profile and a Korean news team based in New York City all came to Vermont over the last few years to feature the company. After those stories ran, orders rolled in so fast the Bakers couldn't keep up. Now, they're finally ahead of the game, with a few hundred kits stockpiled at a Waitsfield warehouse.
The company makes three basic styles with evocative names. The "Garden Party" is a T-shaped setup with one center post and rope webbed around it. The "Summer Breeze" is made up of two T-shaped posts with rope strung between them. And the "Vermont Farmhouse Post" is a solid, single cedar post with a pulley-style laundry line that attaches to a tree or house.
But what about clothespins? The Bakers note that Vermont was home to the last manufacturer of wooden clothespins in the U.S., the National Clothespin Company in Montpelier. The Bakers say they've contemplated expanding into handmade clothespins to build on that heritage, but for now it's just a concept.
The Bakers are selling about 300 clothesline kits a year and gross $50,000 to $60,000. The kits are only sold online, but the couple hopes eventually to retail them through such outlets as Vermont Country Store or Gardener's Supply.
The company has no full-time employees, and the Bakers each hold other jobs. Michelle is a school business manager at the Washington West Supervisory Union; Joel runs a contracting firm and sells insulated concrete forms. They'd like to be full-time clothesline makers someday, but for now they'll keep their day jobs.
The Bakers' business sense sounds as basic and down-to-earth as the clotheslines themselves. In thinking up the designs, "We just wanted something sturdy and relatively attractive, but kind of rustic," Joel says. "Something you could chuck in your woodstove when you're done with it." As for determining a price point, he notes, "We just figured out what it cost to make them and what seemed like a reasonable profit. We can't compete with the $39.99 Chinese aluminum clothesline they sell in Home Depot."
Even the green philosophy is laid-back: "It's a viable way to conserve some juice here and there," Joel offers. "That has some appeal to me."
Project Laundry List is now selling the Bakers' clotheslines on its website, where it also offers some eye-popping statistics on the amount of money and energy that clothes dryers suck up. Such as: Five billion dollars are spent every year on machine drying in the U.S.; on average, dryers account for at least 6 percent, and as much as 20 percent, of a home's monthly energy bill. PLL also found that some 50 million American homes are banned, or restricted, from using clotheslines by homeowner association rules.
"If we solve the right-to-dry problem for America, we've solved the problem for maybe 20 percent of the population," says Alexander Lee, who founded PLL while a student at Middlebury College in 1995. "We have a cultural problem that's much bigger than whether people are allowed to hang up their clothes."
Looking ahead, the Bakers want to expand their product line with a portable clothesline that collapses easily — perhaps appealing to rogue condo owners or college students living in dorms.
"There are people who feel they have to dry stealthily," Joel says. "They need something they can set up and break down easily."