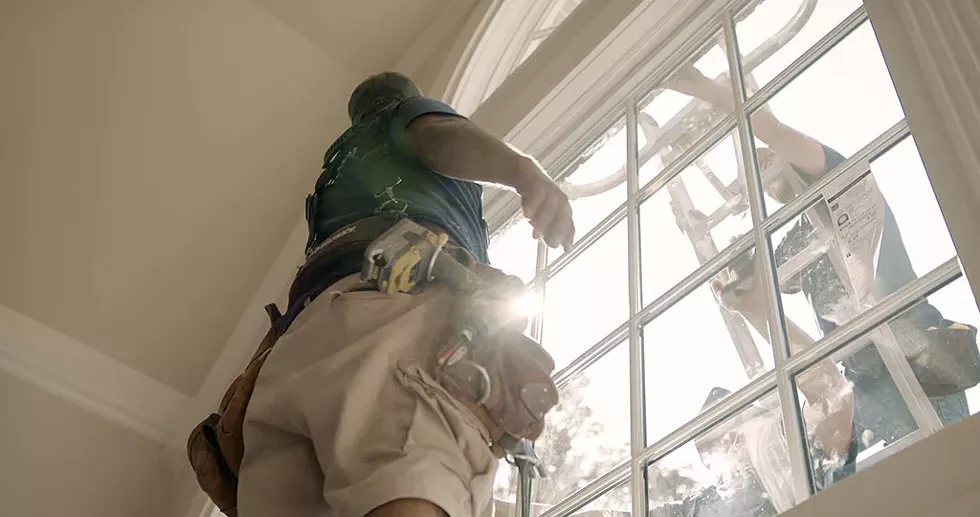 Windows & Doors By Brownell
W
inter in Vermont seems to last about two years, and it can feel even longer when you don't love your living space. It was a cold and dark day in December when Ashley and her husband decided they needed an upgrade in theirs.
Spending more time indoors reminded them daily that the windows in their dining room were outdated and small, making the dining and reading room of their Shelburne home a poorly lit place in which to eat or crack open a book. Ashley was worried about making any changes for fear of ruining the silk wallpaper.
"But," she recalled, "my husband and I kept saying, 'I wish we had more light.'" So that day in December, they made plans to replace the windows.
Ashley called
Windows & Doors By Brownell
; the family-owned company has been a consistent, reliable source for residential window renovations since 1991. She says their team came in with a can-do attitude. "They were just so confident. They showed us what the windows would look like digitally, and we thought it looked great — so we went through with it."
Ashley doubled her windows for more natural light.

Slide the handle right to left to see the seamless change.
<!— The before image is first —>
<!— The after image is last —>
From start to finish, the project took about three days. Initially, Ashley was worried about removing the windows in the cold weather; the temperature was below 20 degrees. "It was really, really cold out!" she said with a laugh. "I wondered how the heck it was going work."
Interested in replacing your windows?
The team from Windows & Doors By Brownell makes it easy to upgrade your windows by providing good customer service and valuable experience. Schedule a free in-home consultation today.


But the crew put up a tarp when they finished for the day and never left a hole in the wall. "I never even felt a draft," she said.

And during the process, Ashley said, the Brownell staff was extremely attentive. They were clean and never tracked salt or dirt into the house. "The owner even called my husband to see how things were going," Ashley noted. "You could really tell this was not just a job. You could see the pride in workmanship, and you could tell they really just wanted us to be happy with it, no matter what."

Now that the project is complete, her windows let in a lot of natural light and keep the heat in with good insulation. Ashley said it's had a surprisingly dramatic effect on the house. There's a fresh, crisp cleanness to the rooms. "It sounds silly because it's just two windows, but it really made everything so much bigger and better," she said.

And the contractors at Brownell were able to preserve not only the silk wallpaper, but the trim work on the windows. "It looked just like the picture," she said.
A Change of Scenery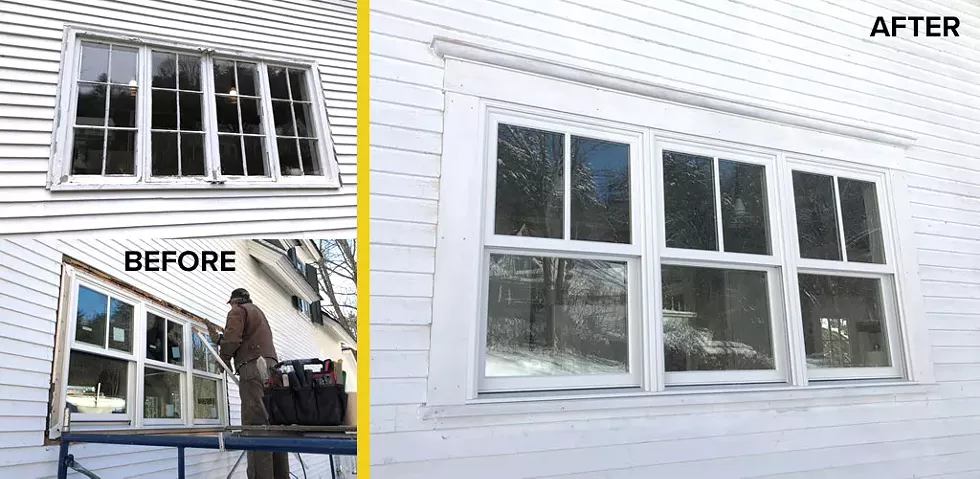 Windows & Doors By Brownell
A wintertime installation in Woodstock, Vt.
Thirty years ago, Windows & Doors By Brownell founder Les Brownell was working for a lumberyard. He realized that there weren't many salespeople out there who could both sell a window and put it in. Consequently, replacing windows could be a lot of work and involve many moving parts. He saw an opening for a one-stop shop, so he started one.
The company has changed a bit over the years and now includes a parts and service department, a paint shop, and Marvin window design services, he said: "We just kept adding services. We're part of everything. We can do it all."
Early on, Les chose a single window supplier — Marvin — because of the quality of the product and the company behind the window. "I love the custom flexibility; they don't come in a box," he said. "Getting a Marvin window is like a trip to a salad bar with thousands of options available."
Like
his
company, Marvin is also family owned, he said. Marvin is currently being led by Paul Marvin, CEO and fourth-generation member of the company. Frank Marvin (third generation) had helped Les get started and build the business from the ground up. They both support each other and share a common goal: getting the consumer the best quality window possible.
Windows & Doors By Brownell
Les Brownell
Thirty years ago, Les was the person who went to people's houses and sold them windows, but as the business has grown, so has the Installation Department. It's now made up of a team of passionate people. Les now splits his time between in-home visits and managing the business, but going out and talking to people is still his favorite part of the job.
"It's why I started doing all of this," he said. "I love getting out in the field and helping people find the right product. I'm not a designer, but I've seen so much, and I think that helps people." Les sells windows with the idea in mind that it's a piece of art. When people buy a window, they shouldn't try to hide it — it should be part of the décor.
"I love looking at a window and realizing, 'Hey, we should open this place up a bit more so you can actually enjoy where you live,'" he said. "At the end of the day, that gives me great satisfaction, and it's the same satisfaction I had in 1991."
Sealing Up the Problem
Erik Heikel is the installation manager at Windows & Doors By Brownell. He said the most common reason people call him is that their windows no longer function correctly. They're rotting, they don't open and shut properly, or they're drafty.
If you feel cold drafts coming from your windows or if you notice that your windows are getting foggy and difficult to see through, that's the easiest way to tell that you need to replace them.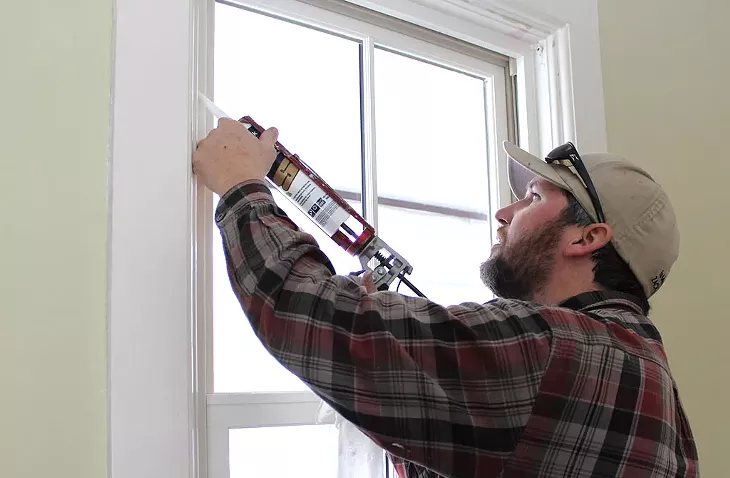 Windows & Doors By Brownell
Installer Matt Bartlett
Most people don't dedicate their life to windows, so it can be a bit overwhelming when it's time for a replacement. Erik emphasizes that it's important to know what your home needs, the quality of the product used, and that the person installing the window is using the proper installation techniques to protect your home from the elements outside.
At Brownell, the installation technicians are all Marvin-trained and full-time, year-round employees.
The last thing a homeowner wants to do is to replace their replacement windows in five, 10 or even 20 years.
Erik explained, "A badly installed window can wind up costing you much more in the long run. It's so important to find people who are capable of doing the project."
Enjoying the View
Erik's most memorable project was in his own home. His basement had windows that offered a view of the backyard. Though the windows weren't large, they were one of the features he liked most about his house. However, the windows had worn out and were letting in a ton of cold air, which made being in the basement unbearable. The glass was totally shot. And the space felt small and dark.
When he decided on the renovation, he modified the existing double-hung windows into a huge Marvin picture window that let in much more light. Now, he and his family use the basement as a family room and hang out there all the time. They make great use of a space they had previously ignored — all because they changed the windows.
Ashley can relate. "What's the point of living in beautiful Vermont if you don't enjoy it?" she pointed out. "There's so much great scenery right outside your window. It's an investment in loving your home, and for me, it really made a difference in my well-being."
Interested in replacing your windows?
The team from Windows & Doors By Brownell makes it easy to upgrade your windows by providing good customer service and valuable experience. Schedule a free in-home consultation today.