Dumpling Delight
Kudos to Alice Levitt for that brilliant article featuring Luiza, the Dumpling Diva ["Dumpling Diva," May 27]. Luiza's Homemade With Love is real good food by a gifted chef, indeed. I know this because Luiza fixed an incredibly delicious meal for me. Thank you Seven Days, Alice and Luiza for lighting up our lives!
Luck Kalanges
South Burlington
Activist Orientation
I wanted to commend Kathryn Flagg on her kind article about Rising Tide Vermont and their pipeline action camp ["Action! Behind the Scenes of Vermont's Pipeline Protests," June 11]. My husband, Mark, and I hosted that camp at our property in Charlotte, and we couldn't have been more impressed with their kindness, organizational skills and respect for us, the land and each other.
We are in the midst of an enormous paradigm shift — or rather, I should say, multiple overlapping paradigm shifts — and that takes an enormous amount of patience and learning as the ways we have known the world to be get disrupted. Certainly, we're learning about the effort it's going to take to move away from business-as-usual fossil-fuel infrastructure projects like this natural gas pipeline.But we're also all learning about how to treat each other and the world with true justice. Some of us are learning how to recognize the challenges and responsibilities of living in and benefiting from being a part of the dominant (and dominating) culture. Others of us are learning how to make our once-unheard voices ring out, and be recognized and understood by those who might not want to listen or acknowledge what we have to say.
These are delicate, perilous, remarkable times we all live in, and enormous transformations are upon us, whether we wish to participate or not. I commend the good folks of Rising Tide and other climate activists for refusing to bury their heads in the sand, to champion difficult and painful truths, and to work for a better world with authentic hope, fierce determination and endless love.
Kathryn Blume
Charlotte
Two-Way Street
[Re Feedback: "Bike-Unfriendly Burlington," June 18]: It's a two-way street, you know, pun intended.How about bikers stay in the bike lanes and not ride two and three abreast in the lanes for cars? And what about following the street signs and lights?How often have I almost hit one of us — yes, I ride a bike, too — when some breeze right through the stop sign, figuring it's for just the cars?
Seriously, you want a bike lane on Shelburne Road — an insane thought to me, considering I hate to drive it surrounded by a thousand pounds of metal? Then follow the rules of the road.
Sean Moran
Shelburne
The Evolution of a Giant
I loved the cover story about the roadside attractions of Québec's Route 133 ["La Route Less Traveled," June 11]. I've been snapping photos along that way for years. As mentioned, the antique giant had prior lives. When the business he watched over was a snack bar, he held a Coke and fries. They gave way to a ladderback chair before he evolved to his current incarnation as a larger-than-life sales assistant.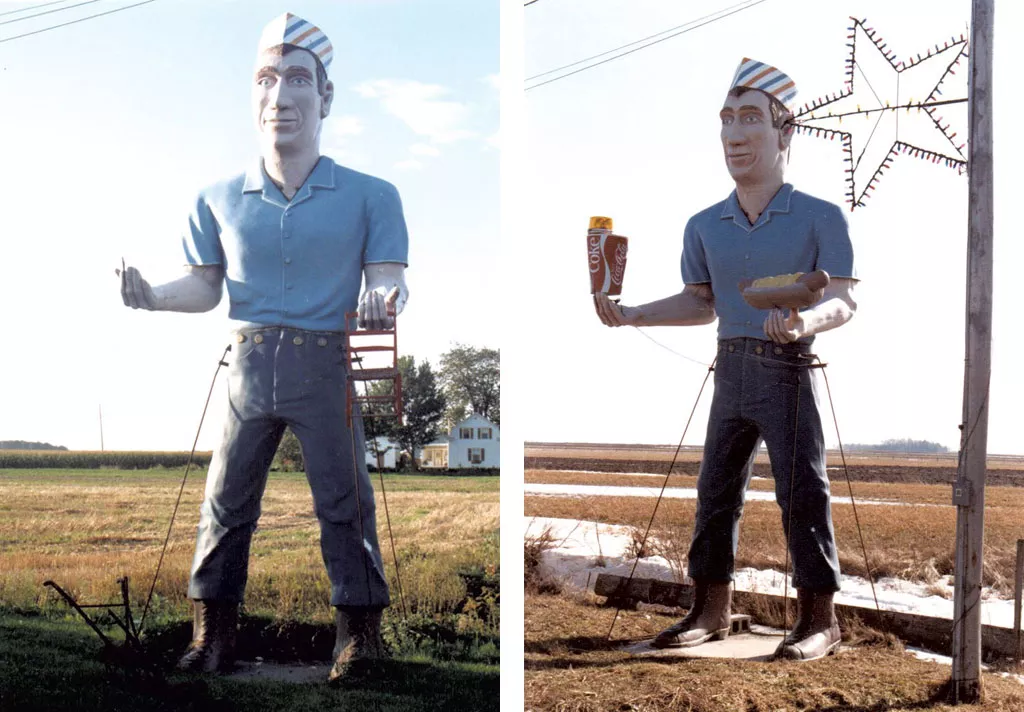 Michael Levine
Middlesex
Peyton's Place?
We have a candidate in Vermont who stands against fracked gas, against the F-35 and for public banking, agricultural hemp and other popular positions. Paul Heintz ignores her as a viable and important voice in the race for governor [Fair Game, June 11]. Emily Peyton is the only candidate who represents those ideas, and Seven Days does a disservice to the people by abetting those who would keep those ideas silent. Emily has been working at a grassroots level to bring these ideas to the fore. It is irresponsible of Seven Days to ignore independent candidates who bring important proposals to light.
Jim Hogue
Calais
Editor's note: Technically, Heintz did not ignore Peyton. He wrote, "The only one left on the Republican ballot might be Emily Peyton, the Putney leftie who runs for office nearly every election."
So Sears
[Re "From State Ward to the Statehouse," June 18]: As a "recovering" journalist and active news junkie, I don't often find myself unreservedly complimenting the work that I see, especially in a century proliferated by so many wannabe journalists who lack the basic requisite skills. Mark Davis' piece about Sen. Dick Sears, though, truly captured the essence of this remarkable man whom it has been my privilege to come to know. Keep up the exemplary work.
Gordon Bock
Northfield
Bock is chair of CURE Vermont, which advocates for prisoners, former prisoners and their loved ones.
AA Ouster
I read with great amusement that the American Apparel CEO, Dov Charney, has been fired for unacceptable acts of sexual misconduct — the most recent of which was a viral video of Charney dancing around naked in front of two AA employees. In 2010 the Equal Employment Opportunity Commission in Los Angeles found American Apparel discriminated against women, as a class, on the basis of their female gender, by subjecting them to sexual harassment.Apparently, the numerous complaints to the editor regarding their questionable adverts on the back cover of Seven Days had merit.
Steve Allen
Waitsfield
CORRECTION
In his May 28 Fair Game column, Paul Heintz reported that Burlington Friends of Education purchased a full-page ad in the Burlington Free Press. In fact, the ad was paid for by a separate group of residents who supported the school budget.