No BS!
Way to go, Fair Game columnist Paul Heintz! I love reading his articles because it's clear that he has no patience for BS It's telling how incredulous the politicians get when you won't let them off the hook. Either they give you a straight answer or come across like they've got something to hide — or they have to run away from you and look all the more evasive. Please don't stop what you're doing!
Lee Stirling
Colchester
Give It a Breast
[Re "Got Milk?" May 6]: The story on breastfeeding "pods" is an index of dysfunction in our culture, which forces working women to pump breast milk because the requirements and cultures of workplaces are designed for and by men — to keep women out.
Though a pod is better than a bathroom for pumping milk, the problem is that pumping is not breastfeeding. It's the manarchy's way of forcing women and babies to conform to its structure. We're making man-clones of women and children. Pods are like stalls in dairy barns. Park here, squeeze, get back to work.
Back in the day, working part time, I breastfed my children all around town, at many of the restaurants, the library, park benches, the airport, the boathouse, the beaches — even at the Statehouse in Montpelier, during the civil union debate. I tell my daughter: "You were there!"
We were never accosted or imposed upon. Most people didn't notice; those who did — mostly ex-nursing mothers — smiled in support. Waitstaff welcomed us. Discretion was easy: a scarf, a napkin.
At my medical school graduation, I had my month-old baby in a sling over my gown. As we lined up for the procession in Ira Allen Chapel, a gentleman classmate asked with concern, "What if he wants to nurse?"
"He is nursing," I said. We laughed!
It's time for workplaces to be relieved of alpha-male testosterone dominance and be enhanced by nursing-mother oxytocin — a bonding, cohesive, harmonizing influence. The pod is one baby step.
Katharine Hikel, MD
Hinesburg
Small is Beautiful
I believe it would benefit everyone if persons who love tall buildings would move out of Burlington [Off Message: "New High: Burlington Town Center Plan Includes 14-Story Towers," May 6]. New York City, Chicago, Detroit and many large cities offer these buildings. Having them here radically changes the energy of the area. Burlington used to have fewer people, beautiful views of the lake and less traffic. One of the reasons people loved it so much was because it was not overrun by people, cars, trucks and tall buildings. The Earth ruled, and people loved it. If we change this, no one will love Vermont anymore. Burlington already has too many tall buildings, and the whole area has too many people. Please do not destroy this beautiful state.
Kathryn Clegg
South Burlington
Celebrate Sanders, Too
[Re Off Message: "Sanders: 'I Will Be a Candidate for President,'" and "In Bid for Democratic Nomination, Sanders Remains an Independent," April 30]: The Seven Days stories on the launch of Sen.Sanders' campaign for president begins on a note of doubt — asking questions such as whether the Senator can even get on the ballot in New Hampshire or serve the voters of Vermont while campaigning for president.
However, around the country, columnists who both agree and disagree with Sanders have welcomed his entry into the race, because now the Democratic primary will give people a real choice and actual issues will be aired for the public. Thousands of Vermonters who have worked on Bernie's campaigns in the past, as well as dedicated time to the issues he is committed to — the environment, ending corporate control of our political process, growing the middle class and ending poverty, and social justice — can also take some satisfaction that these issues will now receive national attention. Many of us are receiving phone calls and emails from out-of-state friends who are delighted about the Sanders for President campaign and want to get involved.
Of course, there will be plenty of questions to consider as the campaign proceeds. But for starters, it is a time for many Vermonters to feel good — as their work on so many critical issues will now find voice in Sen. Sanders' national campaign.
Ellen Oxfeld
Middlebury
REAL Debate
I am glad light is finally being shed on the changes to the Vermont license renewal enacted July 2014 ["Brave New Bureaucracy: REAL Licenses Slow Down Vermont Drivers," April 29]. I think two additional and very crucial points must be made and researched.
One is the national ID debate. The driver's license should be that — a license to operate a vehicle after passing applicable tests. We have not had the debate that should, in a democracy, have preceded a fundamental switch in an important document.
We all heard about the driving privilege for Vermont farmworkers. That debate was transparent. This consequence for Vermont citizens was never brought forward.
The other thing that concerns me greatly is the stealthy way this became law. I understand this fundamental switch was contained in the FY 2015 Transportation Bill on one of the last pages of a huge document that most legislators did not read from cover to cover. They just vote yea or nay. Most may have no idea they voted for this huge change.
Let us have an open, honest and above-board discussion and debate about whether Vermonters want to fall into line and be forced into a national identity system. Many states are saying absolutely not to the REAL ID license. Vermonters deserve a chance to just say no as well.
Nancy Slater Cobden
Weybridge
Talk the Walk
[Re Off Message: "Montpeculiar: Top Dem 'Takes a Walk' on Lobbyist Reform Bill," May 7]: In Rep. Willem Jewett's defense, Montpelier is beautiful in the springtime, and money is kinda awesome.
Sean-Patrick Burke
Killington
Tangled Web
Thank you for the coverage of my artwork in two recent reviews. With work in textile, fiber and mixed media, the techniques are perhaps not as recognizable to viewers as more traditional painting, so there were a couple things about my process I'd like to clarify.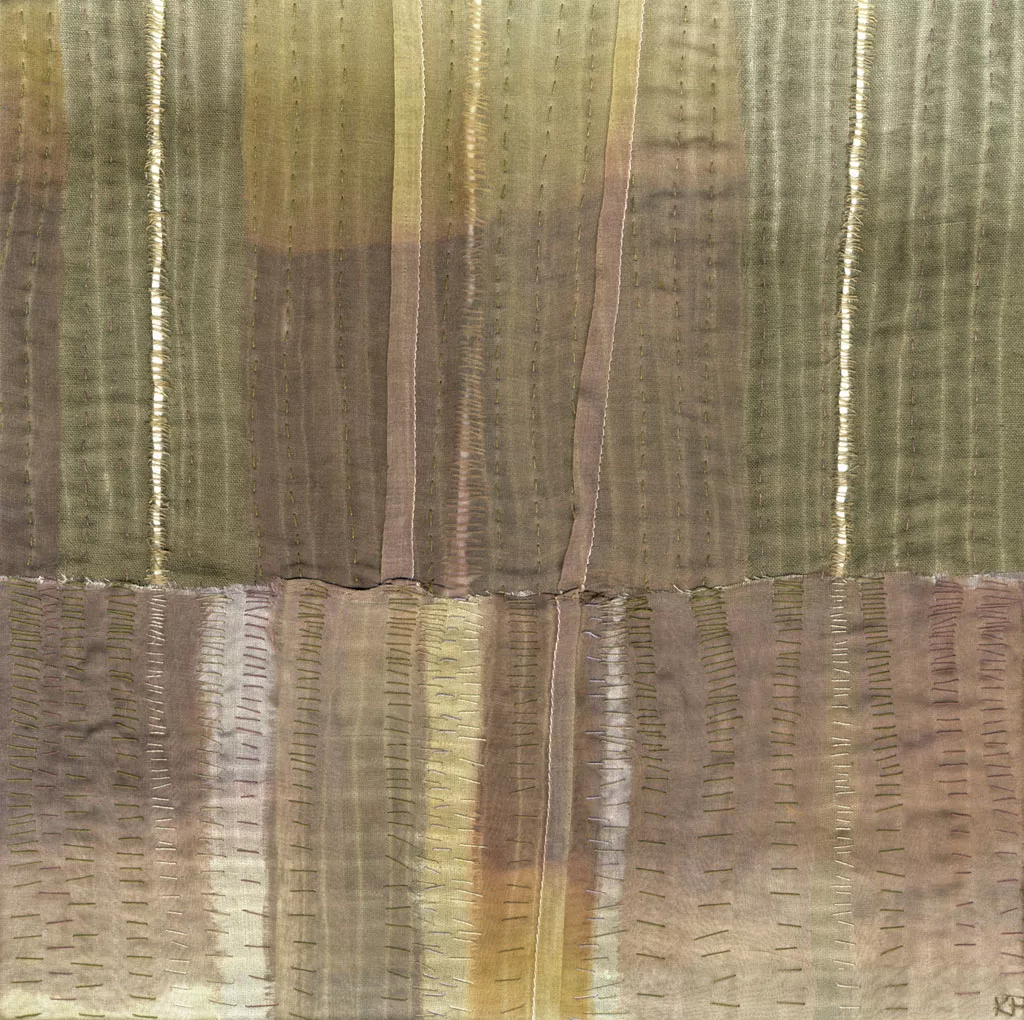 courtesy of D. James Dee
"Miracle" by Karen Henderson
In the review of the "Back to Nature" exhibit at Vermont Metro Gallery [April 22], only three of my pieces in that show are weavings. The rest are created either from other fabrics or are more mixed-media in nature. The description of "Squall," a weaving, is actually referring to a piece entitled "Miracle" — a piece created from linen and silk fabrics that aren't my hand wovens. In the review of the "Interpreting the Surface" exhibit at Furchgott Sourdiffe Gallery [April 29], the piece "Pause" is noted as being one of my weavings, but it's made from assorted fabrics I've dyed and layered together. The color removal area referred to is actually at the top of the piece, where the colors fade to lighter shades, not in the "scattering of pale spots." Those spots were created from cutting through the top layer of silk organza to reveal the vintage kimono fabric behind it.
Again, I know these techniques just aren't as familiar to people as, say, an oil painting, so thank you for the opportunity to expand a little more about it here. While I love the process of weaving, I would never want to limit myself to working only with those fabrics. There are so many wonderful textiles to combine together.
Textile/fiber/mixed-media arts offer so much richness, depth and complexity to the viewer, and I really appreciate that galleries choose to highlight artists working in these mediums. I feel fortunate to have my work hanging with so many talented artists in these two exhibits.
Karen Henderson
Montpelier
Editor's note: The piece reviewer Kevin J. Kelley described is labeled "Squall" in the gallery. Our apologies for any misunderstanding.