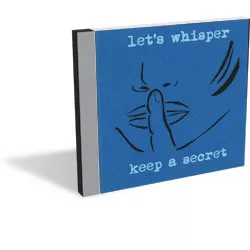 (WeePOP! Records, EP CD)
Oh, those wascally Smittens! The impossibly cuddly local twee band has carved out quite a niche for itself in lo-fi indie-pop circles, both at home and abroad. But the group is more than a cutesy novelty act — though it is indeed both cute and novel. In particular, guitarist and vocalist Colin Clary has long been a highly respected stalwart of the Queen City rock scene, playing in more bands than even he can count. And he's tried.
Clary's latest project is a bedroom-pop duo, with fellow Smitten Dana Kaplan, called Let's Whisper. While Smittens fans will undoubtedly find plenty of bubblegum goodness to sate a sonic sweet tooth, the pair's latest EP, Keep a Secret — a precursor to their forthcoming debut full-length — reveals deeper and more emotionally contemplative material than is found anywhere in the Smittens' poptastic catalog.
The EP opens on "California Girls," which sets the four-song disc's handmade pop tone with a bright but melancholy guitar arpeggio ringing over pulsing drum loops. Kaplan sings, "I see the ocean in your skin / Feel the sunlight from within / Smell the flowers in the air / Where've you been?" There is a charming simplicity in her downcast musings, made all the more disarming by her vulnerable, plainspoken delivery.
An acoustic demo, "Snowy Sunday," is next. "It's Sunday afternoon and it's snowing outside / After all of these weeks, why should I be surprised? / Things were surely better in the middle of July / We were lovers, everyone tried to pretend," sings Kaplan over a fluttering melody. It's easy to picture the slight singer forlornly staring out her bedroom window, watching flakes pirouette to the ground in fading afternoon light.
"Meet Me on the Dance Floor" could be an outtake from the Smittens' recent dance remix album, Dancing Shoes. The cheery electro-pop tune certainly brightens the mood, especially in light of the preceding melancholia. But more than providing a slight attitude adjustment, it's simply a fun little gem, thanks especially to Clary's doo-wop-esque backing vocals.
Speaking of Clary, he takes over front-man duties on the EP's closing track, "Holly in Winter Time." An ode to yet another Smitten, Holly Chagnon, the song is warm, charming and idiosyncratic. In other words, it's everything good indie pop is supposed to be. In fact, that can be said about all of the beautifully humble Keep a Secret.
Let's Whisper celebrate with an EP-release show at the 1/2 Lounge in Burlington this Thursday.