Courtesy Of Patrick Mccormack
Francesca Blanchard
When Vermont's Francesca Blanchard released her 2015 breakthrough album Deux Visions, much of the buzz centered on the fact that the record, released on the world-music label Cumbancha, was sung half in French, half in English. It was also largely a folk record. Neither is true of her new album, Make It Better, which comes out on Friday, June 12. The French American songwriter leans into English and trades folk for indie-pop and R&B influences.
Seven Days music writers shared their thoughts about Blanchard's crossover into pop-rock in a free-flowing conversation, as follows.
JORDAN ADAMS: A general question to get the ball rolling: After absorbing Make It Better, how does it compare to Deux Visions?
KRISTEN RAVIN: Wow. Where do I start? I had such a rush of thoughts and feelings listening to Make It Better that I'm sitting on 1,000 words of notes. What stands out to me in contrast to Deux Visions is that Francesca's new album sounds like it's driven by a woman in her twenties rather than the older adults around her. There's some overlap in subject matter, but the sound is more hip, current and, frankly, age-appropriate.
Francesca's stylistic shift from folk to an indie-pop- and R&B-driven sound reminds me of a formerly local singer-songwriter with an album out this year. (Hint: Her name starts with a C and ends in "-aroline Rose.") I don't necessarily think it's productive to compare women artists to each other, but these two have followed a similar folk-to-pop path. Whereas Caroline's newer songs remind me of Neon Indian's neo-disco style, Francesca's emphasis seems to be on emotion and creating a full-on mood.
CHRIS FARNSWORTH: Make It Better legit made me sad. Multiple times. And I have the emotional range of a turnip. So that right there has to mean something, right?
I'm right onto Kristen's point here, but I really do think the main difference between the records is, well, life! Francesca has lived more of hers, listened to more music, loved and lost, and experienced all those things that scab your heart over and make us more interesting and dangerous to love as we grow older. To me, this is a record that sounds like the soundtrack of a young woman recovering her ability to love but knowing she'll never look at it the same way again.
JA: I think a lot of that is right there in the album's first song, "Free," which was first released as a single two and a half years ago. The song is about breaking out, wandering and not necessarily knowing the destination. That sums up my twenties pretty perfectly. Even in 2017, when "Free" first emerged, the writing was on the wall for her shift into a more dynamic, contemporary sound.
Deux Visions is gorgeous in its own right, but there's something about the production that I find much less evocative than Make It Better. Deux Visions seems like it was made in Francesca's comfort zone, while Make It Better is her stepping out of it.
I think we hear that experimentation throughout, whether it's electronic flourishes, bolder guitars or more transparent lyrics. And I don't mean transparent in a pejorative way, I mean that I hear a more confident, more direct person — like in the opening lyrics of "Ex-Girlfriend": "I just spent an hour stalking your ex-girlfriend on the internet."
KR: If we're talking about the album's bold and evocative qualities, we have to talk about the visuals. "Make It Better," which Francesca directed, reminded me of Tori Amos' "Pretty Good Year" video with the close-ups of the singer's face and the surprise appearance of dancers.
If I had to choose a favorite, I'd pick the "Did It to Myself" video. Francesca looks like a cloud in her vintage dress floating through a dark, angular urban landscape. I love that she's dancing around New York City wearing earbuds like Lorde in her clip for "Green Light," another beautiful pop song imbued with breakup pain.
I will say that in the era of social distancing, I cringed watching Francesca touch subway poles and walk shoulder to shoulder with strangers! (I assume this was filmed before the coronavirus pandemic made such activities worthy of the puke-face emoji.)
In his 2014 profile of Francesca, Dan Bolles described her as an "endearingly shy" performer. Based on these videos, it seems like she's overcome that timidness. It's tough to take your eyes off her when she's on-screen — she is a trained actor, after all, and has a dazzling presence. Like, she actually sparkles.
JA: One thing that catches my eye about the art for the string of singles leading up to Make It Better is how she poses her arms and hands. Now, this could be a Kayhl Cooper influence. A frequent collaborator, he often incorporates twitchy, awkward, thrashing bodies in his work. But the way Francesca's arms are posed in some of Make It Better's art — including the image accompanying her non-album cover of Bruce Springsteen's "Streets of Philadelphia" — seems to imply an anti-grace. It's like she's physically manifesting any number of jarring, uncomfortable feelings. It's really powerful.
CF: It's not just her new record or the (admittedly badass) art that she's used to promote it. In all aspects of her music, Francesca's been building momentum and confidence over the last few years. Maybe seeing other artists find success by taking their initial folk leanings and then pulling them into different shapes struck a chord? Or maybe it's just the changing times pushing a young artist toward musical maturity? Either way, there's no mistaking Make It Better for exactly what it is: a statement of intent from a songwriter entering her prime.
And speaking of this fucked-up day and age, where a pandemic has rendered the music industry all but moribund and protests and riot cops stalk the land: What does it even mean to make such a transformative record at this moment in one's career?
Francesca put out a statement the other day saying that, while she was initially hesitant to promote anything during the movement, she chose to go ahead and release the album on June 12 as originally planned. I think that's a good choice, and not just because it gives us an excuse to write about music. Her reasoning is that to plan a later release date and assume things will either die back down or magically just get better might be a little naïve.
I look at it like this: Who the fuck wants a revolution without music? Unless the record is called All Lives Matter or something, make that music, people!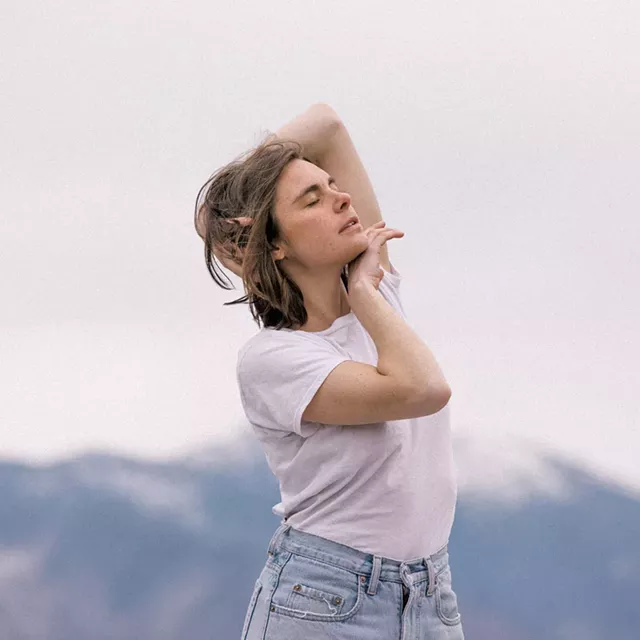 Courtesy Of Patrick Mccormack
Francesca Blanchard
JA: It's certainly an understandable conundrum for white artists who had planned to release new music right now, particularly with regard to the myth of this "better, quieter time ... down the line," as she phrased it. There won't be one.
All socio-geopolitical crises reach a breaking point, whether it's ICE detaining and separating families, the dismantling of rape culture, mass shootings, wealth redistribution, land rights for indigenous people, police divestment, climate crises, the inevitable transhumanist wars, etc. It's not about silence and waiting your turn; it's about being aware, alert and involved. And I think an album that makes me want to look inward and ponder how I've evolved as I've lived more is a good thing to have in this world.
KR: Make It Better strikes a tone that feels appropriate for what Chris called "this fucked-up day and age" — an apt description. Even if the lyrics aren't all pandemic and revolution, the sadness and restlessness in some of these songs is in line with the way I imagine some Americans are feeling right now, and it ends on an optimistic note. As Francesca put it in her statement, "This album is about healing heartbreak, and I hope it can serve its purpose in the midst of this revolution."
CF: The record does have a sort of healing, balm-type quality. There's warmth to the songwriting and production — props to Christopher Hawthorne on the board, who coproduced the record with Francesca. And having Matthew Mercury's Ezra Oklan on drums and Zack DuPont all over the record doesn't hurt. I love it when the city's leading lights use all the incredible talents they have access to. It's easily one of my favorite things about Burlington's music scene.
Make It Better successfully captures that quintessential "I just got battered a bit, but I'm coming back" feel, which is just such a sweet spot for an artist. To be so human, so open and raw while flexing such songwriting muscle is a beautiful paradox.
This conversation has been edited and condensed for clarity and length.
Correction: June 11, 2020: An earlier version of this story incorrectly identified the director of the music video, "Make It Better." Blanchard directed it.