Matthew Thorsen
DJ Melo Grant
For a town of its size, Burlington is home to a ridiculous number of musicians, each with their own unique style and energy. Practically any night of the week, you can catch jazz cats, indie rockers, gritty bluesmen, rap superstars, bumpin' house DJs — you get the picture. The Queen City music scene, and Vermont's at large, is a bit like Pokémon: Gotta catch 'em all.

To get up to speed on local music, feast your ears on these seven artists. Though this selection barely scratches the surface of what you might discover on an average night out, it's a diverse cross-section of the scene and a starting point to discover more.
DJ Melo Grant
Recommended if you like (RIYL): old-school hip-hop, that new shit
You never know when or where you'll spot DJ Melo Grant — it could be at an art opening, a nightclub or a street festival. Regarded as the queen mother of Burlington's hip-hop community, Grant has made her career in local radio, spinning discs on Queen City airwaves since the 1980s. Before rap was the cultural touchstone it is now, Grant was throwing down fresh tracks on her 90.1 WRUV FM radio show "Cultural Bunker," which still airs today. She can also be heard on 99.3 WBTV-LP. More than a masterful turntablist, the DJ is a walking encyclopedia of hip-hop knowledge.
Liked that? Try these:
Ray Vega
File: Luke Awtry
Ray Vega
RIYL: John Coltrane, Miles Davis
Born and raised in the Bronx, trumpeter Ray Vega played with some of the greatest Latin jazz artists the world has ever seen, including Mongo Santamaría and Tito Puente, before landing in Burlington in the late 2000s. Since settling here for a gig with the University of Vermont jazz program, he's been instrumental (pun intended) in stoking the fires of the local jazz scene. His weekly Wednesday residency at Hotel Vermont draws some of the city's greatest players; they frequently join the bandleader in tributes to the late, great pioneers of jazz. Vega also hosts Vermont Public Radio's weekly "Friday Night Jazz" program.
Liked that? Try these:
Old Sky
COURTESY OF COLIN GOULD
Old Sky
RIYL: Jason Isbell, Margo Price
As you might imagine, Vermont is full of folk, country and bluegrass bands. Some are more niche than others, but Old Sky dwell at the intersection of all manner of Americana styles. Composed of guitarist Andrew Stearns and fiddler Shay Gestal — both of whom sing with a comfortable, homey quality — the duo makes nostalgic, forlorn music that harks back to a simpler time. When the two aren't making audience members' eyes misty, they revel in thigh-stomping, good-time ditties. Along with a revolving cast of guest musicians, Old Sky perform roughly every other Sunday at Radio Bean.
Liked that? Try these:
The Bubs
File: Luke Awtry
The Bubs
RIYL: Fidlar, the Orwells
Garage-rock band the Bubs began as a solo recording project of singer-songwriter (and Chittenden County forester) Ethan Tapper. Now a fully outfitted monster of sound, the 10-piece group is one of Burlington's most striking. Dressed in matching white jumpsuits, its members — known as "trash kittens" — thrash around in manic fits, as if possessed by dance-crazed demonic entities. Marked by chunky riffs and impish call-and-response choruses, the sound is all at once scrappy, personal and infectious. Beyond music, the Bubs pride themselves on friendship as their primary core value.
Liked that? Try these:
Mosaic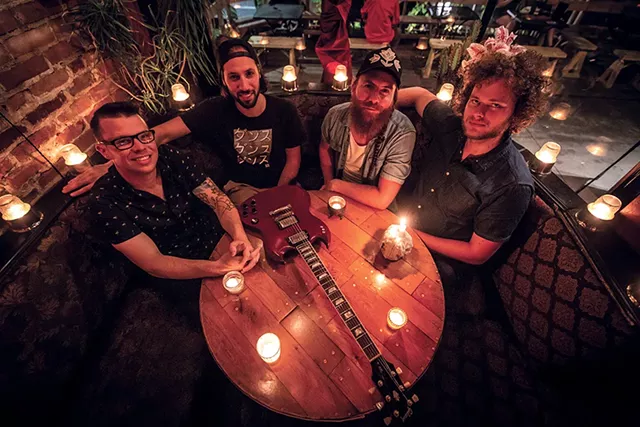 Luke Awtry
Mosaic
RIYL: Lake Street Dive, Vulfpeck
Serving up live music seven nights per week, Burlington's Radio Bean has long been an incubator of local talent. The intimate venue allows audiences an up close and personal experience with some of the Queen City's most versatile musicians. Helmed by guitarist Bob Wagner, Mosaic is a free-wheelin' funk-rock group focused on experimentation. Every Wednesday, the band plays a selection of old standbys and future classics at the Bean. Through heavy improvisation, the group stretches songs to their absolute limit, highlighting the superb technical skills of its core members and special guests.
Liked that? Try these:
Swale
RIYL: Aimee Mann, Super Furry Animals
Swale have been on the Burlington music scene for nearly two decades, and its members have been around even longer. No matter what life throws at it, the four-piece rock outfit stays together, gigging regularly and putting out a slow but steady stream of excellently crafted records. Its idiosyncratic sound touches on punk, pop and psychedelic styles. Loaded with pathos, the music artfully addresses issues such as political dystopia, relationship struggles, loneliness and addiction. Swale's latest release, 2017's There's No One Here, is a staggering collection of beautiful, melancholy tunes.
Liked that? Try these:
Miku Daza
Courtesy Of Riptide Photography
RIYL: Bella's Bartok, the Dresden Dolls
Charged with visceral emotions and dramatic tension, Miku Daza find beauty where others often see ugliness. The group's name references the heroine from Gabriel García Márquez's novel Love in the Time of Cholera, indicating an emphasis on lovesickness. Blending third-wave ska, new-wave punk and theatrical sensibilities, the music touches on body horror, fever dreams and animalistic imagery. The punk foursome truly has a penchant for all things creepy-crawly, dark and gruesome. Front person Miku's commanding presence, fiery spirit and operatic vocals animate the rollicking tunes. Blending fairy tales and nightmares, the band takes a whimsical attitude toward the darkness of human existence.
Liked that? Try these: