Matthew Thorsen
Sushido
Vermont is half a world away from Japan, but lovers of Nipponese nosh will feel right at home at Williston's Sushido. A corner television flickers with Japanese news and soap operas. The Asian teenager working the counter calls out orders to his mom, who is cooking in the back.
Japanese fare can be austere — but not here. This is Japanese comfort food: stick-to-your-ribs rice bowls, noodle soups and heaping sushi plates. The relaxed service is also homey. After ordering at the counter, diners are welcome to pour a glass of water from a cooler next to the cash register, grab chopsticks and napkins, take a seat, and wait. The experience is more China Express than San Sai.
It doesn't take long for the food to emerge. The same staffer who works the counter delivers to the table.
The beef noodle bowl is filled with a comforting soy broth, populated by bouncy udon noodles. Chunks of sweet and tangy Korean-style beef rest on top like meat candy, speckled with freshly sliced scallions.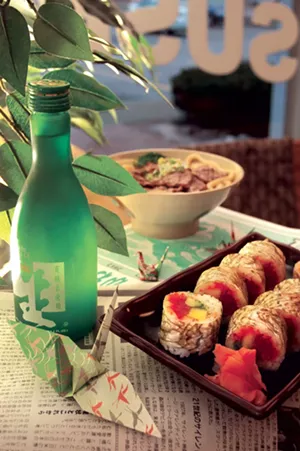 Matthew Thorsen
Sushido
Numerous dishes, from veggie croquettes to katsu-fried pork chops, feature a gravy-like curry. The thick, flavorful sauce moistens the rice beneath. Matchsticks of pickled ginger lend additional spice and crunch. Another rice bowl, the unagi-don, features tender, flaky eel in a teriyaki sauce.
Sushido translates as "carry-out fish," and the "Okinawa Roll" is well worth a trip. It's an ultra-wide wrap filled with sparklingly fresh tuna, creamy avocado and sweet-and-sour mango. The picturesque maki is finished in a layer of tororo kombu, a seaweed preparation that resembles waves on a stormy green sea.
The splendor of that single dish more than makes up for the lack of ambiance at this no-frills eatery. It's like returning home for a celebratory meal, if your mom happened to be an accomplished Japanese chef.