Act II of what promises to be a less than productive legislative biennium kicks off this week under Montpeculiar, Vermont's beautiful golden dome. Everybody — Republican, Democrat and Progressive — wants to reduce the property-tax burden, lower health-care costs and protect the environment.
But don't get your hopes up.
In fact, the loudest and clearest voices pointing us in the directions we need to go are coming not from our elected officials who winter in Montpelier, but from folks who work outside of the state capital.
Lawyers, cops and prosecutors are coming out of the closet, so to speak, on the issue of our flawed and failed illegal-drug policy. It's been almost 40 years since Woodstock, and a great many of those from the generation who partook find it absolutely amazing that same-sex marriage would be legal before smoking a joint would.
Far out, eh?
And as this edition of Seven Days hits the Statehouse on an unusually warm Wednesday in January, doctors, nurses and others from the front lines of a crumbling, price-gouging health-care system are rallying under the Golden Dome. They're raising their voices to demand lawmakers do what leaders on both sides say cannot be done. However, it's something everybody knows has to be done and can be done and will be done: Move Vermont down the inevitable single-payer path.
It's only a question of time. Advocates have gotten some unexpected attention in the lead-up to today's kick-off rally.
************
Take Back What? — Cambridge family practitioner Deb Richter, MD has been a persistent and outspoken leader of the health-care reform effort in Vermont. And she's made no bones about the fact that it's not just the Republican administration, but also the Democrats under House Speaker Gaye Symington, who have shamefully dropped the ball on the health-care reform drive.
In the last session, Symington, Senate President pro tem Peter Shumlin and Republican Gov. Jim Douglas compromised the hell out of the single-payer, universal coverage movement — so much so that Gov. Scissorhands won an award from AARP the Magazine!
According to Richter and other critics, "Catamount," which sells discounted insurance premiums to the uninsured, will crumble like a house of cards within a couple years anyway.
But Dr. Deb's reform drive experienced a little stumble of its own in the past week when she was forced to take down the "Take Back Vermont Health Care" banner she had strung across the white picket fence in front of her Montpelier home. The sign promoted the January 9 Statehouse rally.
The sign also ticked off several folks who support the health-care reform cause and are active in the movement. It was just too close to the infamous — and unsuccessful — "Take Back Vermont" political slogan hoisted by members of the right-wing anti-gay marriage/civil unions movement of 2000.
"The sign became a distraction," Richter told us, "not from traffic, but from the real issues. So we took it down."
Dr. Deb also told us, "There were a certain percentage who were offended, and we didn't want to offend anyone. The whole movement," said Richter, "is about including everyone, not excluding people."
In addition to the sign on the fence, Richter also set up a "Take Back Vermont Health Care" website. That will be changing in a week or so. The new domain name will be "Save Vermont Health Care," she said this week.
The good doctor conceded she was "surprised by the intensity of some of the negative reaction" to her application of the "Take Back" slogan to the current health-care reform push.
"What we were trying to do was make a positive out of a negative," she told "Inside Track." "You know there are still some of those 'Take Back Vermont' signs out there. They probably would have taken theirs down because they wouldn't want to be associated with us," surmised Dr. Deb.
Asked if her choice of slogan had been a mistake, Dr. Deb replied, "Well, it certainly got people's attention."
Yes, indeed.
Meanwhile, the bill the reformers are backing, H.304, which has Republican Rep. Topper McFaun of Barre as its lead sponsor, is legislation the Big Guns under the Dome all say cannot be adopted this year.
Richter and her fellow reformers won't take "no" for an answer. She noted that Gov. Douglas lists affordable health care and reducing the property tax as his top issues.
The bill the reformers want, she noted, "is one the Governor should love!"
Why?
H.304, insisted Richter, "will cut costs more than $60 million annually and also cut the property tax by reducing by 40 percent the cost of health-insurance premiums for school teachers and others whose salaries are paid by property taxes."
Interesting.
Doesn't have a snowball's chance in hell, though, right?
Can't trust a doctor, right?
And they'll never, ever legalize pot, either, right?
Or elect a black president?
************
On the Mend — Not only was he there — at the historic Woodstock Generation gathering in upstate New York in the summer of 1969 — but he remembers it!
He remembers waking up in the mud about 20 feet from the main stage and catching Gracie Slick of the Jefferson Airplane start one morning off with a little "Don't You Want Somebody to Love?"
The fact that he was able to share a pleasant reflection of the good old '60s with "Inside Track" indicates Burlington Chief Administrative Officer Jonathan Leopold is on the comeback trail!
Ol' Jonathan, 58, spoke to us this week from bed at his Appletree Point home on Lake Champlain in Burlington, where he's healing from an ugly December 26 auto accident that shattered his right femur. He would only discuss the gory details of his torn, shattered and bent-out-of-shape leg on an off-the-record basis, and we respect that.
Ouch!
What's important is that it's straight now and on the mend and he's coming off the painkillers. Jogging is not likely to be in his future, though, and his energy level, he confided, remains limited.
"Right now, I have very limited endurance and am doing a great deal of resting," he told "Inside Track."
Nonetheless, this "old hippie," who first hit city hall back in 1981 as Independent Mayor Bernie Sanders' bow-tied, upscale city treasurer, has already had a number of meetings out at his home.
"The city moved my entire computer and communications system here. I have complete access to city files. It's a virtual office out here," said Leopold.
And lucky for him, Burlington Telecom extended its high-speed Internet service to Appletree Point last month. Couldn't have busted his leg at a better time!
Leopold enjoyed a colorful earlier chapter at city hall, departing with the change of administrations in 1989. He left when Peter Clavelle succeeded Sanders. But he returned in 2006 with the arrival of Progressive Mayor Bob Kiss.
Leopold dismissed any suggestions of poor relations with Mayor Moonie.
Instead, he told us, he was "burned out after 60-70 hour work weeks under Bernie, especially with the push to keep taxes down while improving services."
Treasurer Leopold was certainly regarded as a key cog in the successful Sanderista Machine of the 1980s, and many behind the scenes joke that he is really running the City of Burlington today — instead of the tall Quiet Man currently in the third-floor corner office.
Jonathan assured us, "The mayor's still in charge."
Whatever you say, Jonathan. You're the boss.
Get well!
************
Governor's Race — Funny. After our December 17 "Track" in which we suggested Democratic State Sen. Doug Racine of Chittenden County will not be a candidate for governor, Ol' Dougie the Car Dealer called my opposite numbers at the other news outlets and insisted "Inside Track" had it wrong. Racine made the pitch that he was actually considering it, or thinking about considering it, or considering thinking about considering thinking about it.
But he never called us.
Hmmm.
Meanwhile, Progressive Anthony Pollina has started a campaign and gone public with a clear statement of his candidacy on VPR's "Vermont Edition" with Bob Kinzel last Friday.
And on Monday, Ol' Tony the Prog did something he hasn't done in more than a decade: He attended the big legislative breakfast sponsored by the Lake Champlain Regional Chamber of Commerce (LCRCC). His opponent, Republican Incumbent Jim Douglas, was the keynote speaker.
Gov. Scissorhands was his usual, middle-of-the-road self, steaming full-speed ahead as the favorite for reelection to a fourth term as governor.
What a guy!
The only sexy issue on the breakfast plate was gambling, specifically Jimbo's proposal to lease the Vermont Lottery to a Wall Street financial outfit. Douglas says it could bring in $50 million to help pay the statewide property tax.
Critics say the lottery "preys on poor people," but the Guv says that ain't so.
"In fact," he said, "it's middle-income people who are the most common purchasers of lottery tickets." Others, said Douglas, criticize giving all that money to some Wall Street firm.
"Well, wait a minute," the Guv told the chamber of commerce crowd, "we already give an awful lot of fees to Wall Street. Whether it's investing our pension funds or selling bonds or providing financial services," said Jimbo, "we pay Wall Street tens of millions of dollars now, so it's certainly not a novel relationship."
Gov. Douglas insisted selling off the Vermont Lottery "is a good idea. I think it makes a lot of sense."
A lot of folks disagree, however, including Candidate Pollina, who noted the GOP incumbent was particularly lacking on the new-idea front in his Monday morning speech at the Sheraton Burlington.
"The only idea that I heard from the governor," said his Progressive challenger, "was to sell the lottery to a hedge fund, or investment bank or someone who would give us a one-time payment in exchange for taking away an asset the state of Vermont has. In a couple months, maybe we'll hear about selling the local fire departments or the state police?" joked Tony the Prog.
"It's an idea that makes you think the governor is grasping at straws," said Pollina. "It's an idea that Vermonters I talk to think is just off the wall and inappropriate and not good policy."
We shall see, won't we?
Did not see Sen. Racine or Democratic Party Chairman Ian Carleton, a Burlington attorney in attendance at the LCRCC breakfast. Busy guys, eh?
But Tony the Prog said "a good contingent of people came up and gave heartfelt handshakes and said they're glad I'm in the race or I'll send you a donation."
He is, after all, a household word, first running for Congress as a Democrat in 1984, later serving on Congressman Sanders' staff for five years in the 1990s.
Where's Pollina on pot?
Gov. Douglas, who as a young Republican state representative way back in the 1970s voted in favor of decriminalizing possession of small amounts of marijuana, now says he has no problem with the legislature discussing the issue.
"I think we should look at decriminalization, reducing the penalties," Pollina told yours truly. "There seems to be an emerging consensus among people who deal with drug and alcohol abuse, the law enforcement community and the legal community that we're spending a lot of money and energy and time on marijuana that we could be spending a lot more important issues"
Despite his age, Gov. Douglas, 55, has denied ever smoking marijuana.
We asked Pollina, also 55, if he had indulged. "You've smoked pot?"
"Well, I grew up in the '60s," replied Anthony. "I went to college in the '70s. Everybody that I knew liked it."
Yes, indeed.
************
Legislator's New Post — State Rep. Jim Condon, the Colchester Democrat, has landed a new post as executive director of the Vermont Association of Broadcasters. He was quite the local radio guy back in the 1980s and 1990s with successful stunts at WJOY, WQCR and WKDR.
In fact, Condon's voice from around 1990 still introduces "The Mark Johnson Show" on WDEV.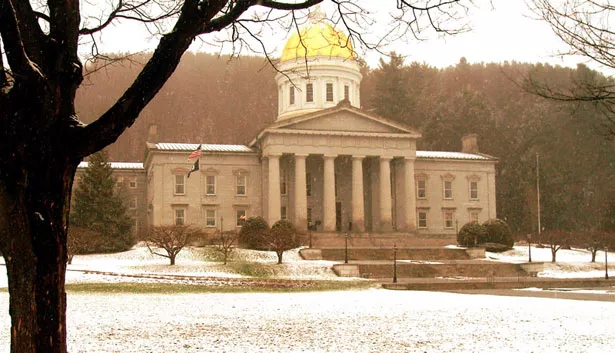 The Capital in Montpelier