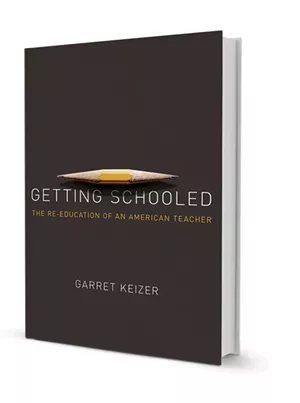 Garret Keizer has watched the evolution of education firsthand. He began teaching at Lake Region Union High School in Orleans in the 1980s, left in the '90s to become a freelance writer, then returned in 2010 to teach for a year at the same Northeast Kingdom school where he'd started his career. A contributing editor to Harper's magazine and former Guggenheim fellow, he writes about the experience in his new book, Getting Schooled: The Re-education of an American Teacher.
Credit Kathy Keizer
Garret Keizer
"I have been warned to expect big changes between now and the old days," he writes, "but for the most part the students I meet are interchangeable with types I taught more than twenty years ago, even down to the baseball caps. I'm a bit surprised by the ubiquitous display of décolletage, the respectability of the word sucks, and the number of students who readily identify themselves as 'attention deficit.' If such a disorder exists, as I'm inclined to think it does, I'm glad there are medicines to treat it, although hearing someone say 'I've got ADD' in a culture of such vast distractedness is a bit like having a fellow passenger on an ocean liner tell you that she feels afloat. Who doesn't?"
What has changed, Keizer discovers, is the prevalence of technology and the emphasis on standardized testing. With a sense of humor and a dose of outrage, he presents the obstacles public educators face and proposes that it's time to reassess not just our schools, but our society.
The Chicago Tribune had this to say about Keizer's book: "More than just thoughtful, reasonable, carefully observed, elegantly written and deeply humane — and it is all of these — it is also that rare thing, a work of genuine wisdom."
Getting Schooled: The re-education of an american teacher: Metropolitan Books, 320 pages, $27.