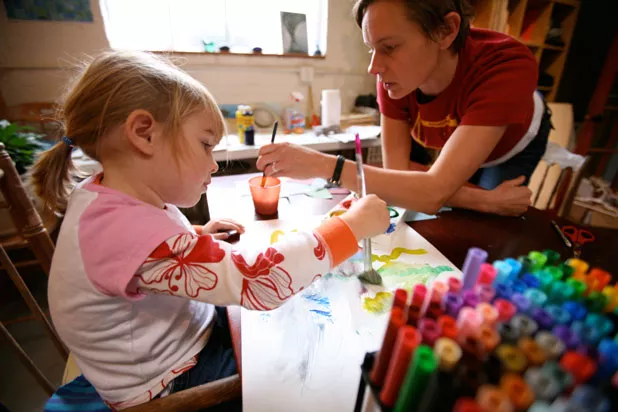 Burlington is an increasingly cultural-rich city, but even so, it's unusual to see international artists here. That's recently changed at Pine Street Art Works, where Atelier Tove has opened. The studio is the shared vision of husband-and-wife glass-blowing team Rich Arentzen and Tove Ohlander, whose works in the Swedish Graal style have gained them worldwide recognition. The work of AO! Glass even appears in the collection of Norway's National Museum of Art.
But the new Pine Street venue is much more than an opportunity to showcase the couple's glass pieces. Arentzen and Ohlander recently relocated to Burlington with their three children and a new goal: a gallery space that would double as a working art-education facility for local children.
"I've always been interested in educating children through the arts," says Ohlander, "so this evolution has been really quite natural for me, particularly as a parent."
A native of Sweden, Ohlander has been struck not just by Vermonters' appreciation of the arts but by their social and environmental awareness. She takes an unconventional approach to stoking the social consciousness of her young art students. "In one of our classes, for instance, we talk about water," she explains, "but from a strictly creative standpoint. We talk about its form and the colors it takes, and what that means to the students."
The teacher theorizes that this creative exploration engenders a lifelong environmental sensitivity. "It's not only more fun for the children, but much, much more intuitive," Ohlander suggests. She hopes the art space will be an important forerunner of the growing "eco-creative" moment — that is, the conjoining of environmental consciousness with artistic expression, which she describes as being on the rise worldwide.
Interested parents can inquire about a slate of new classes scheduled for January. Meanwhile, a "Create Your Own Obama Art" workshop happens this Saturday, November 22, from noon to 3 p.m. Ohlander invites participants to celebrate the presidential election by creating painted, collaged or printed T-shirts. Yes, we can.