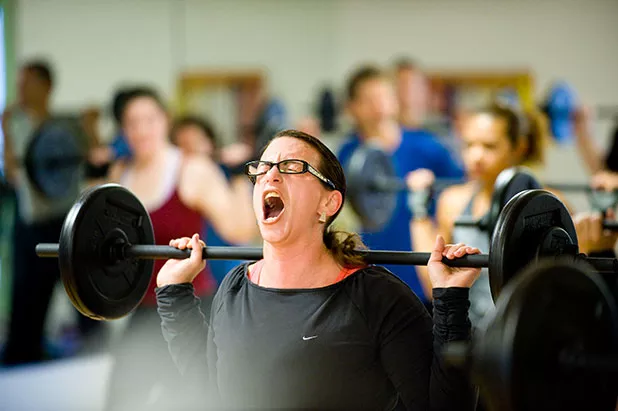 Fitness Instructor Denise Kelly
The strangest thing about this workout on a recent Saturday morning — which involves running in mad circles, coming together for a collective high-five and spreading back out again in a massive, jellyfish-like movement — isn't the amped-up version of that annoying "Numa Numa" song. Nope, the weirdest thing is that not one of the 100 or so women (and one or two guys) in the upstairs gymnasium at the Sports & Fitness Edge in Essex is laughing. Besides me.
Instead, everyone's following the three pink-clad instructors wearing headsets with a seriousness that suggests their lives may depend on it — or at least their bodies.
This is a BodyAttack class, one of the programs begun nearly 20 years ago by the descendants of New Zealand Olympian Les Mills that, now internationally syndicated, has swelled into a prechoreographed phenomenon of aerobics addicts. This fall, the Les Mills franchise topped 13,000 health clubs in its 75-country reach. A company rep guesstimates that some 6 million people attend the classes taught by about 60,000 instructors every week. Jane Fonda has nothing on Les Mills.
The program has its strongholds even among independent-minded, outdoors-loving Vermonters. For months I've paid little attention to the slick posters tacked to the walls of South Burlington's Sports & Fitness Edge, where I regularly work out. They depict even slicker bodies, accompanied by taglines like "The fastest way to burn fat."
But recently I overheard two women in the locker room discussing how they plan their work weeks around Les Mills fitness classes. So I've decided to try out BodyAttack during a special launch day — when new music and choreographed moves are released — at this sister Edge in Essex.
The company describes BodyAttack, one of eight programs with names such as BodyFlow and BodyVive, as a "high-energy interval training class" that combines "athletic aerobic movements with strength and stabilization exercises." Fans on the company's Internet forum claim the class can burn between 500 and 900 calories an hour for a woman my size. April Moulaert, a Burlington resident I chat with just before the Essex class, tells me she comes three times a week for the "fast-paced and fun" approach and because of how great she feels after class.
"It's sports-inspired; it's not real dance-y," an instructor named Katie promises at the start of class. "Take your options and have fun."
A minute or two later, I'm thinking my only option is to get the hell out of here. It's all a blur of clapping and shuffling set to a techno version of Lady Gaga's "Just Dance." Not "dance-y?" Then why do I feel like Elaine on "Seinfeld," madly trying to keep up with the moves?
Eventually, one of my coparticipants tells me to watch a woman right in front of us instead of craning my neck to see the instructors on stage. I start figuring out my left from my right, my step-curl from my flick-kick.
I'm expecting to feel a burst of euphoria when I leave, thanks to the cardio, the music and the occasional whoops from the other women. Instead, I mostly just feel a headache — and a weird desire to return for more. Maybe this really is addictive?
The next time, however, I decide to skip the coordination and go straight for the strength. That's the focus of a Wednesday evening BodyPump class at Shelburne Health & Fitness.
The first fitness class that the Les Mills family started in 1990, BodyPump is a 60-minute sequence of squats, presses, lifts and curls, all done with a barbell loaded with as many weight plates as a participant feels up to. The company says it burns up to 600 calories per class, but the benefits that Shelburne Health & Fitness guest instructor Don Murphy (the Fishkill, N.Y.-based president of Les Mills Northeast) promises are even more enticing to me. Before beginning the class, he tells us BodyPump has revolutionized his skiing; his friends are amazed.
After loading up my barbell with a couple of weight plates, I focus on following Murphy's movements, which are much more straightforward than those in BodyAttack and are set to a motivating soundtrack of Linkin Park, Pink and Bryan Adams (yes, Bryan Adams — a "Summer of '69" remix). The hard part is doing set after set and starting over just when I think we're going to stop. A couple of times I'm afraid I'm going to drop the barbell or, worse, lunge into a position I can't get out of.
Luckily, neither happens. I later discover complaints on the Les Mills forums: People say they've developed knee pain from BodyPump, calf pain from BodyAttack, tailbone pain from the spinning-like RPM classes. But c'mon, any fitness program, even running on a treadmill — and especially swinging dumbbells when an instructor's not on hand — entails a certain risk of injury. At Shelburne Health & Fitness, Murphy is careful to keep an eye on our form, correcting potential problem areas and offering consistent technique tips.
At the Edge, fitness director Nicole Codling says she's never seen an injury due to Les Mills classes — the instructors are specially trained to face the class and notice uh-oh moments among students who may never have lifted anything heavier than the Thanksgiving turkey. "The classes really are designed for everybody," she says. "You can be an über-athlete or deconditioned in your eighties."
You can also be a guy. Despite the historical female domination of fitness classes, says Codling, "I'm seeing more and more of the Y chromosome coming into class." Pro athletes take BodyAttack, she says, for agility and plyometric training in the off-season; the martial-arts-style BodyCombat is especially popular as a stress buster. Because the programs offer new music and moves every three months, which are the same whether you're in South Burlington or South America, it's hard to get bored — and easy to find a reliable workout when you're traveling. (Codling drops a hint about another Les Mills class coming to the area soon; I'm hoping it's the Pilates-Yoga-Tai Chi BodyFlow and not the super-dance-y BodyJam.)
Former restaurateur Suzanne Johnson of Shelburne, who both teaches and participates in Les Mills programs, says she experiences a unique, powerful feeling as the whole class moves together. "It's an energy that you can't always get in a regular class," she says. "You can really see the change in your body with BodyPump, and the BodyAttack challenges me with my cardio."
As for me, I haven't gone back to BodyAttack, but I have been returning every Wednesday to BodyPump, where there seems to be less and less floor space each time. I haven't seen any results on the ski slopes yet (no snow!), and I don't plan my work week around Les Mills. But I have stopped laughing, and started lifting.
Learn More:
Shelburne Health & Fitness, 985-3141, www.shelburnehealthandfitness.com
Sports & Fitness Edge South Burlington, 658-0001; Sports & Fitness Edge Essex, 879-7734; www.sfedge.com