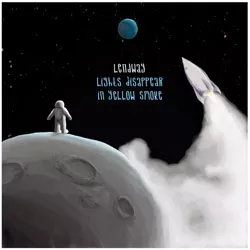 (Self-released, CD, digital download)
As much as four sensitive-dude rockers can, indie-pop confectioners Lendway took Burlington by the short hairs in 2008, releasing arguably the year's finest local album, The Low Red End. Featuring polished, hooky songcraft, sugary harmonies and just the right amount of hipster-friendly guitar jangle, that record — it was released on red vinyl and thus actually is a "record" — marked a tantalizing debut.
Less than a year later Lendway return with a hotly anticipated follow-up EP, Lights Disappear in Yellow Smoke. While not as immediately impressive as their much-ballyhooed freshman outing, the six-song quickie suggests a desire to expand upon — and furtively meddle with — the harmony-laden ear candy with which they made their mark.
Exhibit A: opening track "Swamp Love." If immaculate four- and five-part harmonies were your debut's calling card, one might assume you would lead off your next effort with an orgy of vocal bliss. Or at least a tune with any vocals, right? Instead, the group fires a curveball with this murky, aptly titled instrumental. It's pleasantly jarring at first. But the intrigue doesn't hold up over repeat listens as the song ultimately reveals itself to be little more than a fairly straightforward indie-pop number, just sans vocals.
That minor letdown is quickly forgotten amid the bright polyphony that follows. "New York, New York" features the catchiest damn guitar line this side of Band of Horses. It will loll about your head for days and you'll be glad it did. As we've come to expect, Lendway is in constant vocal lockstep. Here and throughout the disc, harmonies drift as if airy apparitions.
As excellent as the band's vocal work is, it seems Lendway has made a conscious effort to improve instrumentally — a fact hinted at, if not fully realized, by the opener. "As You Wave" and "Doppleganger" boast still more stick-to-your-ribs guitar interplay between Matt Hagen and Mike Clifford. A walking metronome, Todd Gevry's mix of electronic and organic drum sounds adds a playful retro aesthetic.
Closing track "Pokeberry" is a highlight. The tune lays bare a grittier, almost more experimental edge than Lendway has exhibited previously. Though they never completely lose sight of themselves, these musicians take some big risks, structurally. And they pay off.
When your first effort is as heralded as was The Low Red End, the pressure to top it is heightened, perhaps unfairly. Does Lights Disappear in Yellow Smoke transcend Lendway's brilliant debut? Not quite. But it's no sophomore slump, either. And it marks a fascinating stage of evolution for one of the area's most promising bands.