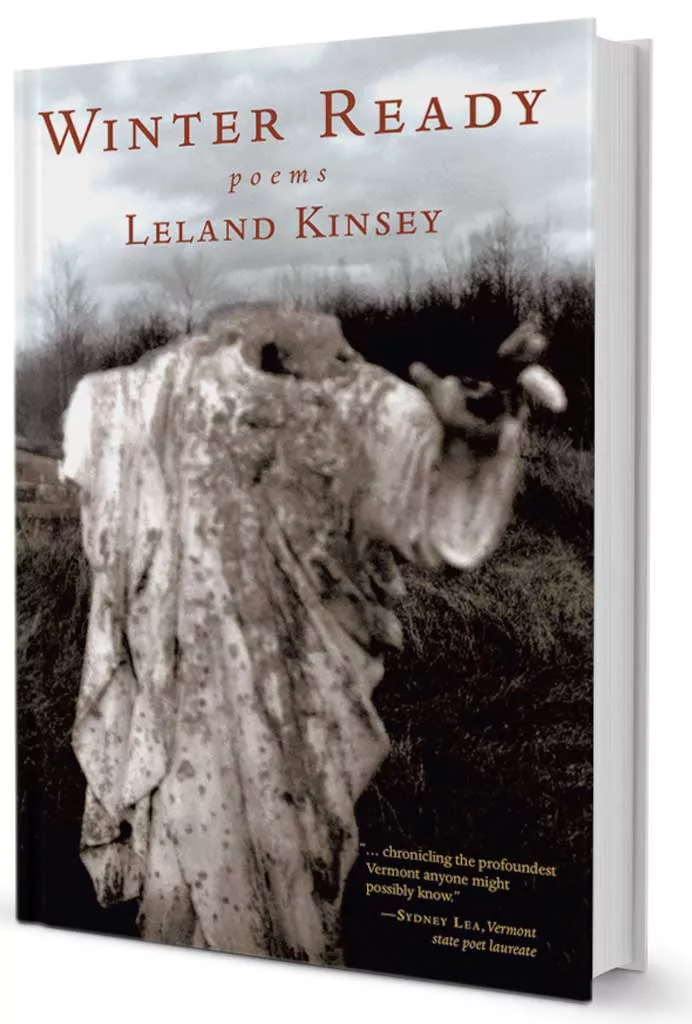 Winter Ready: Poems by Leland Kinsey, Green Writers Press, 96 pages. $15.95 print, $9.99 ebook.
Green Writers Press is a new Vermont-owned and -operated publishing company with a mission to spoil the reader and spare the tree by printing ecologically minded books on 100 percent postconsumer paper. Following on the heels of its anthology So Little Time, poems by Vermont writers addressing climate change and sustainability, the Brattleboro press released its first book of poetry by an individual author, Barton poet Leland Kinsey.
Winter Ready, Kinsey's seventh collection of poems, appeared on the spring equinox — a deliberate choice, Kinsey says. The collection is largely concerned with the vast amount of work required to prepare for Vermont's longest season — winter. Indeed, Kinsey suggests, that preparation begins the moment we outlive winter — aka spring.
"Work is a much-neglected subject," Kinsey tells Seven Days via telephone. Some of his previous volumes — such as Not One Man's Work (1996) and Sledding on Hospital Hill (2003) — have featured poems detailing the numerous labors undertaken by the poet and his Vermont farming ancestors. But the new collection seems less concerned with the worker than with the work itself, of which there is plenty.
Winter Ready readers will discover a year's worth of tasks turned into lyrics: fixing the chimney, cider making, double-digging garden beds, grouse hunting, trout fishing, cranberrying, corn cutting, welding, clearing fields of stones, turkey butchering, pruning raspberries, horseshoeing, gravestone clearing, deer hunting, tree felling, fruit picking, spreading lime and masonry. "I'm documenting the work of this place," Kinsey says, "but I hope it's got a universality to it, that the work reaches across to readers in other places."
The book's haunting cover is another place-based document: It features an image Kinsey snapped with his grandmother's camera 35 years ago. "It was right about this time of year," Kinsey says, noting the snow-flattened grasses and starkly empty trees in the background. He recalls taking the photograph at an abandoned homestead in North Troy — a place so ruined, the cellar hole was half filled in. Yet an old, broken, buckshot-pelted statue remained. When Green Writers Press publisher Dede Cummings asked Kinsey if he had any ideas for the cover, he immediately thought of this image, he says.
Is the statue an icon of the genius loci, or an injured artifact symbolizing the work it took the early settlers to outlast the cold season's hold? The sculpture's stained plaster suggests a snowman succumbing to thaw. Even as the days lengthen, the clock has already begun ticking a countdown to the next winter, as Kinsey knows — one to which all those close to the land must attend. In this way, the title of the GWP anthology, So Little Time, applies to Kinsey's work songs, as well.
INFO
Poetry Fest, with Leland Kinsey, Daniel Lusk, Kerrin McCadden and Angela Patten. Thursday, April 10, 7 p.m. at Phoenix Books Burlington.
Green Writers Press Celebration Party, with founder Dede Cummings and authors Leland Kinsey, Greg Delanty, John Elder and others. Thursday, April 17, 7 p.m. at Phoenix Books Burlington.
Kinsey reads as part of PoemCity, Wednesday, April 23, 7 p.m. at the Kellogg-Hubbard Library in Montpelier.