Nancy Remsen
Robbo Holleran
Robbo Holleran shifted his truck into four-wheel drive to chug up a bumpy and slush-covered single-track dirt road. When he reached a gate that blocked access to an even rougher trail, the white-bearded forester got out of his pickup and continued on foot.
A wet and wispy fog wafted through the trees, muffling noise from Route 4 and the Ottauquechee River below. In a well-worn jacket and Carhartts speckled with blue paint, Holleran led the way up muddy paths created by the heavy logging equipment — a skidder and a feller buncher. A few weeks earlier, the woods here had reverberated with the roar of their engines and the cracking and crashing of falling trees. Holleran, who manages this 300-acre forest in West Woodstock for an out-of-state owner, wanted to show a reporter exactly what a freshly cut stand of pine and hardwoods looks like.
The winter's weather proved challenging for his logging crew. The ground has to be dry or frozen to support their heavy equipment, but frequent warm spells made it soft, especially along one corridor near the bottom of the cut. If this whole section of forest had been as sodden as that low part, Holleran said, he might have shut down the job and sent the crew elsewhere.
Because logging is highly dependent on weather and other natural variables, lumberjacks have to spring into action when conditions are right. That's why Holleran opposes a proposed law kicking around the Statehouse that would require landowners to notify the state every time they want to do a timber harvest. He said New Hampshire has something similar, and it can take up to a month to get the green light. Holleran said that bureaucracy would place a costly burden on logging.
The bill is one of six the Shumlin administration supports to increase oversight of Vermont's vast forests. It's an attempt, administration officials say, to help secure the future of iconic lands and an important economic sector. Forests cover 75 percent of the state, support 20,000 jobs and generate a huge amount of revenue.
Not surprisingly, woodsmen — especially traditional ones — are wary. While they favor some of the proposals, such as one to prevent timber theft, many oppose any legislation that would lead to more state involvement in the forest business.
The bills address several issues. One proposes to license foresters. Another says town and regional plans should seek to curb forest fragmentation. In addition to the harvest-notification bill, there's legislation that would criminalize timber theft, clarify who pays for forest fires and ban municipalities from regulating forestry operations.
Holleran complained that Mike Snyder, commissioner of the Department of Forests, Parks and Recreation, sprang the notification proposal on the forest community.
"He thinks he is trying to help us," Holleran said. A member of the Vermont Traditions Coalition, a 15-year-old group dedicated to protecting the occupations and recreational activities practiced in rural Vermont, the Chester forester argues that landowners, loggers and private foresters have been good stewards of Vermont's forests.
Snyder is a forester, too. And while he agrees that Vermont's woods are "generally in good shape," he sees unsettling trends. After a century of expansion, the state's forest footprint is shrinking, degrading wildlife habitat, flood buffering, water protection and air quality. Development is fragmenting large tracts, Snyder said, forcing timber production to smaller areas, where it is more costly and less efficient.
Snyder also noted that people, not corporations, own most of the forestland in the state — and those owners are aging. Sixty-five percent of the privately held land belongs to owners older than 55. That makes the future of their tracts uncertain.
Vermont has fewer forestry regulations than most states, Snyder said. He sees the pending bills as non-burdensome steps toward securing the future of forests — an asset too important to ignore.
"Money does grow on trees," he said, noting that forests pump $1.5 billion into the economy. Wood makes paper, heat, electricity, houses, furniture and salad bowls, and trees are the backdrop for the state's tourism and recreation industries. Think leaf peepers, maple syrup and the Long Trail. Fall tourism generates $460 million annually, and a recent University of Vermont study claims the maple industry contributes $300 million a year to the state's economy.
The forest business, like agriculture, is not a white-shirt occupation. Logging and wood processing is dirty, loud and dangerous. But for guys like Holleran and Ken Gagnon, a lumber mill operator and landowner, the lure of the woods is strong.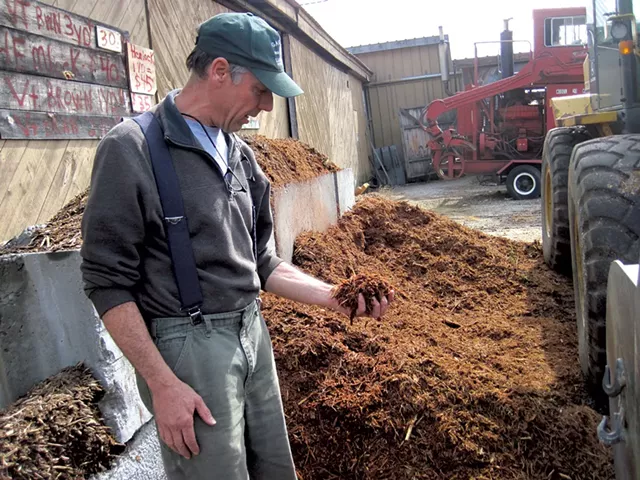 Nancy Remsen
Ken Gagnon
"I would have loved to have been a forester," said Gagnon during an interview in a tiny office at his family's lumber mill in Pittsford. Dressed for the outdoors in work pants with suspenders, a heavy cotton shirt and a ball cap, Gagnon said he has spent the past 35 years growing a mill that once was a side operation on his family's dairy farm.
It's volatile business — "like a rollercoaster ride," he said. When the recession hit in 2008, his market for lumber shrank. He found new customers when some schools and colleges converted to burning wood chips for fuel — which he was happy to supply. "Schools heating with wood was really the silver lining for us," he said.
Gagnon said the maws of his two red chippers can handle trees up to 20 inches in diameter. One machine can fill a tractor-trailer with 30 tons of chips in 40 minutes.
But the school heating market proved unpredictable, too. Behind Gagnon's mill, stacks of telephone pole-size logs were stockpiled, evidence of reduced demand during the past mild winter.
Inside the mill, the buzz and whine of saws made it hard to hear Gagnon as he explained how his 10 employees were processing ash logs. One machine ripped off the bark. The next squared the timber. Another cut boards of varying dimensions. Gagnon led the way around machinery and conveyors, pointing out one batch of boards destined to become ash baskets. Another with knots would become flooring. The boards without knots would become cabinets. The bark would be shredded and dried for mulch. A chipper processed leftover chunks, blowing them into a trailer.
Gagnon said he has to care about the future of forests. He's the owner of 1,000 acres of forestland, and his livelihood depends on a steady supply of straight, defect-free timber and healthy markets for his milled products. He keeps tabs on legislation and is on the board of the state's Working Lands Enterprise Initiative, which approves grants for forest and farm economic development projects.
Gagnon agreed with Holleran that the harvest notification proposal — the most controversial of the administration's ideas — came as a surprise. He'd heard Snyder's pitch: The measure would let the department provide landowners with "helpful information" such as sample logging contracts and the rules for cuts. And it would allow officials to spot-check harvests, rather than always responding after the fact to complaints about erosion or other environmental damage.
"I felt bad about pushing back on it," Gagnon admitted, explaining that he especially disliked a provision in the first draft of the notification bill that would have required "trip tickets" for every load of wood to leave the land. Trip tickets are tools to track wood from forest to final use, which is considered a protection against loss and theft. The administration proposed that tickets include such information as harvest location, landowner, logger, date of transport, destination and purchaser. Gagnon argued that mandating the use of trip tickets would be burdensome for small-scale loggers — and he deals with a lot of those. He also said it would be a hassle if he had to retain trip-ticket records for six years, as proposed in the bill.
Some already use the tickets voluntarily as a means of tracking inventory. Mike Fritz, who owns 525 acres of forest in Marshfield and Cabot, said he uses trip tickets to keep tabs on all the wood products that leave his lands. Despite that, he said, "The state doesn't need to get involved."
Snyder said trip tickets are common in the industry — even in Vermont. But he agreed to strip the ticket provision from the House bill. "We heard from a lot of people saying, 'Whoa, that is too fast.'" He agreed, too, to make harvest notification voluntary for the next three years.
That appeased the Vermont Traditions Coalition, which viewed mandatory notification "like reporting to Big Brother," said Steve McLeod, executive director. "We worried it would lead toward the state having to approve each harvest."
The coalition remains worried about a measure to have towns consider preservation of forest blocks as part of the planning process. Members fear restrictions on property rights.
This planning bill, however, is a priority for the Vermont Natural Resources Council, which has been concerned about fragmentation of forestland for a decade, said Jamey Fidel, the nonprofit organization's forest and wildlife program director. The legislation simply makes forests part of the discussion when communities consider their futures, Fidel said: "This shouldn't be a conversation against growth."
Charlie Hancock, a forester in northern Vermont who served on the Montgomery planning board for six years, also supports the planning requirement. He said it was like asking towns to consider flood hazards: "It doesn't say they have to do anything."
Fragmentation is a looming problem, Hancock said: "It is happening, but it happens slow enough we don't really notice."
Most of the other bills are less controversial.
The bill that would prevent towns from passing ordinances restricting forest practices is critical, said Putnam Blodgett, president of the Vermont Woodlands Association and owner of 670 acres of forestland in Bradford. Owners want uniform regulation by the state.
This bill also included a "right to conduct forestry operations" provision, intended to discourage lawsuits by neighbors upset by noise or other aspects of logging and wood processing. Snyder said that was modeled after the right-to-farm provision already codified in state law. Still, last week, the House stripped the protection from the bill.
"I will try to restore it in the Senate," Snyder promised.
Another bill, welcomed by landowners Blodgett and Fritz, would establish timber theft as a crime. Sometimes loggers fail to pay owners for all the wood harvested, or they ignore property lines when cutting. Blatant incidents like the one last December in Arlington, when thieves cut and sold 325 Christmas trees, have been known to occur.
Landowners also support the bill requiring foresters to get licensed. "It raises the bar for professionalism," Blodgett said.
Holleran disagreed. Most states don't go that route, he said back in West Woodstock: "Forestry is very well practiced in Vermont."
Holleran led the way up a heavily traveled trail where tons of small branches from harvested trees had been laid down. It's called "brush armoring," he said of the temporary travel surface for heavy equipment. He pointed to deer tracks in the slushy snow. "Deer are attracted to logging," Holleran said, because it creates a buffet of "slash" — twigs and branches on which deer browse. "They literally come running at the sound of logging equipment."
Standing in the now empty log landing, a clearing where the crew stockpiled the wood prior to transport, Holleran explained how the logs had been sorted into groups such as pine, spruce, ash, mixed hardwood, and wood destined to become firewood, pulp and chips. Tractor-trailers hauled out three to four loads a day during the five-week operation, he said, chugging up and down the narrow rocky road.
Near the stumps in one cleared area, Holleran leaned down to touch twig-like protrusions from the snow. He identified some of the gray sticks as future maples and others as ash. Although the area was once planted with spruce and pine, he said, "This is going to grow back to hardwood."