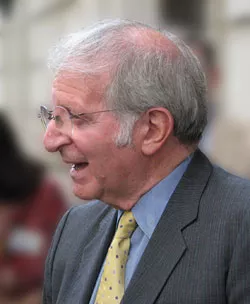 EVENT CANCELLED DUE TO WEATHER
SOUTH ROYALTON & BURLINGTON — Attorney Leonard Weinglass, perhaps the country's foremost champion of left-wing defendants, is scheduled to speak in Vermont next week on a little-known case that, he says, raises big issues about the U.S. criminal-justice system.
Weinglass, whose celebrated clients have included the late Vermont-based radical David Dellinger, currently serves on a legal team representing five Cubans arrested in Miami in 1998 on spying-related charges. The Cuban Five have been held for the past nine years, even though, Weinglass argues, they were only trying to prevent acts of terrorism that were being planned in the United States.
"This case exposes an aspect of U.S. foreign policy that's kept hidden from the public: government tolerance and even training of terrorists," Weinglass says. The 74-year-old Manhattan-based attorney adds in a telephone interview that the case of the Cuban Five also serves as "a prime example of government misuse of the criminal-justice system to further domestic politics." In this instance, Weinglass suggests, the Bush administration is pressing ahead with an unjust prosecution in order to ensure that the 650,000-strong Cuban-American community in Florida votes heavily next November for Republican candidates.
The Cuban Five were convicted in 2001 and sentenced to terms ranging from 15 years to life imprisonment. One of the men was found guilty of conspiracy to commit murder because he relayed information that resulted in the Cuban military's shooting down two planes operated by a Florida-based anti-communist group. Four of the group's members were killed in that 1996 incident.
The Cuban Five are being held separately in maximum-security facilities around the country. In 2005, a U.S. appeals court panel overturned their convictions on the grounds that it was impossible for the Cubans to receive a fair trial in Miami because of the powerful influence of Cuban-American anti-communist militants there. But the following year the full appeals court reversed that ruling, so the sentences still stand.
Weinglass has again appealed for a new trial, and he says he expects the court to issue a decision sometime this spring. He describes the Cuban Five as "committed supporters of the revolution." They came to the United States, Weinglass says, with the sole aim of infiltrating groups that could use terror tactics as part of their efforts to overthrow the nearly 50-year-old regime headed by Fidel Castro.
Defenders of the five point to a history of such attacks — most notoriously the 1976 bombing in Venezuela of a Cuban airliner, which killed 73 people. A CIA operative jailed in Venezuela as a prime author of that terrorist crime escaped in 1985 and now lives freely in Miami. In 1997, one year prior to the arrest of the Cuban Five, a series of hotel bombings occurred in Havana. An Italian tourist was killed in what the Castro government said was a Miami-based campaign to destroy the Cuban tourism industry.
Although the Cuban Five case has received scant press coverage outside Florida, Weinglass says it involves some of the same principles underlying spectacular trials in which he has played a pivotal legal role.
In addition to Dellinger, who died in 2004, he has defended African-American communist Angela Davis; actress Jane Fonda; former President Jimmy Carter's daughter, Amy; Nixon enemies-list member Daniel Ellsberg; and the kidnappers of newspaper heiress Patty Hearst. Weinglass recalls being jokingly introduced at Harvard by Dellinger co-defendant Abbie Hoffman as "an unpopular lawyer who represents unpopular causes."
Asked which of his cases he considers most significant, Weinglass replies, "It's like asking a parent to choose which child is their favorite." All were important, he says, and in each he worked in accordance with a core set of beliefs: "Trust the jury; speak honestly; don't avoid the reality that the case presents; be conscious that you're defending principled people."
The American criminal-justice system can produce fair outcomes, Weinglass adds, but the odds of that happening are decreased when politics motivates the prosecution, as well as in cases influenced by factors related to race or poverty. "If a case doesn't directly involve politics, doesn't involve people of color and does involve defendants of means, the possibility of achieving justice is greatly enhanced," he finds.
Weinglass says he has long "looked admiringly on the political context of Vermont." He recalls speaking in Burlington at a celebration honoring Dellinger, one of the figures in the Vietnam-era Chicago Eight trial, which is now being brought to the screen by director Steven Spielberg.
Weinglass says his talks in Vermont concerning the Cuban Five won't differ from speeches he has delivered throughout the country. "It being Vermont, however," he adds, "I do expect a larger turnout."
Weinglass will speak at Chase Hall, Vermont Law School, in South Royalton on Tuesday, February 12 at 5 p.m., and at Waterfront Theatre, presented by Burlington College, on Wednesday, February 13 at 6 p.m.