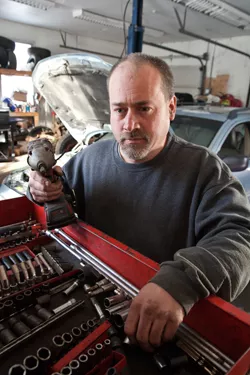 Matthew Thorsen
Edsel Hammond
You won't find Edsel Hammond's garage listed in the yellow pages or advertised anywhere, and you wouldn't know it was there if you passed it: A small sign hanging in the window says "Edsel's Sales and Service," but it faces toward his adjacent house on a quiet Charlotte road.
Most of Hammond's customers are old friends, or friends of old friends, who recommend him to others. Only on rare occasions does he need to greet a customer with a friendly disclaimer, asking if they have heard of his unusual circumstance: He is legally blind, the result of a genetic eye condition that began in his mid-twenties.
Hammond, now 45, was destined for a life with cars before he was even born. His grandfather owned a gas station. His dad was an autobody man. Indeed, Hammond has spent his life as a car mechanic, and his two sons also work as mechanics at a local dealership.
"Motor oil is his life's blood," says childhood friend Darrell Brown.
And about that name? Hammond's parents owned a 1958 Ford Edsel, a short-lived vehicle that would one day make Time magazine's list of the 50 worst cars of all time.
Though his first name is Donald, even his parents ignored it; his mom registered him for elementary school as D. Edsel Hammond.
"I'm glad they didn't have a Chevelle," he jokes.
Growing up in Charlotte, young Edsel wasn't much for school, and while most of his buddies talked about girls and sports, he talked cars. In his free time, he would ride dirt bikes or snowmobiles through farmers' fields or on Mt. Philo, irritating more than a few landowners and park rangers.
On weekends, Hammond helped his dad at Nordic Ford (now Heritage Ford) in South Burlington. A penny-pincher, he restored junkers he'd bought for a song, such as a 1980 Mercury Bobcat with a falling-apart body and an engine that could barely wheeze to life.
"He had a lot of natural mechanical ability. The cars he bought were all terrible junk, and he would get them going and make them last a long time," Brown recalls. "It's not something anybody could do — buy a $300 car and make it reliable transportation."
During his senior year in high school, Hammond got vocational school credit for working with his dad, and he stayed at the dealership after graduating. He liked the camaraderie and job security, and he liked being sent to annual Ford classes outside Boston, where mechanics would be taught about the latest vehicles.
It was the life he wanted, Hammond says, the only one he had contemplated. His teenage years slipped into his twenties.
And then, on a routine afternoon drive in his Ford Bronco, Hammond got something in one of his eyes. In the moment when he reflexively shut the eye, he noticed something odd: The vision in his other eye seemed to have a gap in it. Over time the gap grew, and eventually Hammond made an appointment with an eye doctor. He was diagnosed with Leber hereditary optic neuropathy (LHON), a rare, severe degeneration of retinal cells that afflicts primarily young men.
Several medicines and treatments failed, and Hammond's vision grew worse.
In April 1993, he went to Johnson for a weekend of mud bogging with friends. The following week, he drove himself to Fletcher Allen hospital in Burlington for a last-ditch procedure. It was the last time he would drive — at least legally.
When Hammond woke up in the hospital the next morning, he remembers, the vision in his bad eye had gone velvet black, and the other eye was almost as useless.
Some of his sight returned, but the operation was a failure. Hammond's vision is 10/650, well past the legal threshold for blindness. Today, his peripheral vision resembles the grainy images on an old television, he describes, and his central vision is a "scrambled-up mess."
After several months of recovery, Hammond — who at this point was married and had two young boys — tried to resume his job at the dealership. But he was told the company's insurer wouldn't tolerate a blind mechanic working on the premises.
Hammond grabbed his toolbox and left.
"It was heart-wrenching," Brown says. "He's such a good person. Edsel was always my personal moral compass … He's the kindest person I've ever known. For something so life altering to happen to someone so good didn't seem fair."
For a while, Hammond worked odd jobs, piecing it together. And he collected disability. But he belonged in a garage. So, with the help of family and friends, Hammond built one next to his home.
In 1998, five years after walking away from the auto business, Hammond opened his own garage in his front yard.
How does he do it?
You might expect that every tool would be laid out in a precise, predictable order. But on a recent afternoon, Hammond's shelves look as disheveled as those of any other mechanic. His drills are lined up neatly, but small razor blades and nails are scattered everywhere. His friend's toolbox, Brown says, looks scarcely different than it did when he could see.
"Things could be more organized, I guess, but then I wouldn't find anything," Hammond says. "I know where everything is."
But he knows much of his equipment, and cars, by feel: It's hard to tell Hammond is blind until you watch him put his face within inches of a lug nut or brake pad.
He occasionally calls one of his sons or a friend for help, and has to pass on some projects involving electrical work — it's tough to differentiate the tangles of wire.
But mostly Hammond works alone, getting by on talent, memory and a willingness to embrace his weaknesses. He has little problem, for example, crawling around on the greasy floor if he drops something. He reads paperwork with the help of a scanner that enlarges print.
On a recent gray afternoon, Hammond is replacing a couple of worn brake pads on a Subaru Outlander. "Gravy work," he calls it, as an air compressor coughs to life, allowing him to fire lug nuts into place.
Hammond is wearing brown work pants, brown boots and a worn navy sweatshirt. A rag that once was light blue flops from his back pocket. Behind him, Bud Light cans are piled in an old oil drum. Guns N' Roses blare from the radio. Vanity license plates reading "Edsel" hang crookedly on the wall. In the adjacent bay sits the rusting frame of a 1944 Army Jeep Hammond is restoring for a friend.
It would seem a dream life for a man named after a car. But Hammond says he would have been happy working for someone else. Still, the advantage of having his own business, he allows, is that he could be home with his boys as they grew up. Hammond and his wife divorced in 2000 and he kept Casey and Brandon, who never hesitate to pitch in at dad's garage.
The worst part about going blind, he offers predictably, was losing the ability to drive. Were a miracle to restore his sight, Hammond says he would immediately run out and buy a Harley.
But that's not to say he hasn't been behind the wheel at all. In the years immediately after he lost his sight, he admits, Hammond periodically served as the designated driver on nights when his buddies had too much to drink and could do little more than shout directions. They stuck to back roads, and no one was ever hurt, but on those nights the car usually ended up in a ditch somewhere in Charlotte.
Hammond tells his story sitting at a small table in his cozy kitchen. A dozen red and white roses sit in a vase on the counter. Just the night before, at a restaurant in Shelburne, Hammond says he proposed to Christina Smith, whom he has dated for 10 years.
Smith, 38, was born and raised in Charlotte, too, and her parents were close with his. Hammond's older sister used to babysit Smith, he says. She was in college when he had kids, but, in an interview later, says she remembers local fundraisers to send Edsel to Japan, where experimental drugs offered false hope of restoring his vision.
Years later, their mothers both urged them to get together. For their first date, Hammond asked her to meet him at his son's birthday party at a bowling alley. A few months later, she moved in with Hammond and set about reforming a home that had been the domain of males. Pillow fighting was banned, and the white walls were painted.
Her friends forget Hammond is visually impaired, Smith says, and young children don't understand why it's important to take their toys off the floor when he comes to visit.
"There's nothing where he says, 'I can't do this because I can't see,'" Smith says, adding, "I wouldn't do well. I don't think I'd have the strength to overcome—"
Hammond interrupts: "You get in that situation and you figure out a way."
At home, remarkably, Hammond is the primary cook. The only time he asks for help is when he can't read the oven temperature or instructions on a food container.
He even mows the lawn with a small tractor; when the light is right, Hammond can keep straight lines by tracking shadows on the taller grass, he explains. And when the light isn't right, he mows crookedly and laughs about it.
It's an outlook that even those close to Hammond fail to understand. But he insists that it's as unremarkable as a regularly scheduled oil change.
"When you have your life set in front of you and then it changes," Hammond says, "you've got to figure something out."
The original print version of this article was headlined "Auto Motivated"