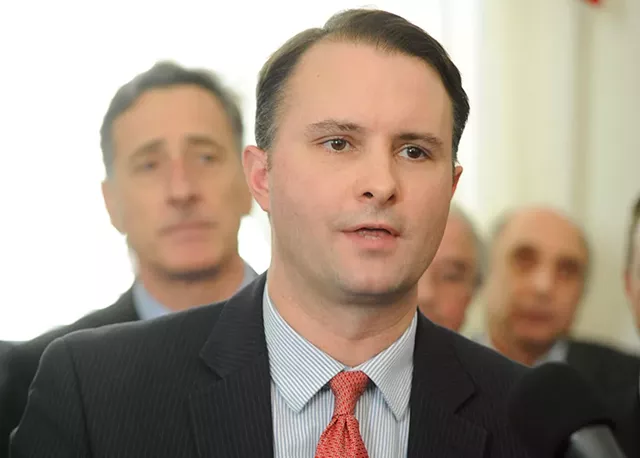 Jeb Wallace-Brodeur
Chittenden County State's Attorney T.J. Donovan
Last Thursday night in a Boston hotel ballroom, Attorney General Bill Sorrell introduced his onetime nemesis, Chittenden County State's Attorney T.J. Donovan, to a few old friends.
The two were in town for the spring meeting of the Democratic Attorneys General Association, an electoral outfit that raises big bucks from major corporations and law firms and directs it to Democratic campaigns across the country.
"He was very gracious," Donovan says of Sorrell, whom he hopes to succeed when the incumbent retires this winter after nearly two decades on the job.
The Boston reception could've been awkward — for a couple of reasons. Four years ago, the upstart Donovan challenged Sorrell, a fellow Democrat and an old family friend, and nearly defeated him.
A major reason Donovan failed was that, in the closing weeks of the 2012 primary, DAGA flooded Vermont with nearly $200,000 worth of super PAC money in a last-ditch effort to protect Sorrell. In one memorable television ad financed by the group, former governor Howard Dean argued that Sorrell had "cracked down on deceptive bankers." No matter that DAGA's No. 2 donor back then was Citigroup.
"This is not the Vermont way," Donovan complained at the time. "People don't like Washington, D.C., money coming in and influencing elections."
Four years later, Donovan still hasn't gotten over it.
"I don't like the way I got treated last time by them. That's the bottom line," he says. "To say that there were some hard feelings on my side — that's probably accurate."
But that doesn't mean Donovan won't take DAGA's money this time around. He says he hasn't "ruled out a fundraiser" with the group. And he was happy to schmooze with DAGA's donors last Thursday in Boston.
"Certainly I'm willing to have a conversation with folks," he says. "I'm glad I went."
That's remarkable, because Sorrell's close ties to DAGA donors are arguably what ended his career.
As Seven Days reported last spring, the AG spent nearly 140 days outside Vermont in 2013 and 2014 mingling with his peers and their corporate benefactors on all-expenses-paid trips to posh resorts. He routinely accepted free travel and campaign donations from those lobbying his office. At one Washington, D.C., fundraiser hosted by DAGA, a law firm handed Sorrell an envelope with $10,000 worth of checks and asked him for a favor. He complied, prompting an investigation by state — and possibly federal — authorities.
"Nobody likes this system," Donovan concedes. "But it's the system we have, and in order to get it to change, you gotta play by the rules we have."
Donovan does have an election to win, against Washington Democrat H. Brooke Paige and Walden Republican Deborah Bucknam. But most Vermont politicos see the 42-year-old prosecutor from the state's most populous county as a shoo-in for attorney general — and a likely contender, down the road, for any vacant gubernatorial or U.S. Senate seat that crops up. That could explain why Donovan, facing little competition, had raised a whopping $255,000 by March — 25 percent more than he collected throughout his entire 2012 campaign. It's no wonder special interests are lining up to donate.
Earlier this year, Donovan says, he met with a Comcast lobbyist at Rí Rá Irish Pub in Burlington to talk Massachusetts politics. The company cut him a check for $4,000. A similar meeting with a Caremark lobbyist at nearby New Moon Café generated a $500 contribution. While in the nation's capital last November, Donovan says he met with Google lobbyists. The search giant later gave him $1,000. Donovan can't remember whether he met with AT&T, but the company contributed $500.
"In all these conversations, it's not, 'Hey, give me money,'" he explains. "You listen to them, what their concerns are. A lot of it is small talk. A lot of it is probably relationship building. Very rarely is an ask made."
Former Vermont attorney general Jerry Diamond, who later spent years lobbying his former peers on behalf of major corporations, agrees with Donovan that such companies donate "to establish a relationship."
"Because, ultimately, any national company — any company doing business in Vermont — could, at some point in time, find themselves in a potential investigation," Diamond explains. "What they don't want is enforcement by ambush. So how do you build relationships so that doesn't happen?"
Diamond, whose firm donated $500 to Donovan, sees nothing nefarious about the practice.
"All they're going to get is a contact and an ability to talk if a problem arises," he says. "They expect that AGs will enforce the law."
Much of Donovan's financial support comes not from distant corporations but from local lawyers. By March, more than 95 attorneys had donated at least $46,727 to his campaign, while another 16 law firms had contributed $8,850.
While impressive, that's not entirely surprising, given that Donovan is already the most powerful county prosecutor in the state and hopes to land Vermont's top public-sector legal job.
Some donors, such as Windsor County State's Attorney David Cahill and Lamoille County Sheriff Roger Marcoux jr., work with Donovan in law enforcement. Others, such as the Necrason Group's David Mickenberg and Downs Rachlin Martin's John Hollar, lobby lawmakers at the Statehouse.
But most of Donovan's supporters in the legal profession know him from the courtroom. An analysis of a single week's worth of cases scheduled for Vermont Superior Court's Chittenden criminal division showed Donovan's deputies facing off against at least 11 of his defense-attorney donors.
"I work with him and his office several times a week," explains Jessica Burke, a Burlington lawyer whose firm donated $200. "Why wouldn't you support someone who's doing really great work?"
Mark Kaplan, a Burlington lawyer for whom Donovan once worked, says he sees nothing improper about the $500 his firm contributed to his frequent legal adversary.
"Knowing T.J. like I do, I can't imagine we'd get favorable treatment just because we gave a contribution to his campaign," Kaplan says. "Otherwise I wouldn't have made one."
Winooski attorney Bill Norful, who contributed $500 to Donovan, says he's instituted a policy to ensure that he doesn't end up in court with his old friend.
"When I gave a donation to his campaign, I conflicted off any cases personally with him," Norful says.
According to outgoing Vermont Bar Association executive director Robert Paolini and bar counsel Michael Kennedy, there's no specific rule prohibiting a prosecutor from soliciting money from a defense attorney. Kennedy notes, however, that if the fundraising relationship resulted in a quid pro quo, that could be problematic.
Donovan himself doesn't seem to have a one-size-fits-all policy for recusing himself from decisions involving donors.
"I would say I do it on a case-by-case basis," he says, calling himself "sensitive" to the perception that benefactors might get special treatment: "You have to be aware of any actual conflicts but, frankly, any perceived conflicts [too]. And if you've gotta disclose something, you do it. And I think I've been pretty good about it."
Donovan could have a harder time avoiding a perception problem in the event that, as attorney general, he's called to investigate a shooting by the Vermont State Police. Two months ago, the union that represents state cops donated the maximum-allowed $4,000 to his campaign.
"I think he'll be a good person to have there for the troopers and the people I represent," says Vermont Troopers Association president Mike O'Neil. "He's very pro-police and very pro-law enforcement."
The way Donovan sees it, the troopers endorsed him because he's pro-worker. Indeed, seven labor unions have donated a total of $23,000 to his campaign. When he's prosecuted officer-involved shootings in Chittenden County, he argues, he's been fair, independent and transparent.
"I've made tough decisions, and I've had to charge a police officer before," he notes. "And I lost a lot of support because of it."
It's not always clear what a donor sees in a candidate. Bradford auto dealer John Loschiavo has contributed at least $10,000 to Donovan's campaign, through Saint J Subaru and two other companies he owns. Two of Loschiavo's employees each gave another $500.
Donovan says he met with the donor to chat but doesn't know what, precisely, drove the contributions. Loschiavo did not return a call seeking comment.
As he looks to climb the next rung on the political ladder, Donovan acknowledges that the fundraising required can be a little "unseemly." But he says he's not worried about falling into the same traps his predecessor did.
"Look at my record: I have fought for victims, disenfranchised people, the mentally ill, the addicted, the sick. That's my record," he says. "And if you're going to judge me, judge me on my record. Don't judge me on whether or not I'm worried about becoming Bill Sorrell."
Shap-Shifter
Ladies and gentlemen, House Speaker Shap Smith (D-Morristown) is running for lieutenant governor.
After 14 years in the House — including eight in charge — the 50-year-old lawyer says he sees an opportunity as the state's No. 2 to "convene people around" complex issues such as tax reform, higher education and downtown redevelopment.
"As I thought more about the office and how it can be used, I have gotten more excited by the possibilities," he explains.
Smith waged a brief campaign for governor last fall before dropping out in November when his wife was diagnosed with cancer. In the week and a half since the legislature adjourned, he said, he's been taking a "gut check" to determine whether to mount what he expects to be a "really difficult" campaign for LG.
He'll face Rep. Kesha Ram (D-Burlington) and Sen. David Zuckerman (P/D-Chittenden) in the Democratic primary and, potentially, former Republican senator Randy Brock in the general election.
"There's no doubt in my mind that I'm coming from behind, and I'm going to have to work my butt off to be competitive on Primary Day," Smith says.
Where's Bernie?
Perhaps it should come as no surprise that Sen. Bernie Sanders (I-Vt.) refused to comment after Burlington College announced it was going out of business on Monday. After all, college administrators implicitly blamed the school's collapse on his wife, Jane O'Meara Sanders, in the opening sentence of a press release disclosing the closure.
"In recent years, Burlington College has struggled under the crushing weight of the debt incurred by the purchase of the Archdiocese property on North Avenue," they wrote, referring to the $10 million O'Meara Sanders borrowed to buy a 32-acre campus when she served as the college's president in 2010.
Neither O'Meara Sanders nor her husband's campaign would say a word about it to the Vermont news media, or even the national press.
That's become a trend.
In the five weeks since state and federal officials announced the biggest case of fraud in recent Vermont history, Sanders has ignored all requests for comment. Sure, Sanders wasn't out promoting the Northeast Kingdom economic development projects at the heart of the scandal the way Gov. Peter Shumlin and Sen. Patrick Leahy (D-Vt.) were. But he did lock arms with accused fraudsters Ariel Quiros and Bill Stenger at the projects' 2012 announcement — and helped steer federal funding to an associated airport project .
And, you know, he remains a U.S. senator from Vermont.
Not that you'd know it from his voting record. Sanders has missed 41 percent of the roll-call votes held since he joined the presidential race last May. This calendar year, he's skipped all but one of 72 votes. The one time he showed up, on January 12, he voted to require an audit of the Federal Reserve.
No doubt Vermonters — 86 percent of whom backed him in the state's Democratic primary — are willing to cut Sanders some slack. The dude is running for president, after all, and he's enjoyed tremendous success. But if he's unable to chart a viable path to the nomination, will his constituents tolerate him calling in sick all the way through July's Democratic National Convention?
We asked Sanders for comment. But, well, you know.