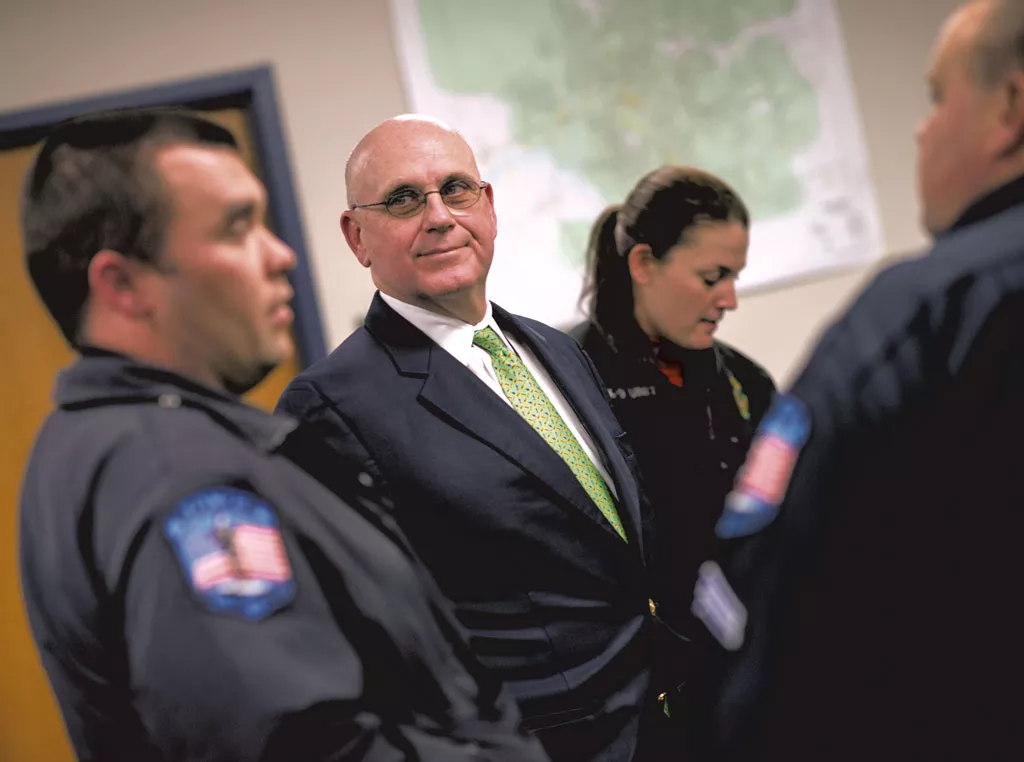 Caleb Kenna
Police chief James Baker with Rutland officers
When Jim Baker first took over Rutland's scandal-plagued police department in the winter of 2012, he had a running joke with the mayor.
In department-head meetings during which a particularly vexing problem arose, Baker would hold up his city-issued notebook and point to the first word of his job title. "Mayor, mayor, look — 'interim,' OK?" Baker would say to Mayor Chris Louras. "That question is for the next guy."
Baker, a former head of the Vermont State Police, initially signed on for a six-month stint as Rutland's chief of police. Nearly three years later, he still occupies the corner office at the Rutland police station.
Baker is widely credited with stabilizing the department, initiating a statistics-based policing program and rallying dozens of community groups to fight the city's drug problem. "He was the driving force not just to turn around a dysfunctional department but in helping the renaissance of the city," Louras said. "It would not have happened without him."
But now, talk of the "next guy" is no joke.
Although the mayor had started preliminary contract discussions to keep Baker around for a couple more years, the chief decided it was time for something less stressful. In December, Baker is leaving for a position with the International Association of Chiefs of Police, a Washington, D.C., think tank.
"I burn a lot of jet fuel when I get into a situation like I found here," said Baker, who has preferred working short stints — no longer than a few years — during his lengthy law-enforcement career. The D.C. opportunity, he said, will enable him to engage in national and international issues on a less demanding schedule.
A New York native and Southern Vermont College graduate, Baker methodically climbed the ladder during the 30 years he worked at Vermont State Police. He held nearly every position there, including director, before retiring in 2009.
Baker says it is unlikely he'll ever stop working. After leaving the state police, he launched a consulting business and became something of a Mr. Fix-It for Vermont law enforcement.
Then a scandal rocked the Vermont Police Academy: A training coordinator committed suicide after his computers were seized during a child-pornography investigation. It prompted the director of the academy to resign, and in 2010, Baker took over that job for several months with the intention of rooting out problems and improving morale.
Next Baker spent a few months as interim police chief in Manchester. That's when Louras and Rutland Police Commissioner Larry Jensen came calling. They convinced Baker to come aboard for six months to help "settle down" a department in the midst of its own scandal.
The Rutland force had been in disarray since 2010, when state police busted former sergeant David Schauwecker for viewing pornography on his work computer and removing a pornographic video from an evidence locker for personal use. After he accepted a plea deal, Schauwecker was fired. Rutland aldermen urged the police commission to do the same to then-chief Tony Bossi, but they said no; Bossi finally resigned in early 2012.
The Rutland Herald asked for documents related to the investigation, but the city's police department refused. So the newspaper sued — and won: In 2013, the Vermont Supreme Court ordered the department to release the records, which revealed that, years earlier, two other Rutland officers had also watched porn on the job.
Meantime, the city wasn't faring much better than its police department. Once a boomtown fueled by railroads and a marble quarry, Rutland's economy had lagged for decades. Out-of-state drug dealers moved in as property values plummeted, downtown went dormant and vacant buildings proliferated. Drugs had decimated large swaths of the city long before Gov. Peter Shumlin devoted his 2014 State of the State address to Vermont's "opiate epidemic."
Known throughout Vermont as "Rut-Vegas" — a moniker that Baker forbade his officers from using inside the station — the city was the brunt of countless jokes.
Then, in September 2012, a tragedy illustrated the severity of the city's plight. A 23-year-old Rutland man passed out while driving through downtown, as a result of inhaling gas from an aerosol can. His foot remained on the accelerator, and, moving at 80 miles per hour, he slammed into a bank of parked cars outside the Discount Food and Liquidation Center. Carly Ferro, a 17-year-old Rutland High School senior, had just worked a shift in the store and was walking to her father's car when she was struck and killed.
"That was the tipping point," Baker said. "That was the single incident where people in the community said they had finally had enough and starting rallying around the police department and the neighborhoods."
To tackle Rutland's growing list of urban ills, Baker and a few others organized regular meetings with housing agencies, social workers, neighborhood activists, lawyers, mental health experts, educators and city hall workers.
The group that formed called itself Project VISION — Viable Initiatives and Solutions through Involvement of Neighborhoods — and focused on problems related to drugs, crime, housing and jobs. Its monthly meetings, which attracted 70 to 100 people, helped build public support for a methadone clinic that opened earlier this year, among other initiatives.
Seeking further collaboration, Baker invited mental health workers, social workers, prosecutors, probation officers and domestic violence experts to relocate their offices to the police station.
Meanwhile, inside the police force, the chief aimed to strengthen relations with residents and institute smarter enforcement. He helped create a crime-mapping project that plotted the details of every police call — whether for a family fight or a noise disturbance — into a database. Every two weeks, officers and members of Project VISION reviewed "hot spots" and developed strategies to defuse them.
Baker also instructed his officers to stop measuring success by arrest numbers. "We're not focused on arrests or how much drugs were seized, but on working through problems," Baker said.
When his first six-month contract was up, Baker signed a one-year extension, then two more, the last of which paid him $125,000 a year. "I saw some opportunity, that I thought I could contribute," Baker said. "I found out there were some people in the community working very hard to get it right."
Among them was Linda Justin. A Rutland native who had become increasingly distraught by the city's decline, she and her husband, Bill Beckim, cashed out their 401(k), bought a derelict building in Rutland's Northwest neighborhood, and in January 2013 opened the Dream Center, where they host youth groups, prayer sessions, meetings, block parties and free meals.
One day, Justin called Baker looking for an answer to a neighbor's question.
After talking for a while, Baker realized, "Oh my gosh, you guys are doing what we're talking about doing," the chief recalled.
Baker started to join Justin and Beckim on their neighborhood walks, chatting with residents about problems and their ideas for making things better. "He doesn't just sit in his office and direct," Justin said. "He gets his hands right in it. He's a real person. He's down-to-earth."
And while no one is declaring victory, officials say Rutland is improving. Calls for police service have dropped since Project VISION launched, and Baker said the department is registering double-digit drops in burglaries and property crimes this year.
Rutland police have had a lot of help. Federal authorities conducted a three-year operation in the city and have been responsible for most of the prosecutions against prominent drug dealers operating there. Vermont Attorney General Bill Sorrell tasked one of his prosecutors to focus exclusively on Rutland; assistant attorney general Ultan Doyle works out of the downtown police station.
Its porn scandal may be over, but the department still isn't perfect.
In September, two officers were suspended after a brawl outside a Rutland bar.
In a pending lawsuit filed in January 2013, Andrew Todd, a former Rutland police officer and now a Vermont State Police trooper, describes a culture of police misconduct and cover-ups, and alleges that superiors subjected him to racial abuse.
Todd, who is African American, claims he brought several concerns to higher-ups but that little was done. The alleged misconduct, including officers stealing, having sex and sleeping while on duty, occurred before Baker came to Rutland. Though Todd left the department before Baker arrived, he has alleged that Baker tried to "influence" an outside review of the Rutland police department.
Baker declined to comment on the lawsuit.
In three years, nearly half of the department's roster has turned over, through firings and attrition. Baker says he is proud of the holdovers who were willing to adapt to his methods. "It would have been very easy for those folks to bunker down, wait me out," Baker said. "My track record is pretty clear — I don't stay anywhere very long."
The mayor is intent on continuing Baker's legacy. Guiding the search for a new chief, Louras said, will be his or her ability to adopt Baker's methods.
That includes the continuation of Project VISION. In recent months, Baker handed off much of his work there to Capt. Scott Tucker. The community agencies that populate the top floor of police headquarters aren't going anywhere. And the monthly Project VISION meetings still attract a crowd.
"You can't lead," Baker said, "if no one is following you."