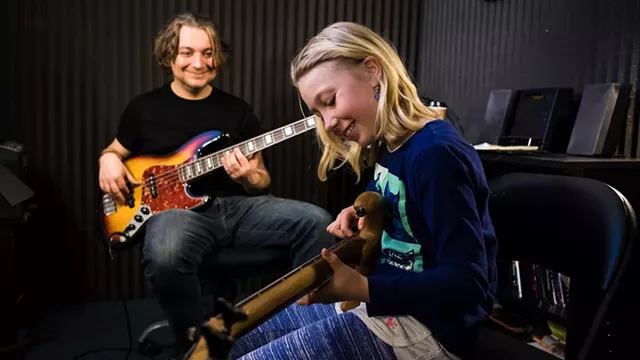 Courtesy Of Burlington Music Dojo
Aram Bedrosian teaching a student (pre-pandemic)
A new collaboration between the Friends for A_Dog Foundation and the Burlington Music Dojo has received $20,000 in grants to provide free music education to kids in Vermont. Called the Learning to Fly Program, it will offer up to 24 local children private instrument lessons over the course of four years.
The grant money comes courtesy of two organizations connected to the Vermont rock band Phish. The first is the Mockingbird Foundation, a nonprofit dedicated to music education founded and funded by the jam band's fans. The organization raises money through book sales, recordings and "phan art"; it awarded more than $140,000 this year to support music education in the U.S.
A $10,000 grant went to Learning to Fly, which was one of just 20 recipients chosen from 1,156 applicants across the country. Not only was it the only Vermont recipient, Learning to Fly received more money than any of the previous 10 local recipients since the foundation's conception in 1996.
Phish's own charitable organization, the WaterWheel Foundation, matched two Mockingbird Foundation grants this year: the one to Learning to Fly and one for public school instruments in Massachusetts.
Through 2025, Learning to Fly will provide four to six students annually with a year of weekly one-on-one instruction in the instrument of their choice through the Burlington Music Dojo. The dojo, founded in 2013, calls itself a "growing hub" for music students and instructors, "offering state-of-the-art spaces to play, learn and relax in." Instruments offered range from trumpets to drums to bass guitar.
The project is the brainchild of local house music DJ, promoter and Friends for A_Dog Foundation board member Justin Remillard and bassist and cofounder of the Burlington Music Dojo Aram Bedrosian. Remillard approached Bedrosian in late 2018 with an idea to utilize the Mockingbird Foundation grant for local youth. In March 2019, the two began planning how they could launch Learning to Fly with or without the grant.
"The Friends for A_Dog Foundation has a long history of reaching out to the youth with wonderful programming," said Bedrosian, "and I was thrilled that Justin thought of our collective of music instructors at the dojo."
The foundation honors the memory of DJ and skateboarder Andy "A_Dog" Williams, who died from leukemia in 2013. It supports bone-marrow drives, free programs for underserved youth and A_Dog Day, a Burlington event held every August to celebrate the turntablist's legacy.
"With the Burlington Music Dojo being the robust studio of live music instruction that it is, we knew it would be a great idea to pursue this partnership and grant together and offer live music programming to those that may not have such an opportunity," Remillard said. "The Learning to Fly Program will be a direct reflection of Andy's character and life as a musician."
Like everyone else, school music departments face uncertain times amid the pandemic. In June, the Vermont Agency of Education and Department of Health released guidelines recommending that schools avoid group activities that could "generate increased respiratory droplets and aerosols," including playing woodwind or brass instruments. At the Dojo's studios on Pine Street in Burlington, instructors have been able to continue providing in-person lessons by employing social distancing, increased sanitation protocols and polycarbonate shields between teachers and students.
Should the coronavirus subside by January, Learning to Fly students will use the Dojo's spacious, sound-insulated rooms. However, all Dojo music lessons are also available remotely.
Remote learning has always been a good alternative, Bedrosian said. "Fortunately, I have been teaching remotely myself for over 10 years to students all over the world and can attest to how effective learning in this way can be."
Vermont students in grades 6 through 12 can apply to Learning to Fly from September 14 until the second week of December. Remillard and Bedrosian decided upon this age range since, in their experience, middle and high schoolers are more apt than younger students to stick with an instrument for a whole year.
Staff and board members from both the dojo and the Friends for A_Dog Foundation will review answers to the application's short essay questions. Financial need of students will be considered, but most importantly, Remillard said, "The right applicant is passionate to learn an instrument."
For kids accepted into the program, lessons will strike a balance between building core musical proficiency and keeping students inspired to make music. Learning Phish songs is not mandatory.