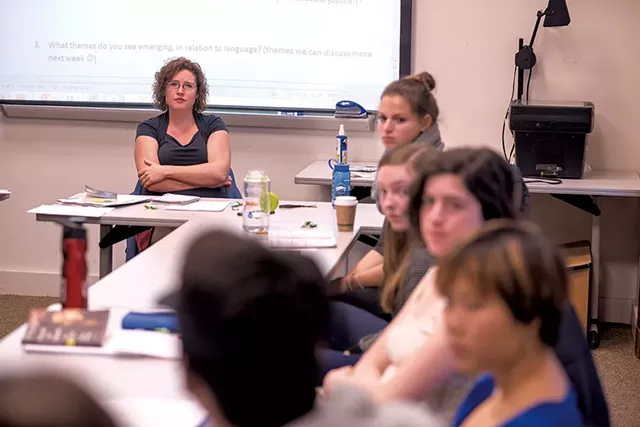 Caleb Kenna
Shawna Shapiro teaching at Middlebury College
Shawna Shapiro was horrified when she heard her own accent for the first time. At age 13, the Oklahoma native recalled, she left a message on an answering machine belonging to the family for whom she babysat. When she arrived at their house, she heard that message being played back.
"Oh, my God. I sound like a hick. I felt like a redneck. I don't want to sound that way," Shapiro remembered thinking. Even before the incident, she had been self-conscious about her speech. Later, during her senior year of high school, Shapiro's family moved to Colorado, where she tried so hard to lose her accent that she mispronounced words such as "crayon."
"I used to say 'crown' because I was trying not to sound 'twangy.' It's called overcorrecting," she said.
Today, Shapiro is an assistant professor of writing and linguistics at Middlebury College — someone who thinks about language for a living. She tells her answering-machine story to first-year students in her course FYSE1405, Language and Social Justice, to encourage them to rethink their own personal biases.
This fall is the second time Shapiro has taught the interdisciplinary first-year seminar, which explores the relationships between language and power and how linguistic prejudice contributes to social inequality. The course, which she first taught in 2013, satisfies one of the students' general-education requirements.
Shapiro's scholarship focuses on ESL writing instruction and high-school-to-college transitions for immigrant and refugee students; she coauthored the book Fostering International Student Success in Higher Education. In the seven years she's been teaching linguistics at Middlebury, she said, social justice issues have come up during her classes, but she never had a chance to delve into them. So she decided to create a course that would combine her area of expertise with issues such as discrimination, assimilation and identity.
"If I were to rename [the class], it would be something like Language and Social Inequality or Language and Social Privilege," she said.
According to Shapiro, when we discuss language, we're actually talking about race, class and gender. "When [people] talk about someone who doesn't sound educated, they often mean they don't sound middle-class," she said. "Or they might even mean they don't sound white, if they really unpack what they mean by the word 'educated.'"
One of Shapiro's students, Ivey Noojin, agreed that our judgments on language tend to reflect our prejudices. "In the North, there is a very condescending way people feel about the South and how they speak," said Noojin, who is from South Carolina.
"One kid told me [that] every time I said 'y'all,' it made him cringe," she continued. "People don't realize that's just the way people speak. It doesn't mean they have less education."
Last Thursday, Shapiro divided her 15 students into small groups and listened as they discussed the memoir Hunger of Memory: The Education of Richard Rodriguez. In the book, the Mexican American author recounts how he grew distant from his Spanish-speaking parents as he learned English and achieved academic success.
On the board, Shapiro writes "confusing message," "disrespectful," "have to change your identity to succeed?" and "controversy." "Here are a few things that I noticed coming out of the conversations," she told the students. "[Rodriguez is] pretty up-front, right? 'Listen, I'm against affirmative action. I'm against bilingual education.' Were you surprised at how quickly he got into that?"
"It's so anti-language to me. It almost hurt me how he rejected [Spanish, which] he once found so beautiful," one student replied.
"I think it was good he was so up-front about his political opinions," said another.
"I had a very similar experience that he did. But I had a different response," said Peruvian student Brian Alberto Dulanto Rosario.
"Interesting. I'd love for you to say more," Shapiro said.
"He seemed very shameful of his language at home. I think that's an awful mind-set to have," said the freshman from the Bronx — who prefers to be known as "Dula," a moniker composed of the first four letters of his family name. "My parents didn't learn English, and they still don't know English," he went on. "But I still see them as intellectuals."
Dula, who has dual citizenship, speaks Spanish at home and identifies himself as a Peruvian and an inner-city kid. He said his entire life has been about code switching — the practice of using different languages or vocabularies in different social contexts — to navigate the different worlds in which he lives.
"My mum actually wanted to name me Austin. She wanted me to assimilate into American culture, and it started with my name," the freshman said in a later interview. "I use Dula to fight back."
At his secondary schools, Dula said, it was impressed on him that it was more socially acceptable to speak English than Spanish or slang. He had similar experiences in the workplace. For three years, Dula helped pay his tuition at the college-preparatory Cristo Rey New York High School by interning each Friday at American Express. There, his coworkers corrected him whenever he said "yeah" instead of "yes," he recalled.
"They said it's not professional," Dula said. "I understand that maybe the etiquette of the professional environment is slightly different from where I come from. I didn't feel necessity to change, because they understood what I was saying."
Dula has found it difficult to connect with the predominantly white, middle-to-upper-class demographic at Middlebury, he said. When he started school there, he felt that people would judge him for speaking with a "hood accent" or using certain pieces of slang.
For instance, Dula said, in the Bronx, he'd bid friends goodbye by saying, "Stay up, stay safe." "That's just because of the context where we lived. Lots of gang violence and police retaliation," he explained.
"When I first got here, I used to say it, and people go, 'Oh, OK,'" Dula said. "I can't say that in the same way. It's put out of context."
Now he uses Standard American English to express himself in class and has found "little communities" of people with whom he can use his slang and Spanish. But Dula still wonders whether he should code switch at all, he said: "I'm still debating which is right, which I feel most comfortable with. I don't want to limit my opportunities in any way."
Like Dula, Noojin is used to code switching. Growing up in South Carolina, she recalled, she was taught to speak Standard American English at her private school. At home, she spoke with a strong Southern accent.
The classroom lessons began to affect her everyday speech. For instance, after she was told not to end sentences with a preposition, "I realized that I started propagating the same idea," Noojin said. "When I heard someone end their sentence with a preposition, I'd be like, 'Don't do that; that's not the right way to do it.'"
Looking back, Noojin feels embarrassed about reprimanding others for how they spoke, she said: "It is so bad. I can't believe I did that."
Since taking the class, Noojin said, she's been using more of her Southern slang as a way to celebrate her heritage. "People make fun of it. But honestly, I enjoy it. It's something I miss since I'm not there anymore," she said.
These days, Noojin added, she's also more attuned to biases when she watches TV. "The stupid person is Southern. It's so stereotypical," she noted. "We should accept other people's differences and actually embrace them."
Another student, Abla Laallam, said the class has been an eye-opening experience for her. "It made me aware of my own biases. I become more aware of subconscious judgments I sometimes have, and I'm trying to work on that," Laallam said.
Through Shapiro's class, she has learned that no two people have the same linguistic experience. Born in the U.S., Laallam grew up in Morocco speaking both French and Arabic. When she started learning English, people often noticed her accent and asked her where she was from, she recalled. Later, she asked others the same question — until the linguistics class made her rethink it. "I realized that, to some people, it can be offending in a way. I've stopped doing that," Laallam said.
Shapiro said she hopes that, by looking at social justice through the linguistic lens, her students will develop a skill set they can use to make judgments about issues relating to race, gender and class.
But students hoping that Shapiro will go easy on them when it comes to academic writing will be disappointed. While slang flies just fine in the classroom, she looks for more standard grammar and spelling in their papers.
"I enforce certain standards in their writing — not because other ways of writing imply a lack of intelligence," Shapiro said. Rather, she explained, it's about getting the message across. "When you're writing an academic paper, you're performing a certain type of discourse. If you choose not to conform, you may not reach the audience you want to reach."