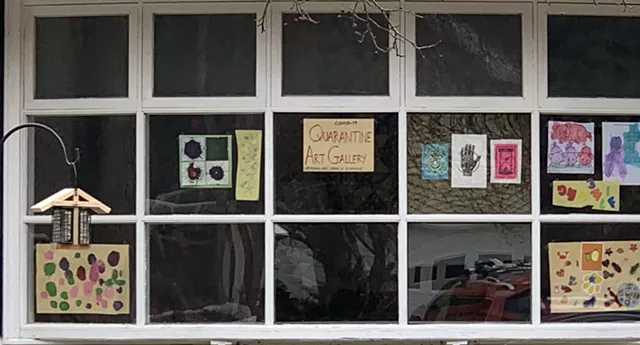 Alison Novak
Coronavirus won't stop kids' learning and creativity. A "quarantine art gallery" displayed in a family's front window in Shelburne.
As kids transition from school to at-home learning, parents are trying to figure out how to support their kids' education. We're here to lend a hand. In the coming weeks, we will provide lists of resources to help moms, dads and caregivers find activities, projects, online learning opportunities and more that will enrich the lives of families.

Many authors and illustrators have already stepped up during this time, offering live drawing tutorials, virtual story times and printable activities. Here's a selection that we'll update regularly. (All times are Eastern Daylight Time):
Every weekday at 2 p.m., Jarrett J. Krosoczka — author and illustrator of the Lunch Lady series and the graphic novel Hey, Kiddo: How I Lost My Mother, Found My Father and Dealth With Family Addiction, a National Book Award finalist — will host free webcasts on YouTube, in which he teaches art lessons. All episodes of Draw Everyday with JJK will be archived here.

Author/illustrator Oliver Jeffers, who illustrated the popular picture book The Day the Crayons Quit, is reading one of his books "everyday until it's safe to go out again" at 2 p.m. on his Instagram stories. Jeffers says in an Instagram post that recordings will be added to his website a few hours later.

Vermont children's book author and illustrator Liza Woodruff, has a selection of downloadable activities on her website.


Courtesy of the Kennedy Center
On the
Kennedy Center website
, artist-in-residence Mo Willems, of the Elephant and Piggy series and
Don't Let the Pigeon Drive the Bus!
fame
—
invites kids to "grab some paper and pencils, pens or crayons" for a LUNCH DOODLE every weekday at 1 p.m. Each episode has an accompanying activity page. Episodes can be streamed after they air.
Every Monday at 12:30 p.m., Narwhal and Jelly series author Ben Clanton will share "miximal" (mixed animals) drawing videos on Instagram Live.


Illustrator and graphic journalist Wendy MacNaughton, whose work is often featured in the New York Times, will offer an all-ages drawing class every day this week at 1 p.m. in her Instagram stories. The videos will stay in her stories for 24 hours.
Author and illustrator Rachel Ignotofksy offers free coloring pages on her website.