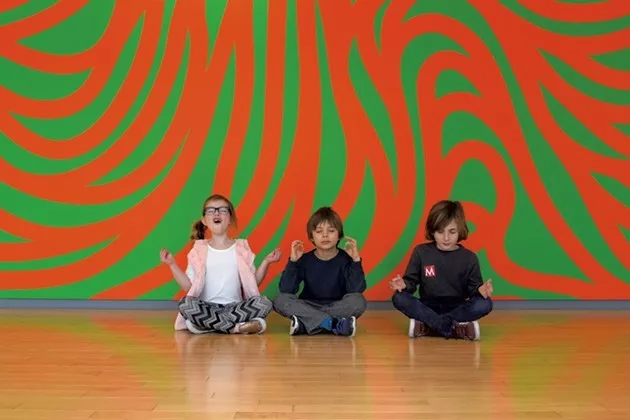 Staying at home doesn't mean you have to sit still — and with active children, chances are that's not an option. Dance classes, yoga classes and workouts will come to you. Here are several free options to get kids — and caregivers — moving for free.
• Virtual kids yoga classes via Zoom? Yep. Suzanne Brubaker, owner of
Water and Rock Studio
and local mom of two, is offering classes for kids, ages 5 to 10, to connect and interact with other kids while moving, breathing and having fun. Classes happen at 10 a.m. and 4 p.m. daily, and cost $25 per week.
Register here
. er:
• Local yoga studios including
Evolution Prenatal & Family Yoga Center
,
Evolution Physical Therapy + Yoga
,
Yoga Roots
,
Queen City Yoga
and
Sangha Studio
are offering online classes (these still cost but you'll be supporting local businesses that need it right now).
•
Cosmic Kids Yoga
offers free yoga and mindfulness classes for kids ages 3 and up on YouTube. Yoga Adventures tell stories through poses that take kids into scenes from Harry Potter, Moana, Frozen, and Star Wars. Jaime's Brain Breaks offer quick five-minute workouts. The Zen Den teaches mindfulness and anxiety-reducing breathing techniques. And Peace Out gives guided meditation, perfect for bedtime.
Alo Yoga
also offers free, short yoga and meditation classes for kids. Older kids might prefer the more grown-up tone at
Yoga with Adriene
.
Courtesy of Music for Sprouts
• Get your wiggles out with Mister Chris and Miss Emma of Music for Sprouts. They are doing
live concerts on Facebook
every weekday morning at 10 a.m. And join local musician Linda Bassick will host sing-alongs
on Facebook
.
• On Facebook, musicians Dan and Claudia Zanes post a
daily Social Isolation singalong classic
recorded in their home. This musical couple hopes their melodies will entertain the kids and remind the grownups that "these are trying times but we're in this together."
• Kindie rockstar Laurie Berkner hosts a
Berkner Break
most weekdays at 10 a.m. on Facebooks to raise spirits and get bodies stretching through singing, stories and movement.
• Brooklyn-based singer-songwriter Suzi Shelton streams a live
"Sing with Suzi"
show weekdays at 4 p.m. and Saturday mornings at 11 a.m. Her vocals and acoustic guitar tunes focus on kindness and love.
• Lines Vermont, a dance studio in South Burlington, is offering some of their
regular classes via Zoom
and pre-recorded classes on the
Line Vermont YouTube channel
.
• Rock out to Vermont drummer Urian Hackney's cover of Nirvana's "Stay Away" — changed to
"Stay Inside"
to reflect the times we're living in. Or have a kitchen dance party while listening to
this music video about social distancing
created by a Burlington family.