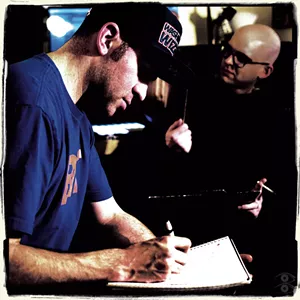 Learic & Es-K, Thought Instruments
(Equal Eyes Records, CD, digital download)
The teaming-up of rapper Learic and producer Es-K was inevitable. They are both among the most tirelessly prolific and talented artists in Vermont's emerging hip-hop scene. Their debut collaboration, Thought Instruments, is the result of years of work. That work was done together, in the same room, and you can hear that cohesion in the final product.
Throughout the album, Es-K's production is delicious and understated. Faced with the task of weaving 16 diverse songs into a seamless album, he pulls nearly every trick out of his sleeve. The track list is so smoothly sequenced, you could almost miss the sheer range of his contributions here, from the stark stomp of "Percussive Expression" to the exquisite jazz of "Crash Course 101."
The duo has also tagged in DJ Kanganade, easily one of the 802's finest turntablists. Kanga's scratch work here, both on the hooks and in the margins, is downright pyrotechnic. It also emphasizes the album's classic, throwback vibe.
While Thought Instruments is a distinctly '90s-style hip-hop album, it's not just an exercise in winking nostalgia. Beyond the boom-bap calisthenics are some razor-sharp concept tracks and social commentary — especially "The Consequences of History," an urgent manifesto that's more poetic than preachy. The real hip-hop Learic rides for isn't just about real skills, it's about the real world and the responsibility rappers have to educate their audience.
Of course, a lot of real skills are on the menu here, too. Learic is at his most comfortable shredding through rhyme schemes and densely layered references. This self-described "connoisseur with a knowledge core" has been dropping flows with footnotes since the Aztext days, but his wordplay has never been quite this slick.
Naturally, the guest MCs here are carefully chosen, too. Burlington legend Konflik delivers two outstanding performances, and Jarv absolutely smashes the uptempo banger "Amen," which is lead single material. Learic also reunites with Aztext rapper Pro on "Searchlight," which nails the melodic vibe of Pro's recent GOOD WTHR material. Finally, rising New York battle rap star Fish Grease murders every second of his appearance on the funky "Food for Thought."
As a finished artifact, Thought Instruments proves several things. First, of course: Learic is one of the best rappers Vermont has ever seen, period. Second: Es-K's approach of doing long-term, in-person collaborations is starting to pay huge creative dividends.
Finally, the record proves that I'm going to have one hell of a hard time picking the best local hip-hop album come December. Alongside equally monumental projects like 99 Neighbors' Television and D.French's Highest Lows, Thought Instruments is a strong contender for that top spot. Somehow both highly accessible and completely uncompromising, this is a project that only could have come from Es-K and Learic. Anyone who loves hip-hop needs to hear this.
Learic and Es-K host an album release party on Wednesday, August 21, at Orlando's Bar and Lounge in Burlington. Thought Instruments is available at equaleyesrecords.bandcamp.com.