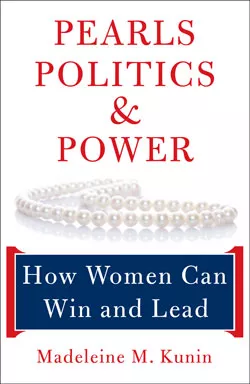 Once, every suburban wife struggled alone with "the problem that has no name," as Betty Friedan wrote in her pathbreaking 1963 book The Feminine Mystique. "As she made the beds, shopped for groceries, matched slipcover material, ate peanut butter sandwiches with her children, chauffeured them to Cub Scouts and Brownies, lay beside her husband at night — she was afraid to ask even of herself the silent question: 'Is this all?'"
No, it doesn't have to be all, Madeleine Kunin answered. Describing herself during a recent talk at Middlebury College as "one of the original superwomen," Kunin, now 74, has proved it's possible for women to do it all — to be wives, mothers and high-flying professionals.
Kunin raised four children and still managed to construct a career that included work as a journalist, as well as several victories and a few defeats in races for elected offices in Vermont. She became the first woman to govern the state, serving three terms from 1985 until 1991. She was also appointed to the number-two post in the federal Department of Education and served as U.S. ambassador to Switzerland. And now she's written a book — her third — Pearls, Politics & Power, that's intended to inspire younger women to run for office while giving them advice on how to win.
Kunin notes in this partial, unrevealing memoir that she herself was inspired by the women's movement of the 1960s and '70s, in which Friedan played a prominent role. Pearls, Politics & Power contains a brief profile of Friedan as well as similar sketches of a half-dozen other feminists throughout history, ranging from Abigail Adams (1744-1818) to Gloria Steinem (1934-).
Kunin appears puzzled as to why so many younger American women do not identify more strongly with this powerful legacy. Most are "turned off by the word 'feminism,'" she writes. "It is passé because the world has changed. The passions of feminism have faded, but its negative connotations have not."
Many of these same women also take for granted that they can indeed do it all. Friedan's silent question, quoted in Kunin's book, never occurs to college-age women who look around and see that their gender now accounts for 56 percent of American undergraduates, as well as a majority of students in law and medical schools.
In politics and in the business world, however, the glass ceiling remains very much intact, Kunin observes. She calls attention to the recurring figure of 16 percent. That's the proportion of women in the U.S. Congress, as well as in the lower houses of national legislatures worldwide. Women also hold 16 percent of the top corporate posts in the United States.
"I thought I'd be leading a parade," Kunin told her roughly 100 listeners in Middlebury — about 90 of them female. But, she added, many women remain reluctant even to vie for elected office. And if women don't play, women can't win, she pointed out.
We all need to get over the notion that "women are not supposed to want power, somewhat like sex," Kunin suggests in her book. "It's OK if they just receive it." She adds in a rare admission, "So acculturated am I that it is not easy even now to say, 'Yes, I wanted power.'"
It's not as though today's girls are lacking political role models. Pearls, Politics & Power presents excerpts from interviews with several female elected leaders, including Vermonters such as Secretary of State Deb Markowitz and Burlington's Rachel Weston, who, at 27, ranks as the youngest serving member of the Vermont House. Kunin's book also profiles three women who are currently running countries: Liberia's Ellen Johnson-Sirleaf, Chile's Michelle Bachelet and Germany's Angela Merkel.
If anything, the book — written in a straightforward, journalistic style — devotes too much space to the views of these other women. Readers will yearn for a more textured account of the challenges and choices Kunin confronted in her own private life and career.
They will also wait in vain for a critical assessment of the most prominent woman on today's political scene: Hillary Clinton. "Yes, dear reader, I endorsed her for president," Kunin writes preemptively.
That clever riff on Charlotte Brontë's conclusion to Jane Eyre cannot conceal Kunin's failure to address fully a basic question that runs as an undercurrent through Pearls, Politics & Power: At what point, if any, does a feminist decide that a female politician's objectionable stance on an issue supersedes her gender? Kunin has nothing substantive to say about Clinton's colossal political misjudgment in voting to authorize President George W. Bush to invade Iraq. She doesn't even mention Clinton's subsequent vote in favor of Bush's move to label Iran's Republican Guard a terrorist organization — and thereby set up the framework for a potential invasion of Iran.
Kunin grapples commendably with one key question she does raise in the book: Does anything important change for the better when women hold positions of power? She dances past the problematic example of Margaret Thatcher, the hard-right British prime minister who led her country into war while shredding the social safety net woven by previous (male) leaders. Early in the book, Kunin writes, "The long debate about whether women lead differently is not over." She goes on to present convincing impressionistic and polling evidence suggesting that women politicians do generally stand to the left of their male counterparts.
"Most women in public office agree that gender has an impact on their leadership style and on the policies they promote," Kunin says. She cites a 2001 study in which most male and female state legislators agreed that the increased presence of women in law-making capacities made a difference "in the extent to which the economically disadvantaged have access to legislatures and the extent to which legislatures are sympathetic to the concerns of racial and ethnic minority groups."
Analyses of the gender gap that regularly opens in the U.S. electorate likewise show that women tend to hold more liberal views than do men. Similarly, Kunin notes, Democratic women outnumber Republican women, 61 to 39 percent. And it's hard to argue with California Congresswoman Loretta Sanchez's claim, quoted in Politics, Pearls & Power, that women and men in policy-making roles "think in different ways." Sanchez persuasively posits that a House panel's $100 million appropriation for mental-health counseling for raped women in Kosovo "never would have happened if there wasn't a woman on the committee."
Kunin is just as convincing in her contention that gender bias persists in American society despite the perception that "the bad old days are gone." An array of laws now protect women from discrimination, she acknowledges, adding, "There is a culture of political correctness that constrains gender bias."
But the message that "women are inferior to men remains deeply imbedded in both men's and women's psyches," Kunin notes. Why would centuries — millennia, really — of such social coding be broken in just a few decades?
Ever the wise and gentle warrior on behalf of women's rights, Kunin adds at a later point, "Gender stereotyping is not malicious; both men and women are prone to it because we have all grown up in the same culture where men are given the benefit of a doubt and women are given the burden of proof."
Women also need to learn "when to make an issue about sexism, when to ignore it, and when to have a good laugh," Kunin further advises.
Despite its limitations and omissions, Pearls, Politics & Power achieves its author's large-scale ambition of "passing the torch to the next generation," as she said at Middlebury. Young women and men who read Kunin's book will better understand that, while feminism may have fallen out of fashion, it retains much of its relevance.