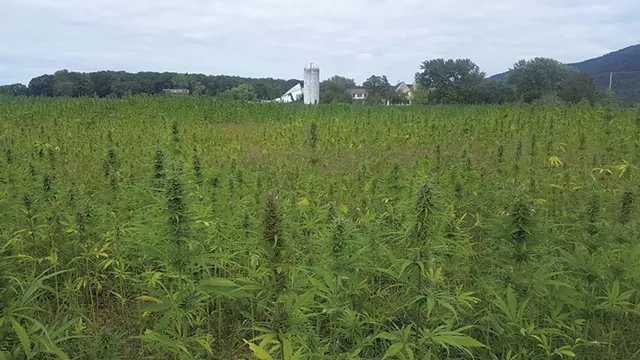 Courtesy Of Cynthea Hausman
The hemp crop on Hausman's land
A Burlington woman has sued the Vermont Hemp Company and its founder, Joel Bedard, in a dispute over a hemp harvest.
Cynthea Hausman is alleging that she and Bedard entered into an agreement to grow hemp on several acres of her family farm in Addison after the two met at a conference last April. Hausman needed money to save her mother's 166-year-old farmhouse, which is in foreclosure proceedings, she told Seven Days. According to Hausman, her ailing 80-year-old mother is hospitalized and told her daughter she hoped to die on the property.
Hausman told Bedard she needed $45,000 to pay a bank and alleged in a suit filed January 25 that Bedard assured her she'd make that much.*
"He knew I was vulnerable. He knows why I need this money. He knows about my mom," Hausman said in an interview. "It just seems like he doesn't care."
Bedard and his crew gave Hausman about 55 pounds of Futura 75 hemp seeds, which she planted across seven acres in July. Her suit claims that Bedard agreed to let Hausman inspect the crop once it was ready for harvest but that Bedard's employees came onto her property without permission in late October and harvested the plants. Since then, Hausman has repeatedly asked Bedard for her money or to be allowed to inspect the crop; she even asked him to return the hemp. One of Bedard's employees told her the company intended to hold onto the plants until market prices rise, according to the suit.
"All they have to do is what they said they were going to do: Sell and pay me," Hausman said. "That's the contract, and then it's over."
Bedard declined to comment but said he planned to respond to the suit in court.
*Correction, February 7, 2018: A previous version of this story misstated the amount of money Hausman expected to make out of the deal.