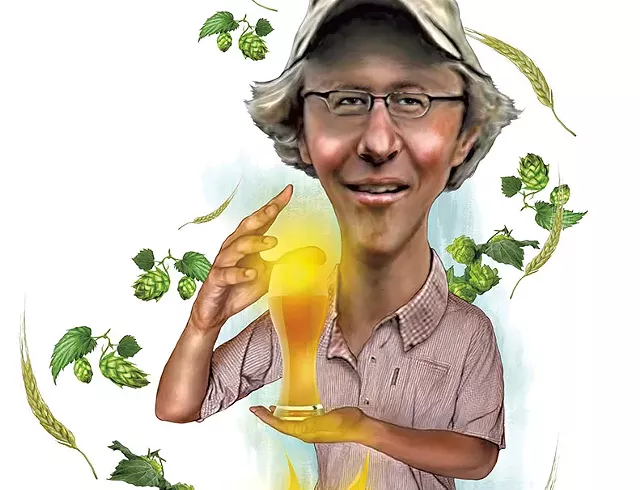 For many Vermonters, visiting out-of-state loved ones comes with a request: Can you bring beer? That usually means brews from the Alchemist, Hill Farmstead Brewery and Lawson's Finest Liquids.
Lawson's highly sought-after suds have modest beginnings. Sean and Karen Lawson founded the brewery from their Warren home in 2008. For years, Sean Lawson brewed beer on a tiny, one-barrel system. He peddled it at farmers markets and shops around the Mad River Valley. In 2011, the Lawsons upgraded to a seven-barrel outfit. A few years later, they were drawing so many visitors to market that they instituted a deli-style ticket system to manage the crowds.
With demand for their beer far outstripping capacity, the Lawsons partnered with Connecticut's Two Roads Brewing in 2014. That brewery produces two Lawson's IPAs: the bright and juicy Sip of Sunshine and the easy-drinking, low-ABV Super Session. Sean Lawson continues to brew everything else — maple beers, spruce-tip ales, hoppy IPAs — in Warren.
Last week, Lawson — who became president of the Vermont Brewers Association in late 2015 — announced that his brewery was embarking on a major growth project. The company would increase its single-batch capacity from seven to 30 barrels and move production to a 7,500-square-foot facility near Big Picture Theater & Café in Waitsfield.
With the potential to employ many full-time workers in a region dependent on seasonal and resort work, that's big news in the Mad River Valley — and for Vermont beer.
Last week, Seven Days caught up with Lawson, who filled us in on project details, tourist attractions and his thoughts on the "Vermont IPA."
SEVEN DAYS: Let's talk about this expansion.
SEAN LAWSON: It's a proposal at this point. We've arranged to purchase this property about a year from now, contingent on permitting and wastewater plans. We hope to open our new brewery in 2018.
[The idea] is to create a new home for our brewery, with production in the back warehouse and a family-friendly tasting room and retail in the front. That destination is missing in our current arrangement. Beer is a perishable product — it's always at its freshest and best at the brewery.
SD: Will you continue brewing in Warren?
SL: That'll be my wizard's shop where I develop recipes — I love being able to walk out of my house and cook up a batch of beer. And we'll continue making Sip of Sunshine and Super Session in Connecticut.
SD: Many business owners prefer to wait until they've closed on the property to discuss things publicly.
SL: One of our core values is transparency. We have the contract, and in order to close on that contract we need to go through a public process. It's meetings and permitting, and we're hopeful that with community dialogue we can hear [peoples'] visions and values. A lot of that is laid out in the Mad River Valley plan. It's, How do we create more economic vitality here?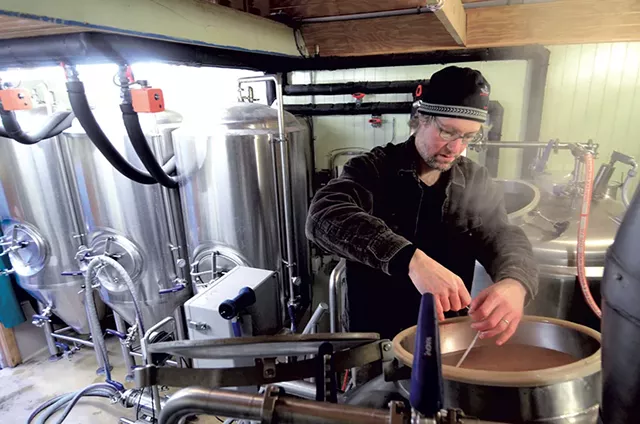 Jeb Wallace-brodeur
Sean Larson in 2012
SD: The Mad River Valley is so dependent on seasonal tourism.
SL: Our area is one of the most cyclical in the state in terms of these shoulder seasons, when it's just dead. We're hoping to draw visitors and enhance tourism year-round. Restaurants are struggling — many have closed. We want to have the Mad River Valley be known as an artisan food and beverage destination, a must-visit stop on your Vermont tour.
SD: Some purists tittered when you began contract brewing in Connecticut. How do you respond to that?
SL: I knew we'd get that criticism, but the whole idea of contract brewing is predicated on quality. If the quality of the beer and the profile doesn't match what I'm making in Vermont, it's not worth it to me. But they're so spot-on in producing my beer. I'm proud to put my name on it. I feel great about it.
So if someone wants to make an arbitrary judgment, that's their choice. But it limits their enjoyment of things. Two Roads has been essential to us even considering this investment. It's millions of dollars to build even a modest production brewery.
SD: Tell me about the logistics of that relationship.
SL: At first, I worked with them every time they made the beer. It took five batches to dial in. Now I can just come in and sprinkle a little magic. My dad passed away right when I set that up, so it freed me to take a "sabeerical." It was such a huge relief to be able to stop brewing for a while and know that I could still have a business.
SD: Many people are talking about growing and malting Vermont grain. Do you see a future in that?
SL: On the intuition side, it seems like our climate is more promising for grain than hops, in terms of developing a crop that's not too challenging for farmers to harvest and grow and get to a maltster.
But on the numbers side, the challenge is that only 5 percent of the world's barley is suitable for malting. My sense is that Peterson [Quality Malt, in Monkton] has been building their capacity. [Otter Creek brewmaster Mike Gerhart and I] worked with them on Double Dose [a collaboration beer]. They provided a ton — literally, a ton — of grain. And, down in Massachusetts, Valley Malt has been really successful at building their grain source.
SD: Thoughts on the so-called "Vermont IPA"?
SL: I think brewers make beer and other people come up with labels and categories for it.
So I don't know if there's a "Vermont IPA." But some Vermont IPAs share similar qualities. They're hazy and fresh and have these super-bright aromas — and they're delicious.
SD: Backing up a little — how did you get into brewing?
SL: I started homebrewing as a UVM student in the early 1990s. A friend came to my apartment with homebrew. I was like, Man, this is better than anything I can buy in the store. Next thing we knew, we were cooking up a batch in my apartment on Lafayette Place. It was a maple-wheat beer, because Vermont Pub & Brewery was making one and so was Catamount, so we kind of aspired to that.
SD: How has Vermont beer culture changed since then?
SL: Vermont's led the way — the beers VPB and Catamount and Long Trail were making back in those days set the bar for excellence early on. Today, people are interested in more styles and in exploring flavors and aromas in so many ways. We didn't even have that language back then.
And the laws have evolved. We changed the "8 percent law" [that capped alcohol content for salable beers at 7.9 percent] back in 2008. That opened a lot of doors for small brewers like me. When you can treat a beer like a bottle of wine, it makes it viable for a business to do that.
SD: Any important legislation pending in the Statehouse now?
SL: I've spent several days over at the legislature in a suit. If bill S.250 ["An act relating to alcoholic beverages"] passes, it'll task the attorney general and Department of Liquor Control with reviewing, revising and modernizing Title 7, which [contains] all of the alcohol laws and statutes.
Those laws have been tinkered with every session since Prohibition, but the bones are from the post-Prohibition era. There are a lot of missing pieces for today's beer-wine-spirits world. The DLC's been very helpful in supporting businesses' needs as the industry evolves and as laws conflict with common-sense principles because they're outdated. That should happen next session.
SD: What do you look forward to for this new brewery?
SL: I'm excited to can our beers on-site and have a space dedicated to wood and barrels for aging clean beers with straight brewers' yeast — and also funky beers. That's not my area of expertise, so I'll be bringing in new brewers who have that expertise. We'll do more special projects.
And creating experiences for folks. There's a path right next to the brewery. Take a walk with the naturalist on the Mad River Path, followed with a beer tasting at Lawson's.
SD: And working with people, rather than brewing alone up in the hills?
SL: It'll be collaboration every day instead of just on projects! We'll be working as a team, building something together. Our goal is to attract and retain really great people, to pay a living wage. This is not an inexpensive place to live. But taking on that workload of managing employees has to be the No. 1 challenge.
SD: But there's much to be gained.
SL: Right now it's just Karen and I — we do everything in-house. OK, we have an accountant and an attorney. But the rest of the operation is just us.
We've got the Beer Guy — our wholesale distribution company, down at the Mad River Food hub. We use their trucks to distribute, which is also why our distribution is limited. But they've been key to the vision and success — for us and for our artisan producers and farmers who are trying to build the local food economy.
SD: Do you worry about market saturation for Vermont beer with all the new breweries and expansions?
SL: I think there's a lot of room for community-oriented breweries. If you can make a restaurant work, and you can make good beer, you can make a brewpub work. But it's much tougher if you're trying to put packaged product on retail shelves.
But every year we're trying to fill a budget gap in the legislature. We're hopeful that breweries can continue to be an economic driver and job creator for the state. It's manufacturing. It's this romantic idea that, at the end of the day, you're making something. And then you get to crack open the beer.