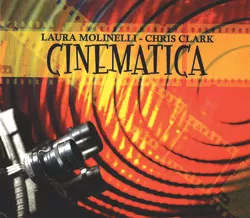 (Self released, CD, digital download)
Local audiences may be familiar with Laura Molinelli and Chris Clark through their various projects independent of one another. Clark was the front man for the alt-rock band Sliver, while Molinelli has carved out a modest career as a songwriter, with four solo albums under her belt. Cinematica is the husband-and-wife duo's first collaboration together, a 12-song collection steeped in rock and alt-country and boasting an impressive roster of guest musicians from southern Vermont. Though at times uneven, it's an intriguing addition to the ever-expanding catalog of Vermont-based Americana.
The album opens on a woozy guitar bend that evokes a skewed, Morricone-by-way-of-Tarantino vision of Western ambience, perhaps filtered through a smudged lens of early R.E.M. Molinelli takes center stage, confidently coaxing a ruddy wail that elicits comparisons to that of Natalie Merchant, especially in her 10,000 Maniacs days. At times, Molinelli has a frustrating habit of letting her intonation slip, to a point beyond stylistic inflection. But when she's on, which is more often than not, she's a compelling front woman.
By contrast, Clark sings in a more deliberate, less flashy fashion. On "Blood Red Halo," a cut that evokes the sound of Athens, Ga., in the 1980s, his reedy delivery recalls Neil Young in sleepier moments, with dusky shades of Bobby Bare Jr. or Son Volt's Jay Farrar. His and Molinelli's distinctive tones work well together, and a few of the record's finest moments are duets.
The pair enlist the help of some talented friends, including John Clark on electric guitar, drummer Dylan Blake and multi-instrumentalist Jim Gilmour, a highly regarded local songwriter who also engineered and co-produced the record. Another talented local couple, Ken Anderson and Rebecca Hall of Hungrytown, turn up on numerous tracks as backing vocalists and, in Anderson's case, as an instrumentalist. Rounding out the lineup is songwriter Ben Campbell (Saint Albums) on tablas.
The extra help is nice, and in several instances — "Have Time" and "Feed," in particular — the group fleshes out Molinelli and Clark's songs with lush vocal harmonies and top-notch arrangements that get the duo's generally straightforward songwriting. But the spotlight remains focused, as it should be, on Molinelli and Clark. And, save a few fleeting exceptions, they deliver the strong album you'd expect from a pair of seasoned veterans.
Laura Molinelli and Chris Clark release Cinematica with a show at the Jamaica Town Hall this Saturday, June 1. Cinematica is available at cdbaby.com.