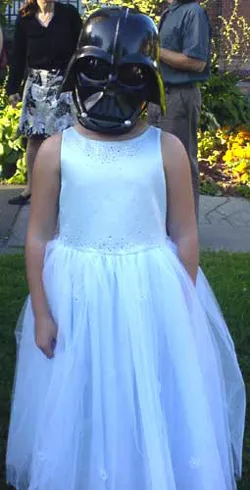 Jordan Silverman
Flower girl from Bill Simmons' blog
Matisse and Elijah are getting married on July 28 in a Waitsfield barn. I don't know either of them, or even their last names, but I know they live in Brooklyn; she's a California girl, and he's the one with a Vermont connection. I can view photos of the young couple, their friends, their wedding site and their apartment. As of January 21, Matisse and Elijah are soliciting suggestions for their reception playlist, and they'd also like to know which "songs you strongly suggest not be played and why." I know all this because the couple's upcoming nuptial has its own blog.
In the old days, weddings were announced with engraved invitations and chronicled by professional photographers, whose work was preserved in a bulky album. On the surface, none of that has changed - invitations are still sent, albums still stuffed. But couples now have more options for documenting their weddings, thanks to the Internet and digital technology. What was once a single festive event preserved forever in images - many of them posed portraits - is now a continuous record in words and pictures, starting with the couple's engagement and potentially extending to their anniversary celebrations.
In the run-up to their wedding last September, Bill Simmon and Emily Stoneking of Burlington used a blog to update guests on their preparations and help out-of-towners get around the city. Why a blog? "Lot of people have wedding websites," says Simmon, but "blogs are incredibly easy to set up."
At the wedding, a photographer friend of the couple took about 700 pictures; Simmon and Stoneking invited other guests with cameras to post their snaps to the photo-sharing site Flickr. Simmon submitted one particularly quirky photo to the high-traffic blog Boing Boing: A Directory of Wonderful Things.
And that's how news of the Simmon-Stoneking wedding spread around the globe. Accompanied by a photo, the Boing Boing post read, "Bill celebrated his wedding last weekend in two unusual ways. First, the procession was led by a little girl in a Darth Vader helmet while a 'hipster-country' version of the Imperial March played. Then Bill caught hidden-camera footage of his nogoodnik brother planting a camera in his nuptial suite as part of an elaborate 'Shivaree' prank, and posted it on the Internet in revenge." Simmon had posted his video of the "dramatically foiled" wedding-night prank on his own blog, which "had its best day ever in terms of hits" after the Boing Boing link went live, he says.
Technological advances are also transforming "traditional" wedding photography. The photos on the walls of The Portrait Gallery in South Burlington have a cinematic quality. Owners Geoffrey McLoughlin and his wife Wendy present a sample wedding album that looks more like a glossy coffee-table book. The digital images have been laid out using design software and printed directly on the page. On some pages, shots of the lush Shelburne Farms setting are used as full-page backgrounds for close-ups and photojournalistic candids of the wedding party. On others, the landscape takes center stage, an infrared camera giving it an atmospheric, spectral quality. Using cameras with built-in image stabilizers, McLoughlin says, he can now shoot in low light without the intrusion of a flash. Blown-out brides are a thing of the past.
That also enhances the candid, intimate quality that modern couples tend to prefer, according to Jordan Silverman of Burlington's Jordan Silverman Photography. "Photojournalistically shot weddings have become so popular," he says. "They're documenting the day, not taking posed portraits." For the photographer, "the goal is to be everywhere at once, to capture all these moments that are happening sporadically around you."
And thanks to digitization and the Internet, more people can share more of that day than ever before. Only about five years ago, Silverman says, couples went through a "cumbersome process" of sorting through proofs that could take "up to six months. These days, our work flow is such that after we shoot a wedding and do editing, we can post it to the Web." The studio sends a link to an email list provided by the bride and groom. Friends and relatives log on and browse through as many as 1000 images, sorted into folders with such labels as Engagement, Bridal Party, and even ones the couple prefers to keep semi-private, "like if they got naked and ran into the ocean," Silverman suggests. "Then they get to order whatever they want. You click a button and boom, you get to see it in black and white. Click and see what it looks like in sepia, cropped, or with different borders."
In the age of FaceBook, an album stocked with 30 or 50 "good" wedding shots may no longer cut it. "I've seen albums with 300 or 500 pictures, which I don't think they did even 10 years ago," says Silverman. McLoughlin offers free photo downloads and miniature versions of his printed albums, at 4-by-5 inches or a tiny wallet size, so every guest can be offered an elaborate record of the event.
Both McLoughlin and Silverman note that digital photography also tempts many budget-conscious couples to take a do-it-yourself approach. Silverman cautions that it takes art to make digital images indistinguishable from film: "If you're not shooting with professional equipment, the final output may look crappy, may look grainy." "People say, 'Uncle Henry's got a nice camera; he can shoot the wedding,'" McLoughlin says. But couples who end up with a bunch of Uncle Henry's image files and no album tend to "look back and regret it," he claims. "It sounds like a sales pitch, but it's true."
High-definition digital videography offers couples a dynamic record of their wedding. "Sometimes they select a videographer even before they select a photographer," says Ray Larocque of Time Capsule Video Productions in St. Albans. "You get to relive the whole day. You get to see the quiet moments that were captured on video that perhaps weren't captured on film." He cites the example of a groom wiping a tear from the bride's cheek during the ceremony - a video frame that can be pulled and offered in snapshot format on a CD. "It's only there a moment, then it's gone."
Larocque says his business has grown tenfold over the past four or five years. One increasingly popular service is "photo-video montage," he says. "We take photos from the time [the bride and groom] were babies and set them to music of their choice." The results can be shown at the reception.
Another videography trend is filming a private message to the bride from the groom, and vice versa. "They don't get to see it till the video is done," says Larocque. "It's usually very emotional, and it's a keepsake and a treasure for any children in years to come."
It's not unusual nowadays for couples to re-document a wedding that occurred years ago, using new technology to enhance existing materials. Couples who have their wedding preserved on old VHS tapes need not despair, says Joe Shaver of Burlington, who just started a business called VHSRestore.com. Using a TV tuner card in his computer and an encoding process, he can perform the same service as commercial giants such as Kinko's: converting VHS to DVD format - and in the future, to the new Blu-ray technology. Once the unwieldy tapes have been converted, Shaver can add music, edit and delete scenes, and add menus and video previews, he says. "If you have an anniversary party, you could leave this running in the DVD player."
Another form of documentation that often takes place long after the wedding is scrapbooking. Though it bucks the high-tech trend, "Scrapbooking continues to grow," says Jean Ward, who educates brides and others with courses at her Williston store, Scrapbook Central. Though Ward was married in 1988, she made her own wedding scrapbook just four years ago. It features acid-free paper and a simple blue-and-white color scheme, spiffing up the old album photos with fancy torn-paper borders and metal tags with legends such as "A Perfect Love" and "Together Forever."
The store offers paraphernalia such as white ribbons, silk flowers and tiny champagne glasses, specifically for use in wedding scrapbooks. This allows brides "to put memories down in writing, as well as pictures," Ward says. Like blogging, scrapbooking is also the essence of DIY - few brides opt to hire someone to create their memories. Ward says the pros charge $10 to $12 per page.
Blogging, scrapbooking, online galleries or albums - couples have more ways of preserving each moment of their union than ever before. That's not to say the oldest method doesn't still work: plain old human neurons. Simmon and Stoneking didn't videotape their wedding, "ironically," Simmon points out, since he himself is a professional videographer. Why not? "Our memories of the event are more important."