Courtesy Of Fleming Museum
"Hiraeth" by Mohamad Hafez
Once again we have to give a big shout-out to the multitude of artists in Vermont, to the curators who corral them into exhibitions, and to the venues — from coffee shops to museums — that provide us with visual stimulation just about everywhere we go. Indeed, artwork is so prevalent in the Green Mountain State that many might take it for granted. Here's a tip: Don't. Every single piece, whether or not it speaks to you, represents an individual artist's passion and often livelihood.
Seven Days gave full reviews to 36 art shows in 2019. It wasn't easy to whittle that number down to 10. But that's what year-end lists are all about, so whittle we did, omitting some notable contenders with regret. (And, it must be noted, plenty of worthy exhibitions took place across the state that we were not able to review.)
Why did these exhibits rise to the top, in our view? Because they made us not just look but think, reflect, wonder — about the content of the work, its crazy-brilliant execution or both. Huzzah to all.
"Small Worlds: Miniatures in Contemporary Art"
Fleming Museum of Art, University of Vermont, Burlington, February 13 to May 10, uvm.edu/fleming
The vitality of the miniature and the potential for subversion that comes with an altered scale informed this group exhibition curated by Andrea Rosen. While small often translates to "cute," some of these 12 artists use the reduced size to relay serious concerns, including ones about the climate crisis, control and sociopolitical violence. Other twee displays offered whimsy, cheekiness and dollhouse-like charm. All of the artists delivered grand ideas in Lilliputian packages. "What the artists have in common is the will to manipulate and re-present the terms of reality," Rachel Elizabeth Jones wrote in her review.
— P.P
"Sarah Amos: Unique Multiples"
BCA Center, Burlington, June 21 to October 6, burlingtoncityarts.org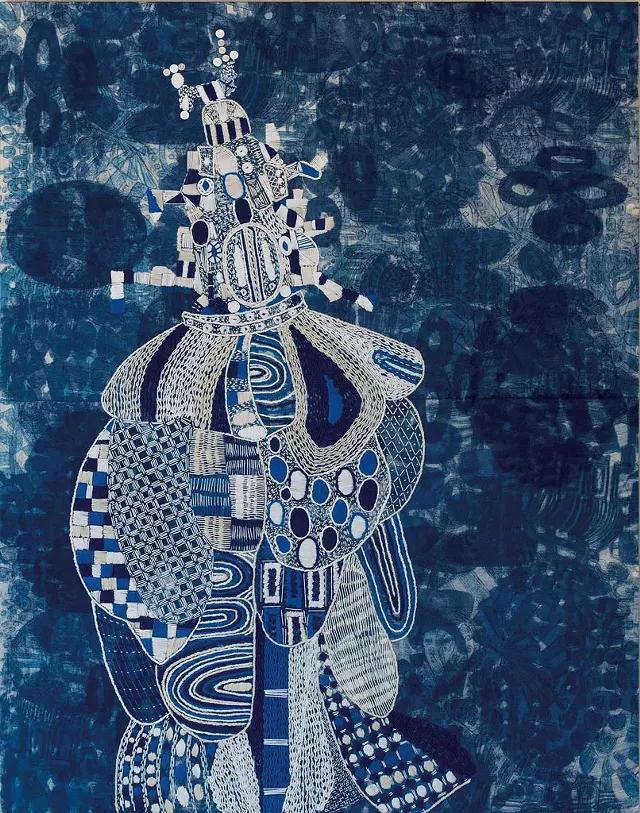 Courtesy Of Burlington City Arts
"Blue Isabelle" by Sarah Amos"Boneyard" by Chris Groschner
Australian native and part-time Vermonter Sarah Amos has utterly upended the process of printmaking. Her 84-by-66-inch collagraphic prints on felt are augmented with paint, appliqué and stitching with thick bamboo thread. These monumental works, in rich colors or black/gray/white, compelled deep looking, both for the ingenious confluence of materials and for their totemic, aboriginal regality. The exhibition also included smaller prints on paper that invited intimate engagement. I wrote: "The patterning, with its whiff of scientific authority, leads somewhere and nowhere at once, and the eye wants to follow its trajectory, to comprehend and translate."
— P.P.
"Waiting to Happen: Hannah Morris"
Northern Daughters, Vergennes, September 1 to October 31, northerndaughters.com
COURTESY OF NORTHERN DAUGHTERS
"Late Afternoon" by Hannah Morris
To observe Hannah Morris' artworks is to be tricked, because they are both gouache painting and collage, and it is nearly impossible to tell where one leaves off and the other begins. While her technique is exacting, other elements make her narrative tableaux devilishly enigmatic: They are real-ish but not realistic; dimensionality doesn't play by the rules; logic is in scant supply. In some works Morris goes full-on magical realism. Her pictures are simultaneously seductive and disturbing — the scenes are peopled, but the people seem alienated. "Some viewers might find her works static, bleak or unsettling," I wrote; "for others they may suggest promise, even liberation."
— P.P.
"reVision"
Kent Museum, Calais, September 6 to October 6, kentscorner.org
Amy Lilly
"Boneyard" by Chris Groschner
Three cheers for the triumvirate behind the annual "Art at the Kent" shows: Nel Emlen, Allyson Evans and state curator David Schutz. This year's was another wonder of imagination and playfulness in a challenging space (unfinished walls, tiny rooms, restrictive historic-preservation codes). A "wacky, funhouse" thread — in Emlen's words — ran through the 17 Vermont artists' works on view, from Marcus Ratliff's surreal collages to Peter Thomashow's electrified assemblages made from midcentury toys. Other pieces addressed serious issues, including large-format paintings by Jessica Scriver exploring human-wrought changes to the environment, and Gail Boyajian's papier-mâché extinct birds. Kent shows are a bit like some of those birds: fascinatingly exotic and regrettably short-lived. I wrote that "'ReVision,' like the Kent's previous 12 shows, unites a remarkable group of works into an artful viewing experience."
— A.L.
"70+: Gero-Transcendence"
77 Gallery, Rutland, April 6 to May 17, 77art.org
Courtesy of 77 Gallery
"Workers' Mandala" by B Amore
Artist and retired Castleton University professor William Ramage organized what he called "Rutland's largest exhibition ever" — 65 artists and more than 400 works on two floors of 77 Gallery (in its previous location). How? By asking a bunch of artists to participate and encouraging them to invite other artists in turn. The only requirement: that they be at least 70 years old. This demographic cohort otherwise varied wildly, producing a show of diverse mediums, styles and perspectives, filled with energy, wit and political commentary. Ramage told critic Meg Brazill that his challenge was not to find good art but to hang it all in a cohesive ensemble. Forget "OK boomer." In Ramage's words, "We're the bridge from the modern to the postmodern world, and you needed that kind of wacky and wild transition."
— P.P.
"Unbroken Current"
Helen Day Art Center, Stowe, September 20 to November 9, helenday.com
COURTESY OF HELEN DAY ART CENTER
"Indentation" by Harlan Mack
Curator Rachel Moore extracted this superb exhibition's title from a critic's comment about the work of African American artist Sanford Biggers: "History is not a thing of the past, but an ongoing, unbroken current." In response to two recent instances of racism in Vermont, Moore assembled work by black artists of both local and national renown. (The latter category included Biggers' quilt, which references the Underground Railroad.) An unforgettable piece was Carrie Mae Weems' "From Here I Saw What Happened and I Cried": reproductions of four 19th-century photographs of battered slaves, which she tinted blood red and placed within circular matting. Not all the works on display had to do with African American history: Moore said, "It's a mélange of identities and stories that creates this human experience."
— A.L.
Ann Young
Vermont Supreme Court Lobby, Montpelier, January 3 to March 28, curator.vermont.gov
COURTESY OF PAUL ROGERS PHOTOGRPHAY
"Legacy"
"Fellow Travelers" comprised 26 representational oil paintings of people who are literally or figuratively travelers in life. Some were straightforward portraits, others moody; some genre scenes were evocative of quotidian life, others apocalyptic or surreal. Young's coloration is jewel-rich, her skill with the brush exquisite, and her canvases utterly arresting. Her paintings invite viewers to study them, as tea leaves or a looking glass, to divine their meaning. Do they offer guidance? Wisdom? Warning? Whether traversing the here and now or anticipating a dystopian future, Young's travelers easily take viewers along for the journey.
— P.P.
"The Geometric Exercises of Helen Matteson"
BigTown Gallery, Rochester, June 26 to August 11, bigtowngallery.com
COURTESY OF BIGTOWN GALLERY
Untitled watercolor by Helen Matteson
Abstract watercolorist Matteson (1925-2011) produced some 8,000 works over her lifetime, the last 17 years of which she lived in Thetford. Her art professor husband and their daughter knew little of her work until after her death, when they asked BigTown Gallery owner-director Anni Mackay to catalog her staggering output. This show offered a representative sample of Matteson's work. Her explorations in geometric abstraction recall work by Ellsworth Kelly, Kenneth Noland, Frank Stella and other New York-based artists she might have seen while studying at the National Academy of Design and the Art Students League of New York in the late 1940s and early '50s. But her explorations of color and abstract form are unusually varied and experimental. Mackay described Matteson's work as like "tantric exercises. It's about the reverence of practice."
— A.L.
"Transcendent: Spirituality in Contemporary Art"
BCA Center, Burlington, October 18 to February 8, burlingtoncityarts.org
COURTESY OF SUNDARAM TAGORE GALLERY NYC/BCA CENTER/SAM SIMON
"Hidden Diamond-Saffron" by Anila Quayyam Agha
Rather than exploring religion, "Transcendent" addresses spirituality and its close link to making art: Both require a certain level of belief, cocurator Heather Ferrell noted. The result is an unusually beautiful exhibition that brings viewers through a variety of spiritual evocations. Among them are an animated recreation of a 17th-century Hindu love poem by Shahzia Sikander and an enveloping light-based installation by Anila Quayyum Agha that evokes the patterns of Islamic perforated screens. Sandy Sokoloff's symmetrical, large-scale paintings explore sacred geometry in mystical Judaism. Cocurator Shelley Warren's installations evoke the sounds and meditative practices of Buddhism. The exhibition is a reminder of the world's many avenues to the divine. Ferrell said: "Spirituality is something that brings us all together — like art brings us all together."
— A.L.
"Harold Weston: Freedom in the Wilds"
Shelburne Museum, March 23 to August 25, shelburnemuseum.org
COURTESY OF HAROLD WESTON FOUNDATION
"Autumn Storm" by Harold Weston
This showcase for the 20th-century artist and activist was a revelation, and the gallery's cobalt-blue walls gave it an extra jolt. Weston was dubbed the "Thoreau of the Adirondacks" for his spiritual embrace of nature in writings and painting. On view were his works from two eras: sinuous, modernist Adirondack landscapes from the 1920s and austere abstractions inspired by stones from the late '60s and early '70s. During World War II, Weston formed Food for Freedom, which advocated for feeding refugees. His later efforts helped generate legislation that created the National Endowment for the Arts. I wrote in my review, "Weston's painting 'Birch Tree' seems to stand at the intersection of van Gogh's vibrational impressions and modern graphic art."
— P.P.