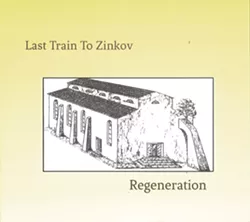 Last Train to Zinkov, Regeneration
(Self-released, CD, digital download)
History, memory and tradition endow Regeneration, the debut album from Last Train to Zinkov. LTTZ are David and Nathan Gusakov, a father-son duo who have been performing together in various formations for a few years — the elder Gusakov has played music professionally in Vermont for more than 40 years. The band takes its name from the Gusakov family's ancestral home in Ukraine; they immigrated to the U.S. in the 1920s. The two recorded the album with Michael Chorney at the Goose Coop in Lincoln. Lane Gibson handled mastering duties at his studio in Charlotte.
Regeneration is a collection of original and traditional tunes mostly rooted in Americana — folk, old-time and bluegrass especially. The duo's instrumentation is simple: David on fiddle and Nathan on banjo. The latter primarily plays clawhammer style, a percussive technique common to American old-time music. Modern compositional techniques keep the songs feeling fresh. But the family's Eastern European origins echo throughout.
"Horse" is an instrumental number that has David Gusakov breaking one of the most important rules he learned while studying music in college: Never play parallel fifths. Without going into too much detail, the rule stems from classical composition and asserts that parallel, or consecutive, fifths should be avoided, since harmonies flow better in opposing motions. So, what did Gusakov do? He wrote a whole song based on parallel fifths. It jockeys back and forth between feeling nervous and fearless.
"Whose Woods" is another original composition, but its lyrics come from the Robert Frost poem "Stopping by Woods on a Snowy Evening." The original poem's isolation and uncertainty emanate from the older Gusakov's delivery of passages such as, "The woods are lovely / Dark and deep / But I have promises to keep / And miles to go before I sleep."
"Death" cradles its dark, scant lyrics with strumming and fiddling that ebb and flow between agreeable counterpoint and disparate conceptual musical themes. At its center, the younger Gusakov wails, "Oh, death / Oh, death / I hope it's not too cold and lonely."
Of the album's 12 tracks, "Last Train to Zinkov" feels the most Old World — though it seems to meld with the New World halfway through. It begins with a lone, sorrowful fiddle that expresses longing in a bleak, minor key. As the song progresses, the fickle fiddle's quick 16th notes stretch, slide and yawn. The whole thing plays like a hoedown gone klezmer, which is not terribly unlike Last Train to Zinkov themselves.
Last Train to Zinkov celebrate their album release on Friday, February 17, at the Town Hall Theater in Middlebury. Regeneration is available at cdbaby.com.