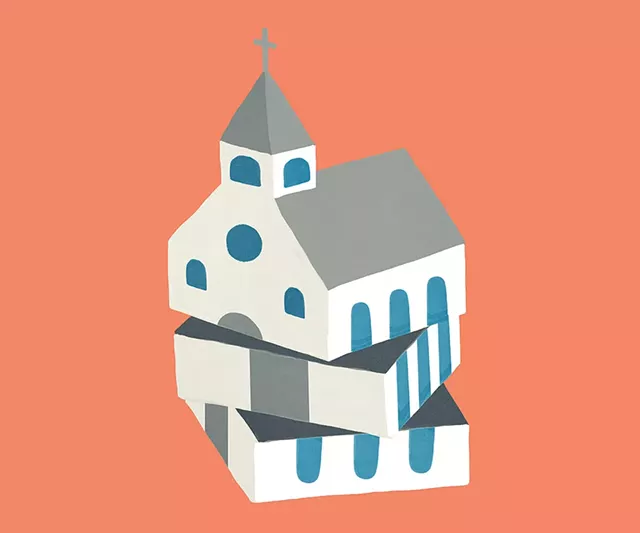 Two dozen heads bowed in prayer at the Immaculate Conception Church in downtown Burlington last week. Overwhelmingly white-haired or balding, the small, dedicated group of elderly parishioners who attend the noontime mass may soon have to find another place to pray.
Last week, the Roman Catholic Diocese of Burlington announced that the Vatican had approved a change in designation that would make Immaculate Conception a church rather than a parish cathedral. That change grants Vermont Bishop Christopher Coyne the authority to sell the property, which sits between Pearl and Cherry streets.
Rumors are flying among parishioners and city officials about who might snatch up the plot. The Boves and the Pomerleaus — both Burlington Catholic families with deep pockets — and mall developer Don Sinex have all been mentioned as potential buyers. None confirmed with Seven Days, but in an interview, Father Lance Harlow suggested that "all the players downtown are interested."
In Vermont and across the U.S., aging congregants and an exodus of practicing Catholics amount to fewer people in pews and less cash in the coffers.
That trend is exacerbated in the Green Mountain State, the least religious in the nation. According to a 2017 Gallup poll, just 21 percent of residents said they are "very religious."
About 118,000 Vermonters claim to be Catholic, according to Vicar General John McDermott, a priest who also serves as deputy to Coyne. Between 24,000 and 28,000 people attend services regularly — down from about 40,000 two decades ago, McDermott said.
"Obviously, there are challenges for the church today in Vermont," said Father Brian O'Donnell, who serves as a church administrator and conducts Latin mass in Burlington. "The direction of the numbers is not encouraging."
In response, the diocese, which includes 73 parishes across the state, is doing some soul-searching. It's midway through a yearlong synod — the first since 1962 — to gather input from congregants and establish priorities for the future.
And in Burlington, a city with four Catholic parishes, local church leaders have already taken steps to consolidate and revitalize.
Christ the King-St. Anthony parish is renovating its church on Flynn Avenue, while St. Mark Parish recently upgraded its youth center in the New North End. Dwindling attendance last year prompted the Immaculate Conception parish to discontinue Sunday services at its church. Instead, weekend masses are held three blocks north at St. Joseph parish's cathedral on Allen Street.
That parish also off-loaded the former St. Joseph School to Champlain Housing Trust in 2017 for $2.15 million. The building now serves as the Old North End Community Center.
When church leaders decide to sell Immaculate Conception, it should generate plenty of interest. The 2.2-acre, tree-lined lot is right beside the newly renovated city bus terminal and just steps away from Church Street.
Developer Sinex, who owns several surrounding buildings including the under-construction mall property, said that he had "had conversations" earlier this year about the property with the diocese but hadn't heard anything recently.
The diocese isn't ready to engage in negotiations, said Harlow, but the land could go on the market as soon as this fall. The property would be sold publicly through a real estate agent and, per canon law, as "sacred ground" that can be used for "profane but not sordid use," Harlow said. That means it could be used for a commercial or housing development but not to promote immoral behavior, such as a brothel.
Time is not on the church's side. The Immaculate Conception parish has enough money in its savings account to cover just 16 months' worth of operating expenses before going bankrupt, according to Harlow.
When Harlow started on the job in 2016, he found the building was operating at a loss of $3,000 per week and gave his congregation an ultimatum: If they wanted to keep the building, each person would need to pay $25 weekly. "That didn't happen," he said. So, at a May 1 meeting, the nine voting parishioners who showed up — of 270 total — voted unanimously to move forward with a sale. The vote also enabled Immaculate Conception parish to merge with St. Joseph.
It "doesn't take a genius to see that it's on the radar screen to be closed and sold," said Father O'Donnell.
A sale wouldn't put much of a dent in the Catholic church's empire of landholdings in Burlington. All told, it owns more than $27 million worth of land and buildings, including four cemeteries, four churches, St. Joseph's House on Elmwood Avenue and the Catholic Center at the University of Vermont.
But it would mark the end of an era: St. Joseph parish was founded in 1850 as a place of worship for French Canadians — the first of its kind in New England. Immaculate Conception was built downtown in 1867.
An influx of immigrants formed a strong Catholic presence in Burlington during the next century; St. Joseph's become known as the French Canadian church, while Immaculate Conception drew the Irish and Italian crowd, said 76-year-old Ann Leddy Charron, a lifelong Burlington Catholic.
As a child, she attended mass with her family at Immaculate Conception, one of about seven services offered there each Sunday, she recalled. Charron was baptized and married in city Catholic churches as well. Growing up, Immaculate Conception "was a very integral part of Burlington," she said.
When an arsonist burned down the cathedral in 1972, the diocese debated rebuilding. Attendance was already dropping, and St. Joseph's was just three blocks away.
Nonetheless, "a community outcry" persuaded church leadership to resurrect the cathedral, and the organization constructed the modern brick building in 1977, said Ellen Kane, a diocese spokesperson.
Renowned landscape architect Dan Kiley planted rows of honey locusts around it.
In recent years, financial woes have dictated church decisions. In 2010, the diocese sold its former headquarters along North Avenue to Burlington College for $10 million to help pay settlements to former altar boys who alleged they were sexually abused by priests. Two years later, it gave up a 26-acre camp on Malletts Bay in Colchester for $4 million.
In 2014, the diocese considered selling St. Anthony's — a 1.75-acre lot on Flynn Avenue that includes a rectory, parish and church building — to the development company Pizzagalli Properties, which planned to build a 52-unit apartment complex.
Peeved parishioners pushed back and have since agreed to help raise the money to renovate the church.
Religious sentiment runs deep, observed Tom Little, a leader in the Episcopal Church who grew up in Burlington and has witnessed the evolution of the Catholic Church. Again and again, "people tend to be very loyal of and protective of the church they've always gone to, because they don't want to see it go," he said. "Even if they see the logic of selling it."
Immaculate Conception parishioners are sad, but they understand, according to Charron. "The numbers don't lie," she said.
Selling the building would free up time and resources to do the work of the church, Harlow said — preaching, teaching and healing. "You can't operate a business or a church on sentimentality," he added matter-of-factly.
Pushing the issue has been Bishop Coyne, a Massachusetts native who was installed in Burlington in 2015. The 59-year-old, who did not respond to Seven Days' interview requests, has embraced social media and maintains active Twitter and Facebook accounts. He has a website — devoted to himself — where he occasionally blogs and posts videos.
According to Little, Coyne is "more open to doing things differently" than his "straight-by-the-book" predecessors.
Coyne has spent his tenure visiting churches across the state, Harlow said, and has been proactive getting the word out about Catholic goings-on. "He's not an office bishop," Harlow said. "He doesn't stay behind a desk."
It was in that spirit that Coyne initiated the synod in 2017 — to host conversation and collect input from Catholics and non-Catholics alike across the state, according to McDermott, who's assisted in the process.
At least 64 preliminary listening sessions have focused on evangelism, engaging youth, and empowering and teaching church members to reach out to those around them, he said. It'll wrap up with three sessions in October.
Robert Thiefels, a Hinesburg resident who taught for several years as an adjunct professor of theology at Saint Michael's College, praised the synod as a positive step forward but suggested the need for it signals that the Catholic Church is in trouble.
"Those in charge are often protective of the traditions, the old ways of doing things, and even of their own best interests," Thiefels said in a letter submitted for the synod. He urged a more inclusionary vision and broader ecumenical outreach.
His comments, Thiefels told Seven Days, were meant to "challenge the institution to move beyond its need to preserve itself."
What does the future hold for the Catholic diocese in Burlington? A first communion ceremony on May 6 at St. Joseph provided a clue.
Ten first and second graders sat, in frilly dresses and button-down shirts, near the front of the high-ceilinged cathedral. Seven were African or Vietnamese, Harlow pointed out later — typical for a Catholic church in Burlington's Old North End.
The children had studied the prayers and catechisms for nearly two years in anticipation of that moment, Harlow said, but their work was not done. He urged them to guard their faith against the temptations of "the things of this world."
If they didn't, Harlow warned, their belief would fail. "There's a huge dropout rate of Catholics today. They leave Jesus," he told the congregation.
Charron offered a more tempered assessment.
"Over the centuries ... you're going to find the ups and downs of the Catholic Church," she said, ticking off the injustices and turmoil, including King Henry VIII, who broke from the Church to get a divorce, and the Spanish inquisition, in which Catholics executed Jews, Muslims and Protestants as heretics.
This latest challenge, she said, is "just a little bump in the road."