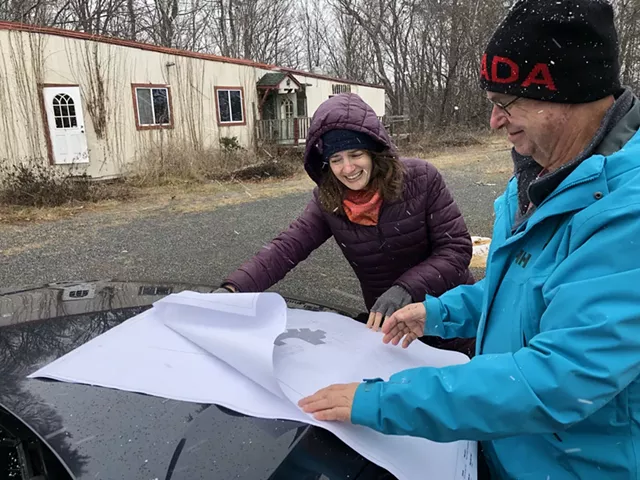 Anne Wallace Allen
Eva Loomis, executive director of Upper Valley Habitat for Humanity, and board member Andrew Grimson reviewing blueprints for multifamily housing to be built in Weathersfield
Humanitarian Homes
The global nonprofit Habitat for Humanity has "affiliates" in different regions of Vermont, most of which have begun to add multifamily housing to their portfolios.
Habitat, which uses community volunteers to help build affordable homes around the world, has focused on single-family housing for decades. But due to the rising costs of land, labor and construction, "It's extremely expensive to build a single-family home right now," said Eva Loomis, executive director of Upper Valley Habitat for Humanity, based in White River Junction.
She said a home in Lebanon, N.H., for a family of five "might be the last true single-family home that we do for some time." The affiliate's next project, in Weathersfield, will provide multiple units on a parcel of land with three derelict buildings.
The state's largest affiliate, Green Mountain Habitat for Humanity, is based in Chittenden County and serves northwestern Vermont. Formed in 1984, the group recently decided to increase production from half a dozen homes annually to 10 per year, CEO David Mullin said. It, too, is moving away from single-family homes.
"Land costs have driven us more and more to multifamily housing," Mullin said. "If I'm able to purchase a piece of land and it's large enough to put a duplex on, I'm going to put a duplex on it."
Central Vermont Habitat for Humanity has big plans, as well. The group has its eye on a 50-acre hilltop parcel just outside downtown Montpelier, where executive director Zachariah Watson envisions building 115 units of housing over the next several years. Watson said he's held seven public hearings on the project, and he thinks most neighbors are supportive.
"People know we need more housing," he said.
Applicants qualify for Habitat homes based on income and other factors, and they put in hundreds of hours of sweat equity through physical labor and by taking classes on topics such as financial literacy. Habitat also provides low-cost mortgages.
It took a stroke of luck for Upper Valley Habitat to acquire the land in Weathersfield. The mother and son who owned it, Deb and Sean Roberts, wanted to sell to a group that would use it for affordable housing. Loomis said the two approached Habitat and offered owner financing for the $175,000 purchase.
"We both hate the way things have been going in the real estate market," said Sean Roberts, a local theater artistic director who previously had contacted Habitat when looking for a place to live.
"We have the continuous cycle of people who are too poor to buy places but can never save anything while renting because the rent they're paying is more than a mortgage would be if they had one," he said.
He and his mother did not set out to get maximum return on the property, which they had owned since 2017. "Screw selling it to an out-of-state developer who is going to put up overpriced apartments," Roberts said.
The 2.25-acre site is home to a small cottage, a duplex and a long-abandoned former restaurant building that is well beyond repair. Habitat plans to use the restaurant foundation for a multifamily building, move the cottage elsewhere on the property, renovate the duplex and add more structures. It also intends to put in a solar array and a green space with a community garden and a play area for children.
Real(tor) Talk
Courtesy
Dianna Benoit Kittell of Keller Williams
Vermont's real estate market is still going strong, despite downturns elsewhere in the country. While the number of listings in November 2022 dropped by about 30 percent compared to the previous November, sale prices jumped nearly 10 percent in that time, according to the Vermont Association of Realtors.
Interestingly, given the low inventory, some homes have remained on the market for months, according to Dianna Benoit Kittell, a broker with Keller Williams in Enosburgh.
"There are lots of buyers still out there," she said, but "some sellers are not 100 percent realistic about the prices."
Sellers who have watched bidding wars unfold over the past two years expect to see the same interest in their properties, Benoit Kittell said — and many are pricing their homes over market value. As interest rates rise, she said, they're finding that buyers do have their limits.
Vermont's average home sale price in November was $343,982; in Chittenden County, it was $429,991.
Year-over-year price changes vary by county. In Bennington County, the median home price jumped a whopping 94 percent, to $628,000 — but in Washington County, it dropped 25 percent, to $328,388. Prices remained fairly level in Chittenden, Lamoille and Franklin counties. (In areas with relatively few homes on the market, the sale of one or two high-priced homes can cause the median to fluctuate widely.)
Benoit Kittell said her company sold 60 homes in 2021 and 45 in 2022.
"Yes, it's slowing down," she said in December, "but our team still has six pending transactions for January. That's a lot."
A Garden for All Seasons
Jeb Wallace-Brodeur
Tracy Badger working on a terrarium at her home in Williamstown
Williamstown landscaper Tracy Badger has loved growing things since she was a kid planting apple seeds in the dirt.
Today she runs Soul Shine Gardening, a business through which she maintains gardens and houseplants for customers in central Vermont. This winter, she's branching out with do-it-yourself terrarium workshops.
Terrariums — containers holding small plants — are having a social media moment. Mosses are hugely popular in ornamental glass bulb enclosures because they retain moisture; succulents thrive in well-drained arrangements. Bark, twigs, pebbles and sometimes props are used to create miniature landscapes.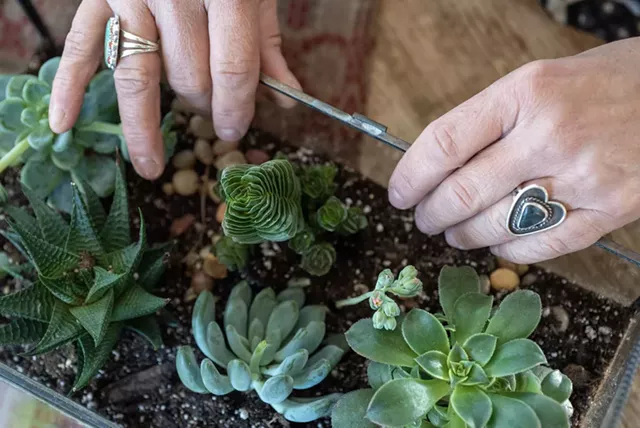 Jeb Wallace-Brodeur
Tracy Badger working on a terrarium at her home in Williamstown
For her classes, which start this month, Badger plans to offer a small selection of plants and containers and demonstrate how to arrange them so they'll flourish through the dry, heated air of winter and the humidity of summer.
Showcasing indoor plants is a way to add variety and beauty to a room, Badger said. She noted that plants do more than just look good; they also absorb particulates in the air, acting as natural filters. And working with soil and plants has its own benefits.
"Gardening, whether it's inside or out, is just really peaceful," she said.
Contact Badger at tracybadger31@gmail.com.
By the Numbers
58
The percentage of Vermont households that heat with petroleum products.
12
The percentage of Vermont households that heat with wood.
2
The percentage drop in the price of heating oil and propane in Vermont from January 2022 to January 2023.
$2,100 to $2,700
The price the average Vermont homeowner spends annually to heat with petroleum products such as oil and kerosene.