Molly Walsh
Kimberly Taylor
Kimberly Taylor, 16, walks the hallways of Rochester School alone most days clad in sneakers and jeans. The 11th grader is one of just two high school students who attend the K-12 school this year, and she's frank about the fact that it's no fun.
"It's very lonely," Taylor said last week as she sat at an empty lunch table. "And I'd say it's also kind of boring because there's not a lot that goes on during the day."
Rochester School consists of two side-by-side buildings, not far from the handsome historic homes flanking the town green on Route 100 south of the Mad River Valley. Last week, the bike rack in front of the middle-high school building was empty. The high school classrooms were dark and unheated, the whiteboards blank.
Although Taylor takes most of her classes online, she shows up each day shortly before 8 a.m. and "floats" to various middle school classrooms, where she volunteers as a teacher's assistant and gets academic help, if needed.
It's a strange arrangement and likely a temporary one. This could be the last year for Rochester's middle-high school. Some mourn that prospect, while others say it's long overdue. Either way, the district is a case study in the broader statewide debate about how strong a nudge Vermont should give, or not give, to close tiny schools as statewide enrollment steadily declines and spending increases. Rochester, with just 92 students, most of whom are in lower grades, spends $21,310 per pupil. The statewide average is about $15,450.
After years of discussion about their shrinking school population, voters in Rochester, population 1,100, will decide on Tuesday whether to close the town's combo middle-high school. The school district would pay tuition to send students in grades seven to 12 to nearby schools of their choice.
Rochester Elementary School would stay open but start sharing resources and staff with the K-6 public school in adjacent Stockbridge. Residents of that town also vote Tuesday on the merger.
The proposal comes in response to Act 46, the 2015 state law that offers incentives for school districts to consolidate and imposes penalties if they don't. In response, residents of many towns — including at least five this fall — have voted to merge districts. November 30 is the deadline to qualify for the inducements and avoid state-ordered mergers coming next year.
But some towns cling to their small schools and treasure them as local institutions, even when the numbers don't work. In June, Rochester voters defeated a different district unification plan, one of many proposals scuttled over the years. Despite the fact that incentives could evaporate, voters in Pownal and Woodford rejected a proposal on November 7 that would have brought their communities together.
If Rochester decides against a merger on Tuesday, local property taxes are projected to soar as the state phases out aid payments that have helped cushion school districts from the true costs of running tiny schools. Vermont has plenty of them: There are 20 public schools with fewer than 51 students and 37 schools with fewer than 75 pupils, according to state Agency of Education data.
Some of these schools are geographically isolated, but a number are within six to 12 miles of schools in nearby towns, raising questions about whether it is practical or fair for expensive small schools to continue operating, given that education in Vermont is largely state-funded. Vermont Secretary of Education Rebecca Holcombe recently urged school boards to trim teachers and staff as enrollment declines.
Holcombe told Seven Days that Rochester is due for a merger. "What we do know is that the status quo is not sustainable," she said about the district. As much as local residents may value the school, people can never have everything they want, she suggested, adding: "I want my island in Hawaii, and I'm not going to get it."
Rochester School is about 16 miles from the closest high school in Randolph and 11 from the closest grade school in Stockbridge. But the town is surrounded by mountains and accessed by narrow roads, which makes winter driving more challenging. Its location, among other things, has been an argument to keep the local school open through 12th grade.
Molly Walsh
Bruce Labs
But the financial picture for Rochester, should it attempt to maintain the status quo, is dire. Property taxes on a $200,000 house would increase by $2,600 over the next two years. Five years from now, the homestead tax rate would be more than double what it is now, according to bleak projections in a report by the Rochester-Stockbridge merger study committee.
As the thick study explains, last year Rochester High School graduated just 14 students. Enrollment has been dropping for more than a decade, forcing reductions in course offerings and compromising the academic program. But the situation would have been much worse without subsidies to Rochester under the state's small-school grant program and the "hold harmless" provision under Act 60, Vermont's complex state school funding law.
This provision was designed to subsidize districts with rapidly declining enrollment and allows them to hold on to funding for a certain number of nonexistent or "phantom" students for a period of time. Rochester has carried a relatively large number of phantom students: 52 in 2014, 32 last year and 27 this year, according to the merger report. The actual student count dropped from 105 to 92 between 2013 and this year, while per-pupil spending increased from $17,493 to $21,310.
Under Act 46, the "hold harmless" provision in Act 60 is being phased out — which would drive the big tax increase on the town. Meanwhile, various incentives would protect Rochester financially if it merged with Stockbridge. Instead of risking the loss of small-school grants, both towns would qualify for similar "merger support grants." They would also get other benefits, including state tax breaks for four years.
Projections show the tax rate would still increase for both towns under the unified district scenario, but at a much slower pace: 22 percent over the next five years. The report also notes that if the towns don't act, the Vermont Board of Education can order them to merge, without financial incentives.
Fifteen of Rochester's 17 high school students opted to attend other schools this year. Taylor's former classmates have dispersed to schools in Randolph, Middlebury, Rutland and Sharon, among other locations. The exodus was precipitated by the late-summer news that at least three high school teachers were not coming back, according to Bruce Labs, superintendent of the White River Valley Supervisory Union, which includes Rochester School.
In response, parents worried about erosion in the academic program and pushed the Rochester School Board for choice. Labs said state law doesn't permit the board to close the school without voter approval, so tuitioning seemed like the right option for ninth to 12th graders. "We consulted with our attorney, and I think it was kind of an emergency situation," he said, as he gave this reporter a tour of the middle-high school building.
"But you can see as you walk into the building, there's nobody here," Labs said, pointing at the empty front lobby.
Taylor chose to stay because she's attended Rochester School since kindergarten and wasn't sure where else she wanted to go. The only other high school student roaming the halls is a ninth-grade boy. At lunch, Taylor usually eats alone and misses the days when there were more teenagers. "It was a lot of fun to just sit and talk," she said.
This fall, she ran cross-country with a group of middle school girls and enjoyed it, but she said there's a big difference between 13-year-olds and 16-year-olds. Taylor, who donned an elegant black dress for the winter ball two years ago, says she'll skip the event this year. It won't be the same with primarily middle school students on the dance floor, she said.
"It's disheartening to be here this year," said Kay Stringer, a middle school humanities teacher. "It's so quiet ... It's sad."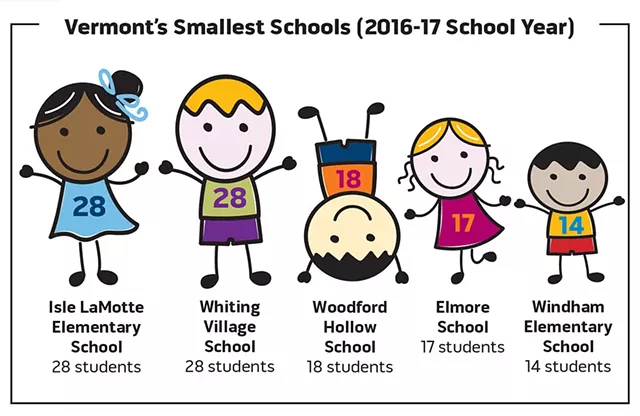 Holly Mugford, a music teacher, agreed. "It's been stressful as a teacher during all these changes. The kids are asking questions that I can't answer. Like, 'Will you be here next year, Miss Mugford? Will there be a middle school?'"
If voters approve the proposals on Tuesday, Mugford's full-time position will be trimmed to one and a half days a week next year. She said that, with student loans to pay off and plans to marry in the fall and raise a family, she will seek a full-time job elsewhere. Mugford worries that, in the long run, closing the middle and high school will work against revitalizing Rochester.
She said she still sees people pushing baby strollers around town and takes that to mean young parents do like Rochester. "I'm hoping that, you know, more people will decide to move here,'' Mugford said. "But if the school is going to close, that's a reason not to move here."
Cynthia McPhetres, a K-8 art and literature teacher, lives in town and says her daughter received an excellent education at Rochester High School, graduating in 2009. The school board essentially killed the high school when it allowed parents to have school choice this year, she said.
"That's what did it," said McPhetres, who believes that enrollment might have bounced back without it.
Now she's anticipating reduced hours or no job next year, and this year hasn't been easy. "It's hard to work in a dying school," she said. "The morale is terrible."
Some taxpayers believe that means it's time to act. Rochester resident Kathryn Schenkman will vote yes on Tuesday, although not without some sadness at the prospect of mothballing part of a local institution. Schenkman's grown children attended Rochester School when they were young. But she sees the status quo as unaffordable and believes that the combination of a small local grade school and choice for older students could be a good thing in the long run.
"Maybe having school choice for middle and high school will actually bring families back," Schenkman said.
Correction, November 23, 2017: A previous version of this story misidentified Holly Mugford.