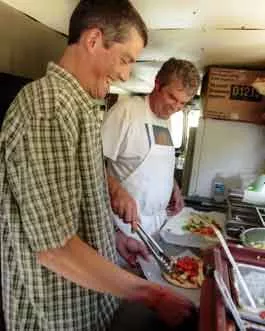 As students return to the University of Vermont, lugging around all those weighty textbooks has got to result in some ravenous appetites. That's what Lars Murdock and Oliver Oates are counting on, at any rate. They're the entrepreneurs behind Ahli Baba's Kabob Shop, a retrofitted white van that parks daily on University Place in front of Williams Hall. It's exotic cuisine on wheels.
With a Greek and Middle Eastern menu, the mobile business — and its restaurant spin-off, Ahli Baba's Kabob Shop on Main Street — offers college kids an alternative to conventional cafeteria food. This curbside gastronomical enterprise was the brainstorm of two aging Deadheads: Murdock is a 39-year-old Winooski resident; Oates, also 39, lives in Charlotte.
Fourteen years ago the duo essentially reasoned, "If you cook it, they will come." And what a long, tasty trip it's been…
SEVEN DAYS: How did you come up with the idea for dispensing delicacies at the university?
LARS MURDOCK: In 1988 Oliver and I were both working for my father, who had a fresh fish delivery business then. That year, we went to a Grateful Dead concert in Saratoga and Oliver tried selling hot dogs. They really didn't fly. So, a week later, we tried it with chicken shishkabobs out of the parking lot at another Dead show in rural Maine. We sold 100 in an hour.
SD: What did the kabobs taste like?
LM: It was chicken, mushrooms, onions, red and green peppers with our own homemade barbecue sauce. We were in an old pickup truck, with a hibachi and the kabobs on ice in a cooler. We started by charging $2 each, then raised it to $3 when they were selling like crazy.
SD: And that convinced you to go for it back in Burlington?
LM: Yes. We didn't really have any capital, so we bought a pop-up trailer for $300 a few months later and spent a few thousand dollars fixing it up. By the time we were done, it was February. Our first day at UVM, it was 20 degrees below zero. No other vendors wanted to be out in that weather. We parked outside the Old Mill and made $150. We thought, "Wow! $150!" That was actually terrible, but we didn't know better.
SD: When you did know better, how much could you potentially earn?
LM: Maybe $500 when it's busy on a nice, sunny day in the spring and fall.
SD: How long did you have to be out there to make that much?
LM: Now, we have a designated spot, but back then we'd have to get up at 5:30 in the morning to lock in the parking space. Oliver and I would alternate days getting up that early. It was brutal. There were two shifts, so the other person would be there from lunchtime until closing at 4 or 5 p.m. I play lead guitar and harmonica in The Mighty Loons, so if I had a gig the night before, I'd be the one who got to sleep later the next day.
SD: The moveable feast no longer maintains the same hours?
LM: No. Eight years ago, when we opened the restaurant, we stopped serving breakfast at the university. No more breakfast pitas, bagels, muffins or coffee. Now we get there at 10 a.m.
SD: What non-breakfast edibles did you have to offer in the beginning?
LM: Kabobs. Gyros. Humus pitas. Lemonade and soda.
SD: Why those items, and how did you know how to make them?
LM: My dad's a traveler. He's taken me all over the world. We went to Greece for two months in 1975 and I became addicted to gyros.
SD: Which is…?
LM: Traditionally, it's a pita sandwich made with lamb — here we use ground beef because we can't get good lamb — and a tzatziki sauce made from cucumber, yogurt, dill, lemon juice and garlic. Oliver knew a Greek guy who gave him his recipe.
SD: Humus is Middle Eastern, though.
LM: Yes. And we also make pakoras, a vegetable fritter from India. That's my own recipe.
SD: And when did you give up the trailer and go for a truck?
LM: A few months before opening the restaurant eight years ago. The trailer, which we pulled behind the old pickup, was rusted through. So we bought a 20-foot 1975 Chevy Curbmaster, which had been an old bread truck. We cut windows for it and put in a stainless interior, a hood for the grill and a solar panel that charges the battery for our exhaust fan. Our customers like to see us using solar energy. We did the improvements ourselves, working day and night.
SD: How did you learn the necessary skills?
LM: We're just Vermonters. We're hands-on kind of people. I was born in New York City but moved here at age 10. Oliver grew up on a sheep farm in Greensboro. That guy can fix anything.
SD: You no longer park at the Old Mill.
LM: We found a spot outside the art building that's a little more accessible, on the corner.
SD: Is there much competition?
LM: Three others, I think. A deli truck, a Chinese-food trailer and a hot-dog-and-fries operation. There was a burrito cart for a while.
SD: How many customers might you serve in the course of a day?
LM: It varies, from 20 lunches to 1000 at a festival.
SD: You're still doing the festival circuit?
LM: Absolutely. This has been our busiest summer, in fact. We do a festival every weekend, in Vermont, New York State, Massachusetts, Maine, New Hampshire.
SD: You must have other employees, especially to help run the restaurant.
LM: We've got seven people on the payroll. Everyone alternates between downtown and the truck. We need more flexibility than when we started. Oliver and I are both fathers now: He has two children and another on the way. I have one.
SD: Is it difficult to still keep a year-round schedule?
LM: In the winter it can be a drag. But last year [2000/2001], I went boarding 43 times. You can't beat that.
SD: Guess not. Hey, how did you choose the company moniker?
LM: It just sounded Middle Eastern. We spell it differently — Ahli instead of Ali. I found out there are Ali Baba restaurants in New York, Michigan and Santa Cruz. We didn't want to get sued. But Oliver is also called Ollie. Ollie, Ali, Ahli. A lot of people think that's why we gave the kabob shop that name.