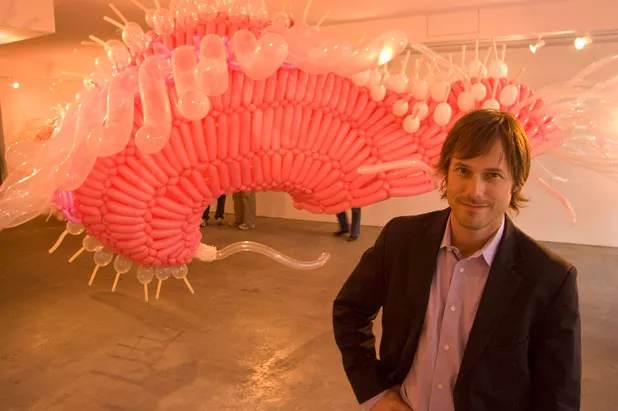 Matthew Thorsen
Jack Hackenwerth and "Isa"
The morning of April 11 began like any other for Dux the Balloon Man. First the 32-year-old Burlington street performer set up his balloon stand on the Church Street Marketplace. As a crowd gathered, he began taking requests for characters such as Elmo and SpongeBob SquarePants. But as he crafted the latex creatures, something nearby caught his eye — a curious postcard held by a young woman.
"Oh, my God!" Dux exclaimed. Pausing in his demonstration, he told the woman she had a print of an abstract balloon sculpture by Jason Hackenwerth. Dux had discovered the New York artist last December while trolling the Internet for inspiration. To his amazement, the postcard was advertising Hackenwerth's upcoming balloon installation at the Firehouse Gallery.
Four days later, Dux — aka Erik Bachman — strolled down Church Street, entered the Firehouse and saw a bag full of oversized pink balloons. Then he saw Hackenwerth, a skinny guy in jeans, a red bandana and an orange T-shirt that read, "It's about the art." On the wall nearby, a placard explained that the exhibit, entitled "Micro-Macro," "explores extremes of scale to illustrate the increasing elasticity of human perception forced by recent technological innovations."
Tall order for a bunch of balloons. But the biomorphic creatures are kinetic wonders that, the Firehouse copy further explains, "present hyper-magnified minutia."
The show, which opened last week and remains on view through May 30, offers a glorious introduction to the New York-based artist's whimsical aesthetic. The gallery's back room features airbrushed mobiles — skeletal wooden apparatuses designed to sway with air currents — whose electric-green-and-pink color scheme recalls a Chinese New Year's parade. Walking among the creature-like sculptures, a visitor may be reminded of mid-20th-century mobiles by the American sculptor Alexander Calder.
The front room features two of Hackenwerth's signature balloon creations. A smaller piece, "Megamite," is a free-standing, 6-foot-high pink ball that looks like an amphibious pufferfish. A larger, insect-like companion, "Isa," is about the size of a small airplane fuselage. The undulating pink sculpture hangs from the ceiling, covered with gangly white protuberances. Imagine Kafka's cockroach transposed to balloon form, branded by Mattel, and sold as a toy to the offspring of giants.
Like Hackenwerth's previous works, which have shown at galleries internationally, these jumbo-sized, site-specific balloon creations are based on microscopic organisms. But the artist, who holds an MFA from the Savannah College of Art and Design, is less scientist than neosurrealist — he happily admits that his work is inspired by contemporary abstractionists such as American glass artist Dale Chihuly and Brazilian sculptor Ernesto Neto, whose bizarrely organic installations can also fill rooms.
According to Firehouse Assistant Curator Amanda Sanfilippo, "Micro-Macro" reflects hot trends in contemporary art. More and more artists are shedding the "commodification" (read: sales) model for one that values experiential education, she explains. Sanfilippo says Hackenwerth's elastic sculptures illustrate how human perception has shifted in the Information Age, and how our notions of scale can "contract and expand."
How is that a good thing? Well, in the case of Hackenwerth's sculptures, the elasticity generates a lot of fun. Last Wednesday, two days before his show opened, Sanfilippo watched Hackenwerth assembling "Isa." She suggests that his ephemeral balloon art is a "vivacious" exploration of the life cycle. What's more, the twentysomething curator adds, "He's pushing the medium of the latex balloon into a place that no one has attempted."
Double entendre? There's undeniably something a bit erotic about the giant forms. Some of Hackenwerth's latex and wooden sculptures have what appear to be abstract penises, nipples, clitorises and pubic hair; Firehouse visitors have remarked that "Megamite" looks like a "boobie" or a "vagina." Hackenwerth, 39, says he doesn't model balloons after any particular body parts, but he notes that his art aims to mimic natural processes. "I'm not creating images of people having sex," he explains. "I'm just making things in response to everything that I've ever seen in my life."
Hackenwerth's sense of wonder at everyday life feeds the loopy, exploratory cadences of his art. His blog — a digital catchall for curiosities — features references to Michelangelo, Coleridge, Ella Fitzgerald, computer codes and a YouTube clip of an aquarium. In spite of his fine-arts background, Hackenwerth, an exuberant fellow with bright eyes, likes that his work is "playful" enough for kids and appropriate for malls. This fall, he will hang a show at a children's museum in San Diego.
That's not to say kids are his only target audience. Like Calder, a mechanical engineer and illustrator who drew inspiration from the circus, Hackenwerth strives to balance whimsy and technical rigor. While noting on his blog that his wooden mobiles are "something you might expect to see at a children's bookstore," he also writes that his work "illustrates the essence of the human experience."
******
Hackenwerth says he likes to watch kids and grownups respond in different ways to his art. Sure enough, he looked pleased last Friday evening outside a Firehouse reception for "Micro-Macro." The gallery, mobbed with visitors, smelled like hors d'oeuvres and, well, latex. Young children studied Hackenwerth's balloon sculptures with the concentration of astrophysicists. Adults wearing balloon corsages on their wrists snapped cellphone portraits of the sculptures' seemingly sexual organs. Every so often, a twentysomething volunteer got inside "Megamite," hoisted the nipply sculpture on her back, and paraded it up Church Street like a wobbly, exotic animal. Needless to say, it attracted plenty of attention.
Dux the Balloon Man attended the reception, too, even though he'd already been hanging around the Firehouse for three days. "I'm giddy as a school kid!" he declared, crawling under "Isa" to inspect its pink and white balloon thatching.
Dux, who's been making balloons on Church Street for 14 years, said he envied Hackenwerth — a former street performer himself — who is at a point in his career when critics don't expect his balloon creations to mirror reality, never mind SpongeBob SquarePants. It's not that Hackenwerth is doing something new on a technical level, Dux added, but rather that he employs common balloon manipulations to make his sculptures look "absolutely elegant."
Dux looked around and sipped his Magic Hat by the Firehouse cash bar. It's not always easy being a balloon artist, he confided, but Hackenwerth's visit had lifted his spirits. Dux said he was brainstorming possible site-specific balloon structures on Church Street, and that he hoped Hackenwerth's visit would make Burlingtonians more receptive to abstract art in that medium.
Dux paused and took a long, careful look at Hackenwerth's installations. "The first question kids always have is, 'What is it supposed to be?'" he noted. "This isn't anything, and that's what makes it so intriguing."