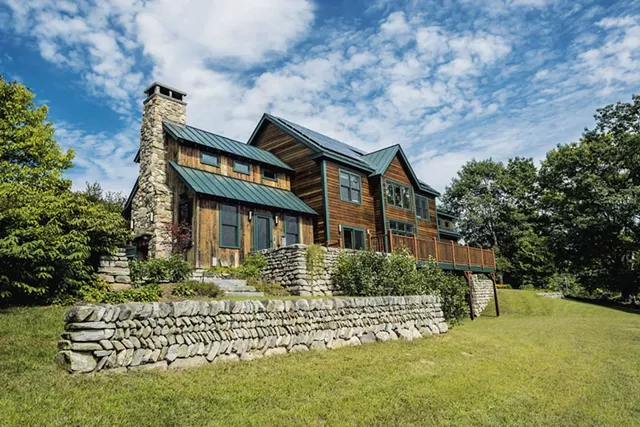 Tom Mcneill
The home of Jen and Ian Lutz, owners of Cas-Cad-Nac Farm in Weathersfield
Jen and Ian Lutz, owners of Cas-Cad-Nac Farm in Weathersfield, lead an outdoor-centric life in an enviably beautiful spot. From their house perched on a steep slope, they can look both uphill and down to the barns and fields where they board and manage some 280 alpacas. Above those long-legged beauties, which wander out to graze at will, rises the southern face of Mount Ascutney. No development interrupts the view.
But in 2007, the Lutzes decided to make the outdoor space around their house even more beautiful. Their current energy-efficient house was then under construction, and the homeowners wanted to integrate it with its surroundings to make those moments spent outdoors not working exceptionally pleasurable. Through a mutual friend, they connected with Scott Wunderle of Terrigenous Landscape Architecture in Chester.
The result, evident in a recent tour of the grounds with Wunderle and Jen Lutz, is quietly magnificent. Completed in 2009, it garnered a 2018 Merit Award for Design from the Vermont chapter of the American Society of Landscape Architects — one of only two such prizes the chapter awarded this year. (Landscape architects generally submit their projects for awards years after completion, allowing sites to mature and plantings to fill out.)
The alpaca farm and residence project was a massive job that Wunderle's firm managed to design and complete within a year and a half. The site's steep slope required grading throughout. The firm then constructed multiple stone terraces, an outdoor fireplace and chimney, a pool, a driveway with extensive drainage and geothermal wells underneath, and retaining walls of varying heights. Each wall was constructed of dry-laid fieldstone.
Tom Mcneill
The home of Jen and Ian Lutz, owners of Cas-Cad-Nac Farm in Weathersfield
The site's plantings, including tree lilacs, daylily beds and hydrangeas, require almost no maintenance — the couple already does enough farmwork — and provide visual privacy from the surrounding alpaca farm.
It's the stonework that catches the eye — as it did for the Oregon chapter of the ASLA, which juried the merit award. A series of walls steps up the slope, in a staggered layout to the house's façade. Each helps create a loosely defined path to outdoor "rooms" or living spaces, including the outdoor fireplace and a greenery-screened stone patio off the master bedroom.
"We kept it a little sloppy, a little farmer. It's not like a perfect kit. A lot of projects are the opposite — as constructed-looking as possible," said Wunderle.
Not that there wasn't a lot of construction. With stoneworkers Patrick Jarvis, Steve Beyon and Brian Post (the executive director of Stone Trust in Dummerston), Wunderle obtained 140 tons of fieldstones from two miles away, sorted them, and graded them one by one for size and shape. That level of organization enabled the crew to give each wall a unique pattern.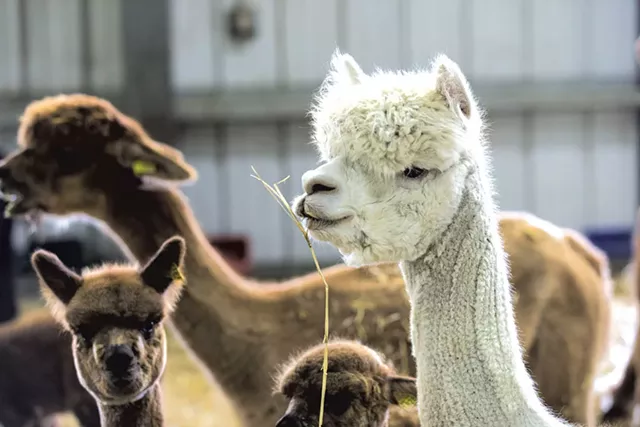 Tom Mcneill
Alpacas a Cas-Cad-Nac Farm
Some low-lying walls have courses of small, flat rocks that stand on end at an angle, alternating right- and left-leaning rows. Wunderle's design evokes weaving patterns, tying the landscape to the farm. (The alpaca fiber from annual shearing goes to Vermont Fiber Mill & Studio in Brandon, where it's woven into rugs and other products.)
The wall beside a three-door garage has a repeating diamond-shaped pattern, a bit like argyle. The pattern echoes the doors, which are made of vertical wood panels overlaid with two boards crossed in a large X.
The largest walls support both ends of a long front deck. These monumental-looking 10-foot-high retaining walls have a batter — that is, an inward slant to the faces so that the corners resemble the beginnings of Egyptian pyramids. Their courses of stone decrease in size as they ascend, from hefty rocks at ground level to a top layer of small stones. One side contains a large rectangular recess for firewood storage. On the other, a stone has been drilled and fitted with a faucet to facilitate watering gardens.
It's hard to believe that all of the walls are built without mortar. But Wunderle says dry-laid walls last longer in northern climates. "Without mortar, the walls can move a little in winter. Every 10 years, you might have to knock [a stone] in with a hammer," he explained. Each wall is really two leaning in on each other, he added, and tied together with long rocks called "throughs."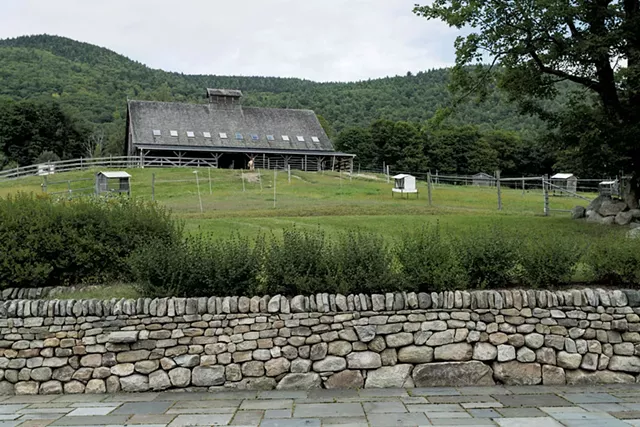 Tom Mcneill
A stone wall in front of the alpaca barn at Cas-Cad-Nac Farm in Weathersfield
In a particularly beautiful retaining wall that stretches the length of the pool, the throughs were allowed to protrude beyond the wall farther than usual. Candles or flowers can be placed on these intermittent "shelves" to accent what is already a work of art: a long, sinuous stone wave pattern that evokes water. That pattern continues without interruption in an entirely separate wall set a few feet back. When viewing the two walls from a particular spot, their ends appear to meet in a continuous wave.
One early morning during construction, Wunderle took a picture of the pool wall in the rising mist. That photo was subsequently included in a 2010 juried show at the Vermont Photo Space Gallery in Essex Junction.
Wunderle, who grew up in Saxtons River and founded Terrigenous in 1998, fine-tuned his artistic eye while earning bachelor's degrees in landscape architecture and fine arts at the Rhode Island School of Design. Though he once expected to do site-specific sculpture installations, he said, landscape architecture affords him "the joy of creating something of utility and beauty — not just a project in a museum.
"I try to ground people with what's around them," Wunderle continued, "and thereby, hopefully, ground us to ourselves."