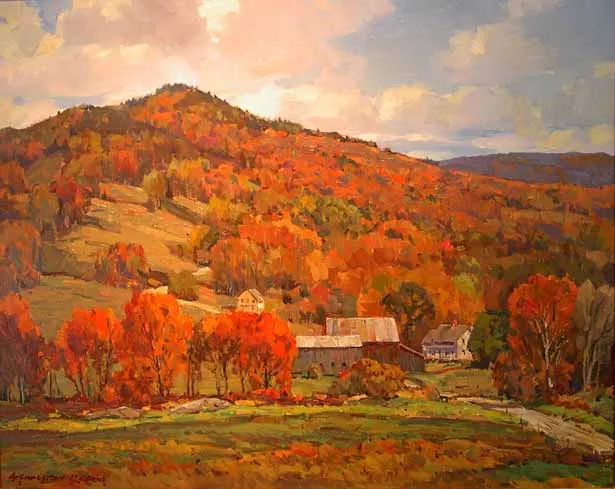 "Black Mountain" by Stapleton Kearns
The waning days of summer have been exceptionally mild, yet this year's fall foliage is already turning amazingly vibrant. Given the glorious countryside around us, one can't be blamed for wondering: What's the point of landscape painting in Vermont? A visit to the annual "Land and Light" exhibition at the Bryan Memorial Gallery in Jeffersonville, however, would delight even the most skeptical nonobjective abstractionist. It's a juried exhibition of more than 100 paintings by some 60 substantial artists in northern New England. All work in the time-honored tradition of landscape painting, and they clearly don't find it redundant. The key to understanding the genre is that its best specimens are about technical virtuosity. Great landscapes are not pastoral trifles.
Fall's impending hues are heralded in "Black Mountain," a 24-by-30-inch autumnal oil by Stapleton Kearns, who took third prize. But the real fireworks are provided by the artist's brushwork. Staccato pulls and squiggles dance feverishly over the canvas in this absolutely confident display of painting.
A more languid, misty style is the hallmark of perennial gallery favorite Mark Tougias. Sheets of sfumato settle on a hulkin,g distant mountain in his "Blue and Green of Summer," and brushstrokes that seem to melt into each other describe the foliage of a row of dark deciduous trees in the mid-ground. Tougias offsets his silvery blues and green bands of vegetation by giving a mild pinkish cast to the sky. The 20-by-24-inch oil earned a well-deserved Best in Show.
Second prize was awarded to Eric Tobin for his 36-by-36-inch oil "The Butternut Tree." It's a snow scene on a sunny day, in which a denuded, sturdy-trunked tree stands beside a fast-flowing stream. The realism isn't necessarily what makes it remarkable; rather, it's the intense sapphire blue of that stream.
Similarly heightened and well-calibrated hues appear over and over in this show. Mud season apparently has no place in "Land and Light."
Caleb Stone's unusual 20-by-24-inch oil painting of a granite quarry, titled "Stone Age," is a winter scene described mostly in grays and white. Linear contrasts between horizontal courses of blocks hewn from the quarry walls, vertical poles of different widths, and leafless trees sprouting from overlooking hills give Stone's stones a complex spatial organization unlike any other in the exhibition. The image's real focal point is in the lower left corner, rather than its upper third, as is more common in landscapes.
The rich potential of pastel painting is fully actualized in Phil Laughlin's 22-by-33-inch "Barn in Evening Light." True, it renders yet another red barn by the side of a road - but Laughlin's red washes over the viewer like a hot wind. The crimson walls are actually several reds abutted and layered into brilliance.
Elizabeth Nelson's "Dark Cloud/I" is also a departure from the show's dominant medium of oil painting. Hers is an 11-by-12-inch watercolor with pastel embellishment, portraying evening cumulus clouds spreading over pale blue heavens. The pastel element provides textures distinct from the watercolor. While the latter is absorbed by the paper, the pastel overlays and enlivens its surface.
This year's exhibition juror was artist Tom Nicholas, NA, of Gloucester, Massachusetts. The "NA" behind his name designates membership in the National Academy of Design in New York City, a group founded in 1825 by Ashar B. Durand and other prominent Hudson River School painters. Considering that the group's current membership includes contemporary artists of the somewhat controversial "magical-realism" school - thought by many to border on kitsch - it may not be quite as prestigious as it once was. But, in fairness, the academy also recently inducted such distinguished artists and architects as Wolf Kahn, Richard Diebenkorn, Maya Lin and I.M. Pei - so that "NA" still means something. A respectable juror generally makes for a respectable exhibition. "Land and Light" is certainly that, and then some.