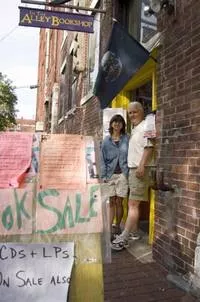 Matthew Thorsen
Jane and John Vincent
In August, Middlebury is a particularly nice place to pick up a page-turner. Main Street is awash in literary color from the nearby Bread Loaf Writers' Conference. You can finally sit on your porch with a paperback without losing a pint of blood to mosquitoes, and the town's four independent bookstores leave their doors open, just in case you're short on brain ammo.
Er, make that three independent bookstores. Later this month, after a three-day charity book-giveaway bonanza, In the Alley Bookshop on Mill Street will close its doors. The announcement comes less than a year after the closing of two other Vermont independent strongholds: Deer Leap Books in Bristol and the Book Rack & Children's Pages in Essex. In the Alley proprietor John Vincent, 57, insists he's not quitting the game because of financial woes. But his decision prompts an inquiry into the future of Middlebury's independent book scene. A holdout against online trading, Vincent asks whether it's possible to push pages these days without using a mouse.
The ex-cop-turned-ponytailed-homesteader has always embraced his niche image. Since Vincent took over In the Alley in 2000, roughly 90 percent of the store's 17,000-some titles have been nonfiction. Rather than catering to a general audience, he focuses on tough-to-sell subject areas such as "African-American," "Native American," "environmental subjects and issues" and "women's and naturalist writings." Vincent also sells records and CDs. As he says, "Too many retail places try to have something for everyone."
Stephen Donadio is editor of the Middlebury-based New England Review and a longtime prof at Middlebury College and the Bread Loaf School of English. He asserts that Vincent had "a real following" and describes the bookseller as "very much involved in the community." Donadio also notes Vincent's support for Middlebury's annual Festival on the Green and his membership on the board of the local natural-foods co-op. "There was very little he didn't have something to do with," Donadio says. "So in that sense, it's a loss across the board."
According to Vincent, Middlebury still has "great" bookshops. But by generalizing inventory and standardizing appearance, he says, some of his Vermont colleagues seem to have lost their "independent look." Then there's the Internet, which Vincent speaks of as if it were an airborne disease. Three or four years ago, he pulled his membership from the Vermont Antiquarian Booksellers Association (VABA) — the state's main resource for used-book sellers — in part, he says, because the organization was supporting online sales at the expense of "bricks-and-mortar" storefronts.
He's right about that general trend. VABA Vice President Joseph Trenn, owner of the Book Shed in Benson, estimates that at least two-thirds of VABA's 63 members do online sales. That includes Bygone Books, a Burlington used-book store that downsized to a corner of the Champlain Valley Antiques Center in Shelburne in 2004. "The majority of my sales are online," confirms owner Deborah Barnum. "I keep the antique spot to maintain a public presence, and try to have there books that the average antique shopper might be looking for." Barnum wryly offers a Jerry Seinfeld remark: "A bookstore is one of the only pieces of evidence we have that people are still thinking."
When pressed for comment on his former competitors in Middlebury, Vincent refuses to talk smack. However, a quick survey of the other three bookstores appears to illustrate some of his observations. On Main Street, the Vermont Book Shop, a general-interest store vending only new books, has recently undergone a fashionable makeover. In a basement venue across town, VABA member Otter Creek Used Books is planning a foray into the online market. And two miles north on Route 7, VABA compatriot Monroe Street Books sells approximately half its titles to Web patrons.
Phone calls to these other businesses suggest Vincent's lament is only one strain of the Middlebury booksellers' story. Dick Chodkowski, who owns Monroe Street Books with his wife Flanzy, reports that online sales have been a lifesaver for independent sellers. "It's hard to be in the used-book business anymore without being online unless you have a [great] location," he notes, adding that "even the Strand" — New York City's iconic used-book haunt — has gone online. Vermont Book Shop manager Grant Novak thinks his store, general interest or not, has plenty of character, and notes that he gets his bestseller list from independent-oriented www.booksense.com rather than The New York Times.
What's next for maverick Vincent? Later this month, he and his wife Jane will relocate to a 2-acre property beside the former Helen and Scott Nearing homestead in Harborside, Maine, where they'll pursue what those back-to-the-land pioneers called the "good life."
If he were sticking around, though, where would he pick up his reads? Vincent praises Bulwagga Books & Gallery in nearby Whiting, a converted general store that specializes in "scholarly and classical" titles, for keeping it real in a digital age. Like In the Alley, Bulwagga doesn't sell online, although the store does have a website.
When reached at his store, 70-year-old Bulwagga proprietor John Travis sounds a little less sanguine. The former New Yorker says business has been slow these past few years because of the Internet boom. "As for the online people, we can't argue with them," he hedges, "because we go online ourselves." Not to hawk books, but to buy them.
"We're just kind of tootling along," Travis observes. "In a big city, you have enough people to [browse]. But in a small town, the future may not be that bright."