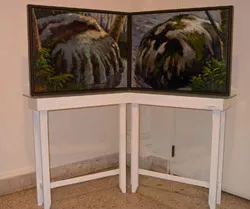 EXHIBIT: David Smith, new paintings. Supreme Court Lobby, Montpelier. Through March 3.
ARTWORK"Bookmatch"by David Smith
Marshfield artist David Smith isn't content to simply paint ordinary landscapes. Among the 26 large and small works he's currently showing at the Vermont Supreme Court are three triptychs, a mixed-media diptych mounted on eight legs, and a host of oil-on-linen canvasses employing highly creative compositions. Formally, his paintings are more closely related to abstraction than picture-postcard realist barns and foliage.
At about 12 by 20 inches, Smith's triptychs are diminutive, but are nonetheless masterful. In each, the central panel is broader than the two that flank it. The three images are framed together into a unified whole.
In "Winter Triptych," snow-covered hay bales are nestled into a stand of craggy fruit trees. Long shadows stretch to the left of the forms across turquoise snow. The hues in "River Triptych" are much brighter: Orange-foliated trees and grasses, as well as white birches, line the river and are reflected in its waters. Patches of cerulean blue sky peek between the branches, and also are reflected in the water, resulting in splashes of color across its placid surface. The river forms a semicircle in the triptych foreground, crossing all three canvasses.
In "Eligo," named for a scenic pond in Orleans County, clouds are steeply reflected in the water. Straight, vertical tree trunks extend from the top edge to the bottom of the canvas, dividing the rectangular painting into three sections with proportions similar to those in Smith's triptychs. Behind the angular cloud reflections and pole-like trees, a high horizon line creates a shallow compositional space.
"Bookmatch" is more sculptural than painterly. Smith built two hinged panels and set them upon two independent shelf units with white legs and glass tops. The oil panels depict boulders lying in swampy wetlands. Purples and browns are the dominant colors, but tufts of green fern appear in both lower corners of the diptych. This is an eccentric piece; though the skinny shelves and paintings comprise an integrated construction, the shelves also appear to be an elaborate, utilitarian solution to the challenge of displaying a heavy diptych.
Aesthetic eccentricity is what makes Smith's work so appealing. "Primary Fall" is ostensibly an autumn scene containing red maple trees and, emerging from them, three crows with outstretched wings. But these things are not the painting's true -- or at least not its only -- subjects.
Smith ran wild across this canvas: His birds are like the jagged black lines of a mighty graph, recording upward and downward movements as a continuous event. Their long wingspans suggest the birds may be turkey vultures rather than crows, but either way they're dark in mood as well as tone. Behind them, puffy clumps of crimson leaves create a completely different visual rhythm. And behind the trees, the artist's signature cerulean sky supplies the foundation for the entire composition. So "Primary Fall" is made up of just three elements: birds, trees and sky. Not an unusual recipe for a landscape. But Smith's proportions for those ingredients give the painting its zest.
The exhibit includes more typical Vermont scenes as well. "Newton's" and "Farm Portrait" depict basic, weathered barns with rusty silos. But even these predictable vignettes are endowed with dramatic shifts in value, varied triangles of negative space, and warm and cool colors layered over each other to enrich simple chromatic harmonies. Smith knows what he's doing with paint, and has learned the trick of being innovative and traditional at the same time.